Inheritor of intangible culture brings bread to life
Share - WeChat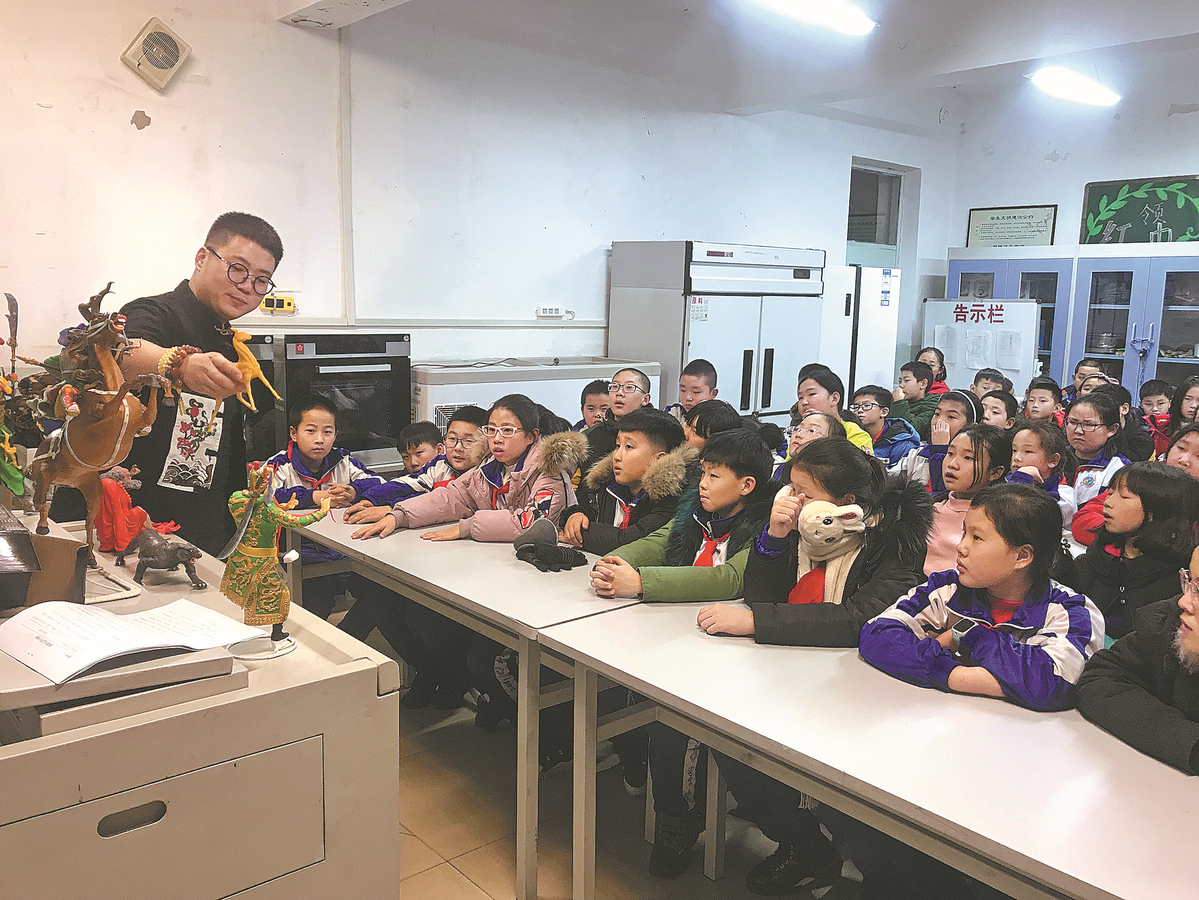 Heilongjiang artist has created hundreds of traditional figurines from dough
In the three years since Kang Jian devoted himself to the art of sculpting with dough, he has created more than 400 pieces and become a city-level inheritor of the intangible cultural heritage in Mohe, Heilongjiang province.
He uses wheat flour as a base and adds oil, salt, vinegar and other ingredients to make the dough, which is then shaped, kneaded and pinched by hand or using simple tools such as scissors and bamboo sticks to form lifelike sculptures.
Most of Kang's pieces are traditional Chinese figures.
"Compared to sculptures made from expensive materials like jade, dough sculptures are relatively cheap," he said. "In my mind, the art's real value as a national intangible cultural heritage lies in its connection to traditional Chinese culture. That's its charm and significance."
With a time-honored tradition in China stretching back over 1,000 years, dough figurines make many people think of their childhoods, Kang said.
The 32-year-old has shown an interest in fine arts, and especially sculpture, since he was a child.
"When I was a little boy, every time my parents made dumplings, they would give me a small piece of dough," he said. "I would try to make animals such as a rabbit, a fish or a snail. These small, simple objects created a lot of good childhood memories."
Kang's parents were not financially able to support his desire to study fine arts while he was at school.
"But I didn't give up. I spent my spare time drawing by myself," he said. "I also saved up my pocket money to buy materials such as moldable rubber to make simple sculptures."
After graduating from a vocational technical college in 2016, Kang returned to his hometown and joined the Mohe Forestry Bureau.
Then in December 2018, during a visit to a museum in Beijing, Kang learned about intangible cultural heritage, and the idea greatly intrigued him.
When he returned home, he began to look for more information.
"I was really excited to find that dough sculpting was listed as a national-level intangible cultural heritage," he said. "Then I had the idea of taking my childhood interest up again."
He contacted Bai Chunyu, a provincial-level inheritor of dough sculpture in Jilin province and spent 20 days learning how to make the sculptures.
Through talent and hard work, Kang was quickly able to master the skills of sculpting faces.
"I am a fan of traditional literature," he said. "At the time, I really wanted to make sculptures of traditional literary heroes."
However, he found it difficult to master their complex figures and costumes.
"So, I started with the simplest sculptures, including cute figurines," he said. "I spent almost all of my spare time practicing in my studio, hoping to improve quickly."
At a cultural expo in Harbin, capital of Heilongjiang, in August 2019, his dough sculptures caught the eye of a visitor who introduced him to Xiao Zhanhang, a national-level inheritor in Guangdong province.
When Xiao agreed to take him on as his student, Kang traveled to Guangzhou, capital of Guangdong.
"To save money and learn more during my 40 days there, I practiced every day from 6 am until late at night," he said. "When I slept, I had to put my hands in hot water to relieve the pain in my joints."
As his skills improved, he began to try more complex designs.
In April, Kang finished the dough sculptures of 108 characters from the epic novel Outlaws of the Marsh after 16 months of work.
"Blending the methods used to make painted clay sculptures in Chinese temples and modern techniques for sculpting the muscles and veins of the figures, I was able to make the sculptures more lifelike. I could only make them in my spare time after work," he said. "It took me around three days to finish one."
In August 2020, Kang was granted the title of city-level inheritor of dough sculpture and was invited to give lectures on the traditional art at a nearby school.
"I was happy to have the chance to tell primary school students about the art of dough sculptures and stories of folk heroes," he said.