Setting sights on greater glory
Share - WeChat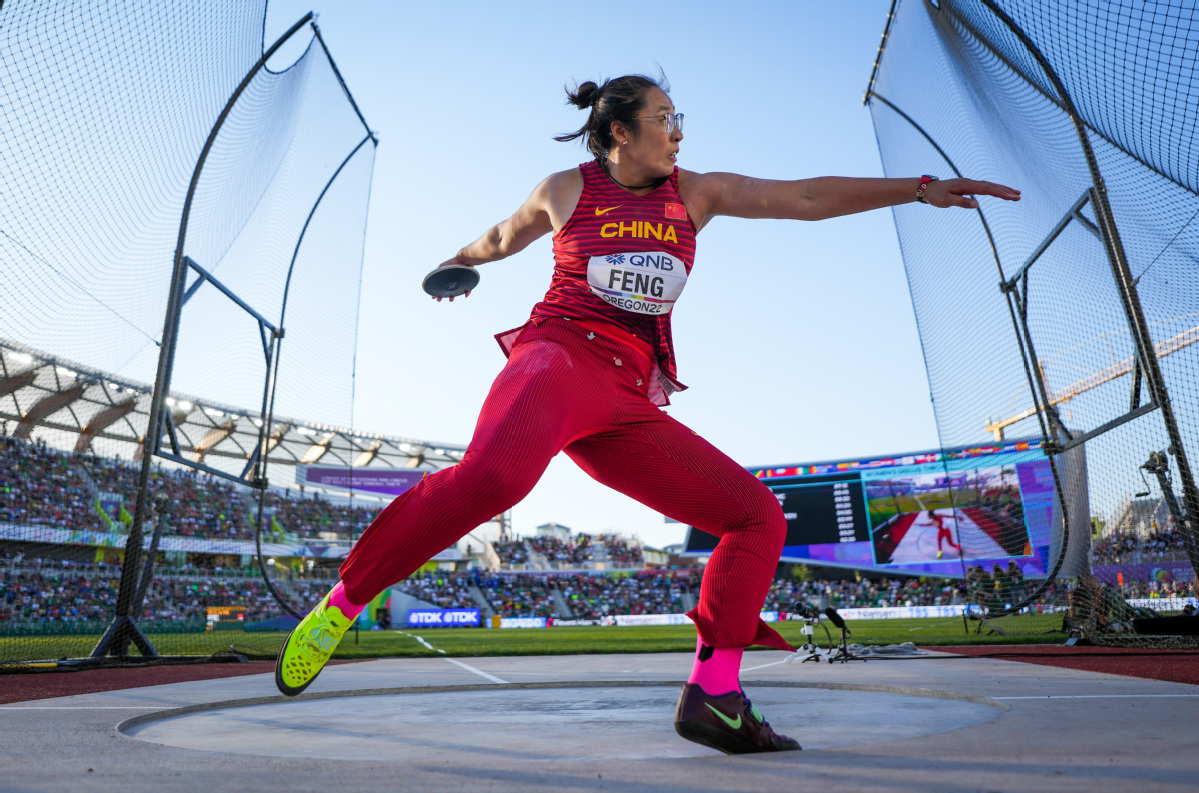 Hopes and challenges await Chinese athletics stars en route to Paris Olympics
Chinese track and field stars showed great momentum in 2022 with major breakthroughs at last year's World Athletics Championship, and Team China's aces are planning to keep that spirit going to deliver more surprising performances in 2023, a crucial year in preparation for the 2024 Paris Olympics.
Chinese athletes made headlines in July by winning six medals, including two precious golds, at the World Athletics Championships in Eugene, Oregon, United States.
The brightest star in Team China's firmament was long jumper Wang Jianan, who won China's first gold medal in any horizontal jumping event at the senior worlds by finishing with a season-best performance of 8.36 meters.
The second major surprise at the tournament was Feng Bin, who claimed gold in the women's discus with a personal-best effort of 69.12 meters. Veteran shot putter Gong Lijiao won silver, while Zhu Yaming claimed a men's triple jump bronze. Qieyang Shijie won two bronze medals in women's race walking.
The great results in the US offer huge encouragement for Chinese track and field stars, who started their winter training in late 2022 to prepare for this year's Asian Games and the 2023 World Athletics Championships. The long-term goal is the Paris Olympics.
"This year is crucial for all of our teams to prepare for the next Olympics. The priorities include avoiding injuries and to make sure that each athlete has their own training and competition plans," said Chinese Athletics Association president Yu Hongchen during a visit to national team training in Shanghai.
However, Team China's aces are well aware that the breakthroughs in 2022 will not guarantee that they can spring more surprises this season. Only hard and scientific preparation are the best solutions to the challenges awaiting them.
"There was an element of luck in Wang Jianan winning the gold. It was the result of him being in the right place at the right time, and in the right condition. We need to realize that he is still not a dominant force in the sport. I hope during the Paris Olympics, he can extend his best result to 8.45 meters" said Wang Guojie, the coach of Wang Jianan, during an athletics forum in Shanghai earlier this month.
According to Wang Guojie, a priority for Wang Jianan in the next two seasons is to avoid injuries, which stopped him exceeding 8.30m in the 2015, 2016 and 2021 seasons. A meniscus and a hamstring injury made him unable to beat 8.20m in the 2019 season.
"In 2018, Wang had no injuries and he was in peak condition. He managed to reach 8.36 meters in 2020 and 2022. So, we will have to ensure he doesn't suffer any serious injuries in the coming two years," Wang Guojie added.
"Through our analysis, his meniscus and hamstring injuries originated from certain exercises during training. We need to keep refining his training methods and improve his physical condition.
"We are reducing the proportion of jumping in his overall training plan to avoid injuries. Instead, we add more sprint sessions to level up his muscle strength. This change will reduce the impact on his knees during jumping sessions."
As well as personalized training plans, Team China also provides the athletes with the state-of-the-art equipment and facilities to monitor their physical condition during training and offer scientific suggestions to help refine the process.
"For around a decade, such equipment and facilities have been employed by many national teams. But, in the early days, we didn't have a comprehensive plan for using these tools," said Wang Guojie.
"Now I will take Wan Jianan to use the equipment properly during daily training. This equipment now covers all parts of his training. So we can monitor and evaluate his speed, endurance, strength and coordination. Through that, we maximize the benefit of each training session."
Thanks to personalized plans and scientific training methods, the 28-year-old discus world champion Feng can also enjoy a longer and more productive career.
According to Feng's coach Li Weibin, despite the encouraging results in 2022, there's still a gap between Feng and some of the top Europeans, such as Sandra Perkovic.
A major blow in Feng's career was missing the Tokyo Olympic final due to a neck injury. It resulted in a long period of mental struggle, during which Feng considered quitting the sport.
"However, with medical treatment and a detailed recovery plan, Feng is now in a very stable condition. We just need to maintain that so that she can train properly," said coach Li.
"We also have greater communication with her to encourage and help her, which is important for her mental stability and, thus, her performance during competitions.
"Our plans for her are refined constantly, and these plans are tested by the competitions. We even factor in the different equipment used and the weather conditions at the various competitions. We are prepared for many contingencies."