Ukraine investigates helicopter crash
Share - WeChat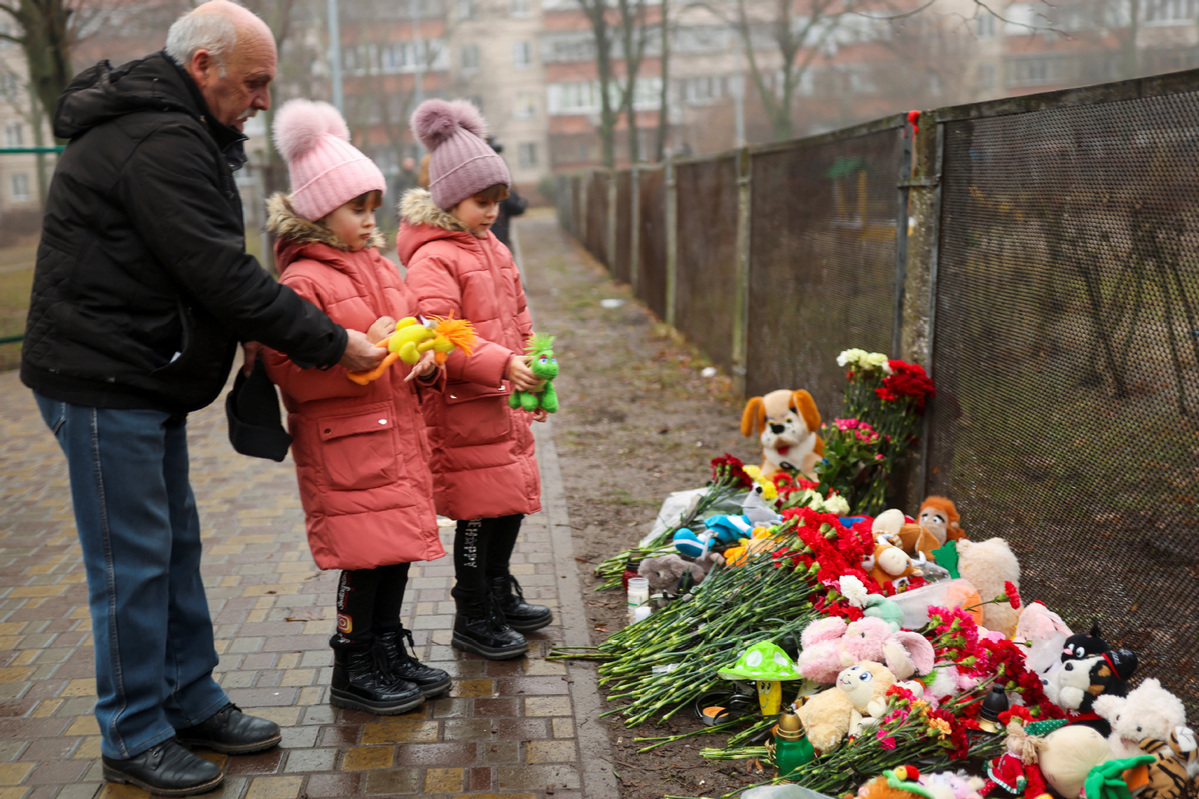 Ukrainian authorities on Thursday began investigating the circumstances surrounding a helicopter crash that killed the country's interior minister and 13 others.
Wednesday's crash outside Kyiv came as the head of NATO said at the annual World Economic Forum in Davos that allies were set to provide "heavier weapons" to the region.
Ukraine did not claim direct Russian involvement in the helicopter crash, but President Volodymyr Zelensky said the tragedy was a consequence of the military conflict.
Appearing by video link at Davos, he also renewed calls for modern, Western-designed heavy tanks, which analysts say are crucial to pushing through entrenched defensive lines in eastern Ukraine.
In a barely veiled reference to Germany, where Chancellor Olaf Scholz is weighing whether to greenlight the export of its highly regarded Leopard tanks, Zelensky issued a "call for speed".
CNN quoted a senior US defense official as saying that US Secretary of Defense Lloyd Austin will be "pressing the Germans" to allow their Leopard tanks to be transferred to Ukraine to provide "capability in a crucial moment" to counter any potential Russian spring offensive.
Austin is in Germany where he is set to meet with the German defense minister before convening a meeting of the Ukraine Defense Contact Group on Friday to discuss aid for Ukraine with approximately 50 countries and organizations.
Meanwhile, the United States is set to finalize a huge military aid package for Ukraine totaling approximately $2.5 billion worth of weaponry, including Stryker combat vehicles for the first time.
More Western supplies
The new package is one of the largest to be announced since the special military operation started last February, CNN reported. It would include more armored Bradley Fighting Vehicles that, combined with the Strykers, amount to a significant escalation in the armored vehicles the US has committed to Ukraine for its fight against Russia. Mine-resistant, ambush-protected vehicles, known as MRAPs, are also on the list, the source said.
Ukrainian officials have been fiercely lobbying Washington for longer-range missiles known as Army Tactical Missile Systems, which have a range of around 300 kilometers.
US President Joe Biden's administration has resisted sending them out of fear of escalating the conflict. The administration has also pushed back on sending M1 Abrams tanks because of logistical and maintenance complications.
In his annual news conference on Wednesday, Russian Foreign Minister Sergey Lavrov said NATO members have provided Ukraine with substantial military aid because "the West makes all the decisions for Ukraine" with the goal of using the conflict to exhaust Russia.
Lavrov dismissed Zelensky's demands for a complete Russian withdrawal from Ukraine. He said Russia was ready to "seriously consider" any Western initiatives on ending the conflict, but added that "we haven't seen any serious proposals yet".
On the same day, Russian President Vladimir Putin said the goal of the military operation in Ukraine is to "end the war" in the eastern Donbas region, the state-run RIA Novosti news agency reported.
It is the second time since December that Putin used the word "war" to refer to the conflict in Ukraine.