Djokovic beats Tsitsipas in Ten-acious final
Share - WeChat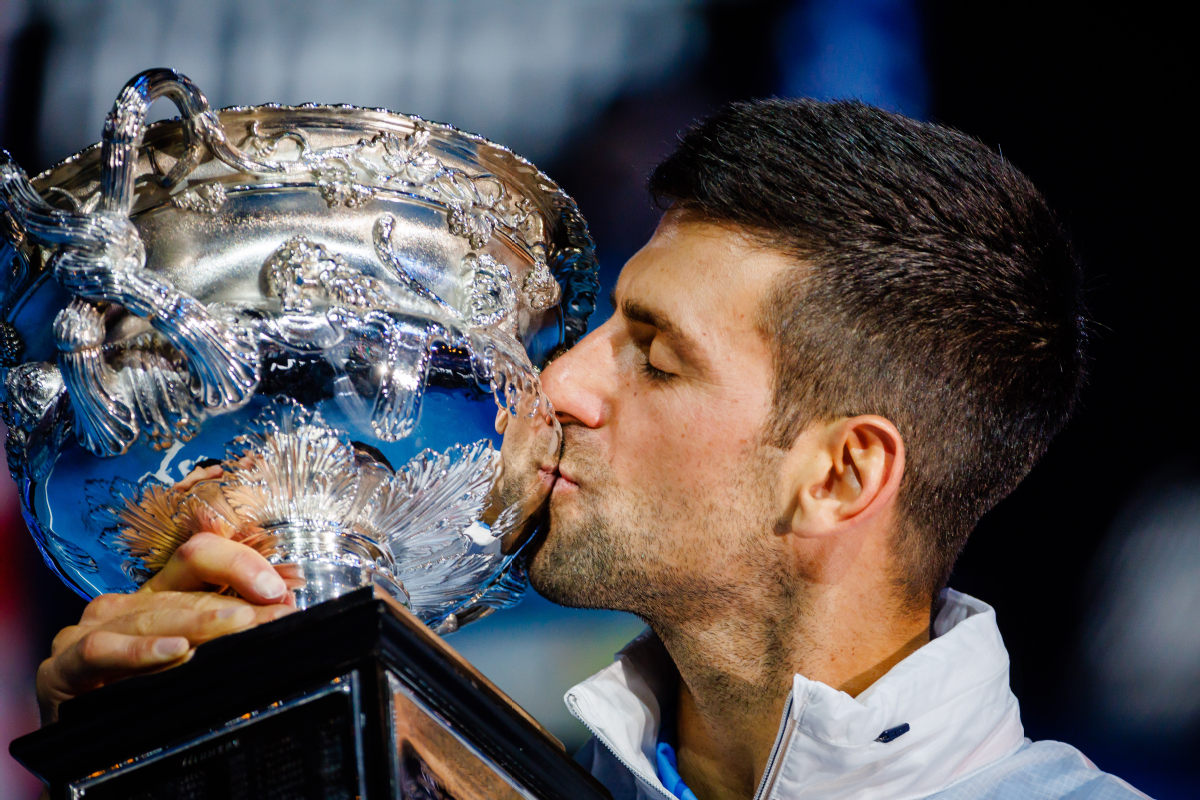 MELBOURNE — Novak Djokovic found his latest trip to Australia far less complicated, and far more successful, than that of a year ago.
Unable to enter his favorite event in 2022 after being deported from the country because he was not vaccinated against COVID-19, Djokovic accomplished all he could have wanted upon his return: He resumed his winning ways at Melbourne Park and made it back to the top of tennis.
Only briefly challenged in the final on Sunday night, Djokovic was simply better at the most crucial moments and beat Stefanos Tsitsipas 6-3, 7-6 (4), 7-6 (5) for a record-extending 10th Australian Open championship and record-tying 22nd Grand Slam title overall. As a bonus, Djokovic will vault from No 5 to No 1 in the ATP world rankings, a spot he has already held for more weeks than any other man.
"He's the greatest that has ever held a tennis racket," Tsitsipas said.
Djokovic stretched his unbeaten streak in Melbourne to 28 matches, the longest run at the tournament for a man in the Open era, which dates back to 1968.
This was also the 93rd ATP tour-level title for Djokovic.
Djokovic was participating in his 33rd major final, while for Tsitsipas, it was his second — the 24-year-old Greek's first, at the 2021 French Open, also ended in defeat to Djokovic.
The Serb was superior throughout against Tsitsipas, but especially so in the two tiebreakers. He took a 4-1 lead in the first and, once it was 4-all, claimed three points in a row.
He led 5-0 in the closing tiebreaker and, when it finished, he pointed to his temple then climbed into the stands, pumped his fist and celebrated with his coach, Goran Ivanisevic, and his entourage, before collapsing in tears.
While his tenacious performance will be of little solace to Tsitsipas, there is no shame in failing to defeat Djokovic in Melbourne. Challenging his dominion on those hard, blue courts is every bit a monumental task as taking on Rafael Nadal on the red clay at Roland Garros.
Surprisingly, Tsitsipas was willing to engage in the kind of leg-wearying, lung-searing back-and-forths upon which Djokovic has built his superlative career. How did that work out? Of points lasting at least five strokes, Djokovic won 43, Tsitsipas 30.
Then again, on those rare occasions that Tsitsipas did charge the net, he likely regretted the choice, because Djokovic often conjured up a passing shot that was too tough to handle.
One of Djokovic's many other strengths is his return game, and he accumulated three break points within 17 minutes, converting the last for a quick 3-1 lead when Tsitsipas double-faulted.
The trophy for which they were playing was displayed on a pedestal near a corner of the court, and both men would get within reach of it whenever they wandered over to towel off between points at that end.
So close, but for Tsitsipas, never truly close enough.
It's not as though Tsitsipas played all that poorly, other than a rash of early miscues that seemed to be more a product of tension than anything else.
It's that Djokovic was, put simply, too good. Too accurate with his strokes — making merely 22 unforced errors, 20 fewer than his foe — and anticipation. Too speedy and flexible chasing shots (other than on one second-set point, when, running to his left, Djokovic took a tumble). Too dangerous with his returns and damaging enough with his serves.
Djokovic is relentless, constantly pushing, until it's the opponent who is something less than perfect on one shot, either missing or providing an opening to pounce.
There has also been a bit more than tennis on Djokovic's mind over the past two weeks.
There was the not-so-small matter of last year's legal saga — he has alternately acknowledged the whole thing served as a form of motivation, but also said the other day, "I'm over it" — and curiosity about the sort of reception he would get.
He had raucous support from many, but also dealt with some persistent heckling, including applause after the faults.
There was also the sore left hamstring that has been heavily bandaged for every match — until the final, that is, when only a single piece of beige athletic tape was visible — and had worried him since week one, prompting him to turn to what he said was "a lot" of painkillers and other treatments he didn't detail.
No matter any of it, Djokovic managed to excel as he so often does, winning 17 sets in a row after ceding one in the second round last week.
Xinhua