West blasted for pulling strings in Kyiv
Share - WeChat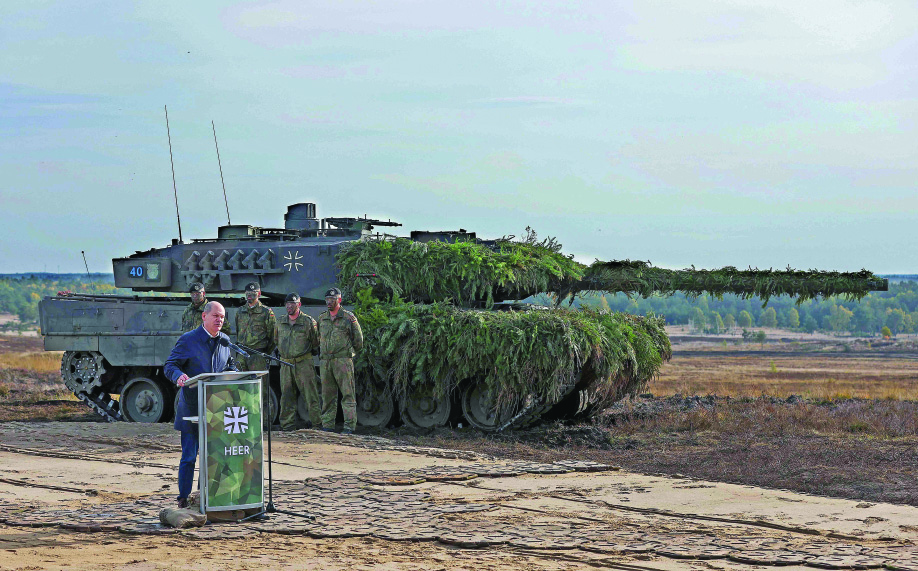 Russia says actions of 'puppet masters' leave no room for talks as arms flow in
MOSCOW/KYIV — Russia has lashed out at Ukraine's Western allies, denouncing them as "puppet masters" amid Ukraine's renewed calls for faster weapons supplies, as fighting rages in the country's east.
With the United States having decided to supply tanks to Ukraine, it makes no sense for Moscow to talk to Kyiv or its Western "puppet masters", Russian state news agency RIA Novosti quoted Deputy Foreign Minister Sergey Ryabkov as saying on Monday.
Ryabkov said no one in the West has come up with any serious initiatives on resolving the Ukrainian crisis.
One day earlier, however, a Kremlin spokesperson told RIA that Russian President Vladimir Putin was open to contacts with German Chancellor Olaf Scholz.
Germany said last week it would send 14 of its Leopard 2 tanks to Kyiv and also approve Leopard shipments by allied European countries. The announcement, followed shortly afterward by a US pledge of M1 Abrams tanks to Kyiv, infuriated the Kremlin.
"For now, there are no agreed talks (with Scholz) in the schedule. Putin has been and remains open to contacts," Kremlin spokesman Dmitry Peskov was quoted as saying by the news agency on Sunday.
Scholz was quoted by the Berlin daily Tagesspiegel in an interview published on Sunday as saying: "I will also speak to Putin again — because it is necessary to speak."
Scholz reiterated that Germany will not send fighter jets to Ukraine.
"I can only advise against entering into a constant bidding war when it comes to weapons systems," Scholz said.
"If, as soon as a decision (on tanks) has been made, the next debate starts in Germany, that doesn't come across as serious and undermines citizens' confidence in government decisions."
He is currently on a visit to South America.
Putin and Scholz last spoke by phone in early December. The Russian leader said at the time the German and Western line on Ukraine was "destructive" and called on Berlin to rethink its approach.
Germany is the second-largest donor of military hardware to Ukraine after the US, according to the Kiel Institute for the World Economy, ahead of other European powers such as France and Britain.
Kyiv says peace talks are possible only if Russia stops attacking and withdraws all forces from Ukrainian soil.
NATO Secretary-General Jens Stoltenberg visited the Republic of Korea, a US ally and major arms exporter, on Monday and urged Seoul to increase military support to Ukraine.
And in the north, the Democratic People's Republic of Korea on Sunday denied providing arms to Moscow.
In a statement by the official Korean Central News Agency, a senior official rejected the accusations from Washington, warning that the US would face a "really undesirable result" if it persisted in spreading the "self-made rumor".
In developments on the battlefield, Russian missile strikes killed three people in the city of Kherson while fighting raged in the eastern Donetsk region, Ukrainian officials said.
'Tough situation'
Zelensky said Ukraine was facing a difficult situation in Donetsk and needed faster weapons supplies and new types of weaponry, just days after allies agreed to provide Kyiv with heavy battle tanks.
"The situation is very tough. Bakhmut, Vuhledar and other sectors in Donetsk region, there are constant Russian attacks," Zelensky said in a video address on Sunday.
"We have to make time for our weapon. We have to speed up events, speed up supplies and open up new weapons options for Ukraine."
Three people were killed and six injured on Sunday by strikes on Kherson that damaged a hospital and a school, the regional administration said. The Kremlin hasn't responded to the shelling.
Russia on Saturday accused the Ukrainian military of deliberately striking a hospital, killing 14 people.