Weighting of English in entrance exams debated
Share - WeChat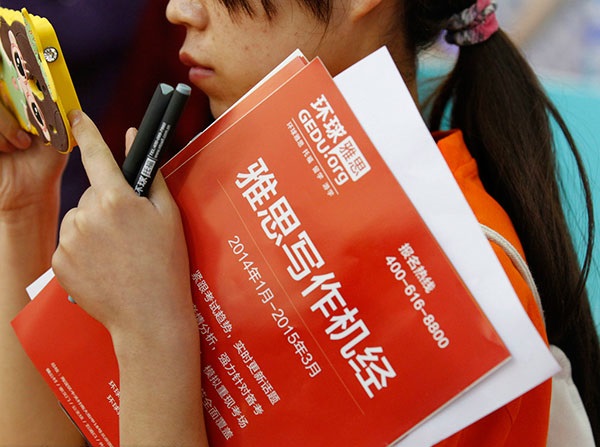 The debate about the appropriate weighting of English in important exams in China has resurfaced during this year's two sessions, with some national lawmakers and political advisers suggesting making it a less important subject while others maintain that it is an essential tool to understand and communicate in the fast-changing world.
Chen Weizhi, a member of the National Committee of the Chinese People's Political Consultative Conference, and president of Shanghai New Epoch Education Group, a private K-12 school group, suggested canceling English courses for first and second grade primary school students and also reducing the course hours of English for secondary school students.
To reduce the competitiveness of exam-oriented English teaching and learning, English should become an elective subject for the national college entrance exam, or gaokao, he told news outlet ThePaper.cn.
For the high school entrance exam, or zhongkao, Chen suggested making the English test a graded exam, rather than offering specific scores.
Parents and students have spent lots of time, energy and money learning English to get high scores in zhongkao and gaokao, yet the results have not been satisfactory, and their English proficiency has not improved much, especially their oral English, he said.
Jiang Feng, Party secretary of Shanghai International Studies University, said language is the carrier of knowledge and 90 percent of materials about the latest technologies in the world are published in English, which means one can have access to the knowledge if they have good English proficiency.
Although there has been criticism of English education in China for many years, completely denying its contribution is also unreasonable. Without English education, reform and opening-up is unimaginable, he said in an interview with Shanghai magazine Xinmin Weekly.
According to Sichuan Radio and Television, Tuo Qingming, a deputy to the National People's Congress and principal of No 2 Middle School of Yucheng District in Ya'an, Sichuan province, suggested lowering the weighting of the English test in the gaokao from 150 points to 100. The total scores for gaokao are 750.
He believes that English takes up too much in weighting in the gaokao and too much time for students to learn, yet it is not useful for many people.
A poll conducted by ThePaper.cn on changing English from a compulsory subject to an elective one in gaokao on Sina Weibo has more than 16,000 netizens agreeing and 20,000 disagreeing.
It is not the first time lawmakers and political advisers have proposed to make English less important for students during the two sessions.
In 2021, Xu Jin, a member of the National Committee of the CPPCC and also a member of the Central Committee of Jiusan Society, one of China's eight non-Communist political parties, proposed that English should not be a core subject like Chinese and math.
However, Dong Hongchuan, a member of the CPPCC National Committee and president of Sichuan International Studies University, said proposals on reducing the importance of English education should be treated carefully, as strengthening English education is in line with the country to pursue high-quality opening-up, building a community with a shared future for mankind and participating in global governance.
"The basic policy of opening-up remains unchanged. If we do not understand foreign languages, we cannot understand the development of other countries," he said in an interview with China.org.
"Faced with the provocations of Western forces blocking China and their rumors tarnishing the country, if we do not understand foreign languages, we cannot fight back."
Foreign language and translation play an important role in international communication and in today's world, translating China's voices to the world is as important as translating the world's voices to China, he added.
Xiong Bingqi, director of the 21st Century Education Research Institute, said the reason for skepticism about English education is that the exam-oriented English teaching has not been effective for Chinese.
Reducing the weighting of English in exams won't solve problems, he said, adding instead more autonomy should be given to universities in determining the requirement for students enrolling in different majors. This way, students can choose how well they plan to study the language based on the major, university and career they want to pursue, he said.