Nation in big drive for core tech in key fields
Share - WeChat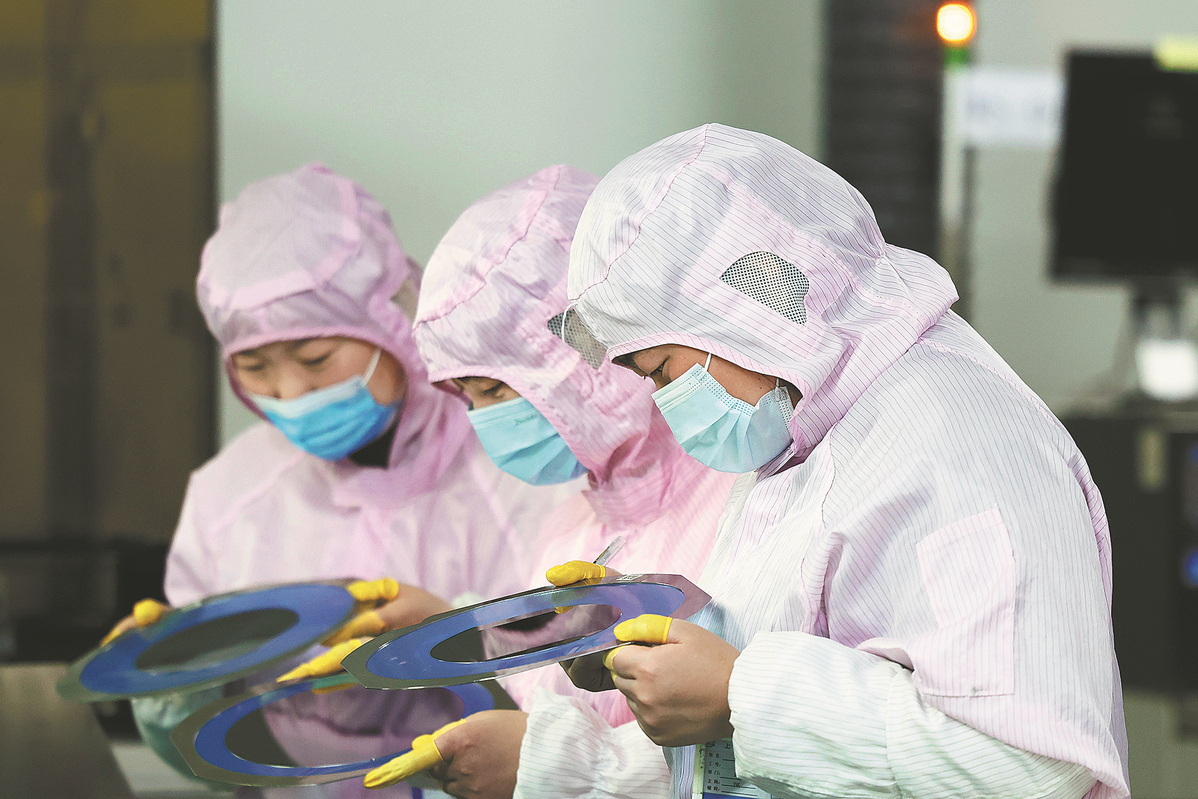 "The chip policies that have been issued in China are mainly regulations and departmental rules at the State Council level," Xie said, adding that a chip law enacted by the NPC can help better promote the industry's development.
Efforts should be made to mobilize national resources and to unite leading enterprises to jointly tackle key problems and support the research of equipment components and advanced manufacturing processes of 7 nanometers, 5nm, and 3nm, Xie said.
Xie's proposal follows similar efforts in major economies around the world. The United States, Japan and the European Union are rolling out policies or laws to fuel the development of their homegrown chip industries.
The emphasis on achieving breakthroughs in chips is an important part of China's broader push to hone its science and technological prowess. China's R&D spending exceeded 3 trillion yuan ($436.72 billion) for the first time last year, accounting for 2.55 percent of the country's GDP.
In the 2022 Global Innovation Index, China rose to 11th place, up from 34th in 2012, and firmly remains the only middle-income economy in the top 30, according to the World Intellectual Property Organization.
Yao Lijun, a member of the 14th CPPCC National Committee, called for more efforts to stimulate the innovative vitality of enterprises, in areas such as insufficient R&D funding for some companies and the difficulty in determining the development direction of technology and products.
Yao is also chairman of Konfoong Materials International Co Ltd. Based in Ningbo, Zhejiang province, Konfoong Materials specializes in R&D and production of ultra-high purity metal materials and sputtering targets for ultra-large-scale integrated circuits.
"Now, some manufacturing enterprises in China are still in a relatively low-end industrial chain position, unable to support a large number of scientific and technological research and development projects. It is not easy for enterprises, especially private enterprises, to apply for scientific research funds allocated by the government. There is an urgent need to stimulate the innovative vitality of private enterprises," Yao said.
In his proposal to this year's two sessions, Yao called for the government departments concerned to formulate special policies to support the enhancement of manufacturing enterprises' R&D capabilities, and establish a long-term mechanism to encourage enterprises to improve their R&D core capabilities.
Liu Zhongfan, an academician at the Chinese Academy of Sciences and a 14th CPPCC National Committee member, said building integrated circuit colleges is one of the important measures taken by the country to deal with the "bottlenecks" in the semiconductor sector.
Liu said: "In the future, more universities will join in to establish such academies. The focus should be on cultivating top talent with interdisciplinary capabilities while avoiding too much repetitive investment.
"The fundamental way to solve the challenges in the chip sector is to cultivate leading enterprises with international competitiveness."
Wei Jianguo, a former vice-minister of commerce and vice-chairman of the China Center for International Economic Exchanges, said: "The chip sector is known for being highly intensive in capital, talent and technology. These three factors are all needed to ensure its healthy development. We have to beef up our indigenous R&D push."
Roger Sheng, vice-president of US market research company Gartner, said China is now seeking a more flexible supportive policy to better mobilize resources in the IC sector, so as to avoid wasting time and resources while exploring ways to solve bottlenecks.
As the world's largest chip market, the Chinese mainland consumes more than half of the world's semiconductors, which are then assembled into tech products to be reexported or sold in the domestic market, according to research company Daxue Consulting.
"Access to this massive (Chinese) market is essential for the success of any globally competitive chip firm today and in the future," the Semiconductor Industry Association, a Washington-based group that represents the US semiconductor industry, said in a report.
Meanwhile, the Chinese mainland is also playing an increasingly important role in the global chip manufacturing layout. It accounted for 11 percent of worldwide semiconductor fabrication capacity in 2019, and the figure is forecast to reach 18 percent in 2025 and nearly 19 percent in 2030, according to the SIA.