New coach, 'new spirit' as China kicks off Jankovic reign
Share - WeChat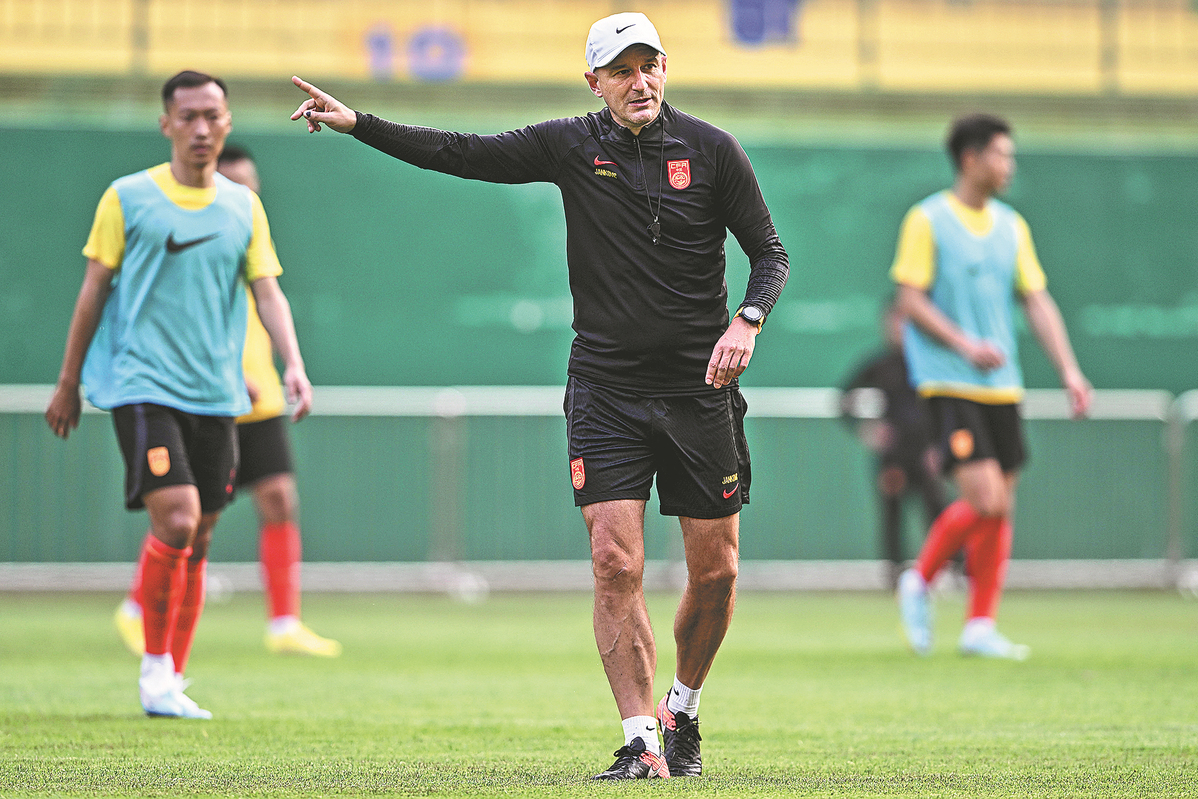 With a new head coach at the helm, the Chinese men's soccer team is hoping to shed the recent negativity surrounding the team and display a new spirit on the pitch.
Appointed last month, Serbian Aleksandar Jankovic will lead his men into battle for the first time in friendly matches against New Zealand in Auckland, on Thursday and Sunday.
Core striker Wu Lei has urged his teammates to, at the very minimum, show total commitment in the games to kick off the new era on a positive note.
"I think the priority for us is to show a brand-new spirit. The new head coach puts an emphasis on the details. First and foremost, I think we need to tighten up our defense and then build from there and grab any chances we have to win the matches," said Wu, the former Espanyol player who is now back playing for Shanghai Port in the Chinese Super League.
"The new head coach told us, for the national team, there's no concept of playing a friendly. For all national team matches, we need to give all we have for victory. The defense is key for us. We first have to make sure they don't penetrate our defensive line."
Team China got straight down to work after arriving in Auckland on Monday. According to Beijing Youth Daily, players were on the training pitch soon after checking in at their hotel. Even before boarding their flight, the squad was put through its paces in a physically demanding workout.
Jankovic clearly wants to impose his hardworking ethos on the squad as quickly as possible, and, specific to the New Zealand trip, hopes the intensive schedule can keep his players in peak condition and help them overcome any jet lag.
Oriental Sports Daily reported that the intensity of Team China's training sessions over the last month is something many of the players "haven't experienced for a long time". Fitness levels, and in particular the players' body-fat ratios, now meet the 50-year-old Serbian's requirements.
"The coach's fitness demands are actually very basic requirements for any professional player. We should meet his requirements on and off the pitch. This is our responsibility," Wu said.
"But as he is still a new coach for us, the priority for the players is to get to know his style of play as soon as possible. So far we can understand each other well. And of course, for the past month, it was very tough training for us.
"It will take some time. From our conditioning to the coach's tactics, we still need to work harder to improve our cooperation. Again, for the next two friendlies, the priority for us is to show a different mentality and spirit."
Jankovic takes the reins with Team China at perhaps its lowest-ever ebb. Failure to qualify for last year's FIFA World Cup in Qatar means China's sole appearance at the finals remains its 2002 participation.
The latest failed attempt to reach the game's biggest stage came even with the addition of naturalized players and multiple managerial changes — among them World Cup-winning coach Marcello Lippi.
At his first media conference as Team China head coach, Jankovic made it clear that the goal is qualification for the 2026 World Cup in North America.
"I know that every long journey starts with a small step. As a head coach, I must have a clear picture of the big target. The general goal is to go for qualification for the 2026 World Cup," said Jankovic.
"My requirements for all the players are the same. We will set the standard in terms of motivation, determination and hard work...The players must respect the jersey they wear. I want players who are generous, motivated and willing to sacrifice and run for their teammates."
Although observers will be keen to see how Team China applies itself in the coming friendlies, expectations of a sudden upturn in fortunes remain low, or at least realistic.
"To return to the World Cup finals is not just a dream of mine — it's a shared dream for generations of Chinese soccer players. For the veterans and younger players in Team China, as long as we can still contribute positively, we will try our best on and off the pitch," said the 31-year-old Wu.
"We are all moving in the same direction, and all of us will maximize our efforts. We can clearly feel that the new coach is very strict with us in terms of discipline. And we will be strict with ourselves.
"For myself, I have been adjusting my mindset since I returned from La Liga. There are more young players in our team, and I'm trying my best to help them. As long as I'm still here with the national team, I will always try my best."