F1 relying on Perez factor to maintain suspense
Share - WeChat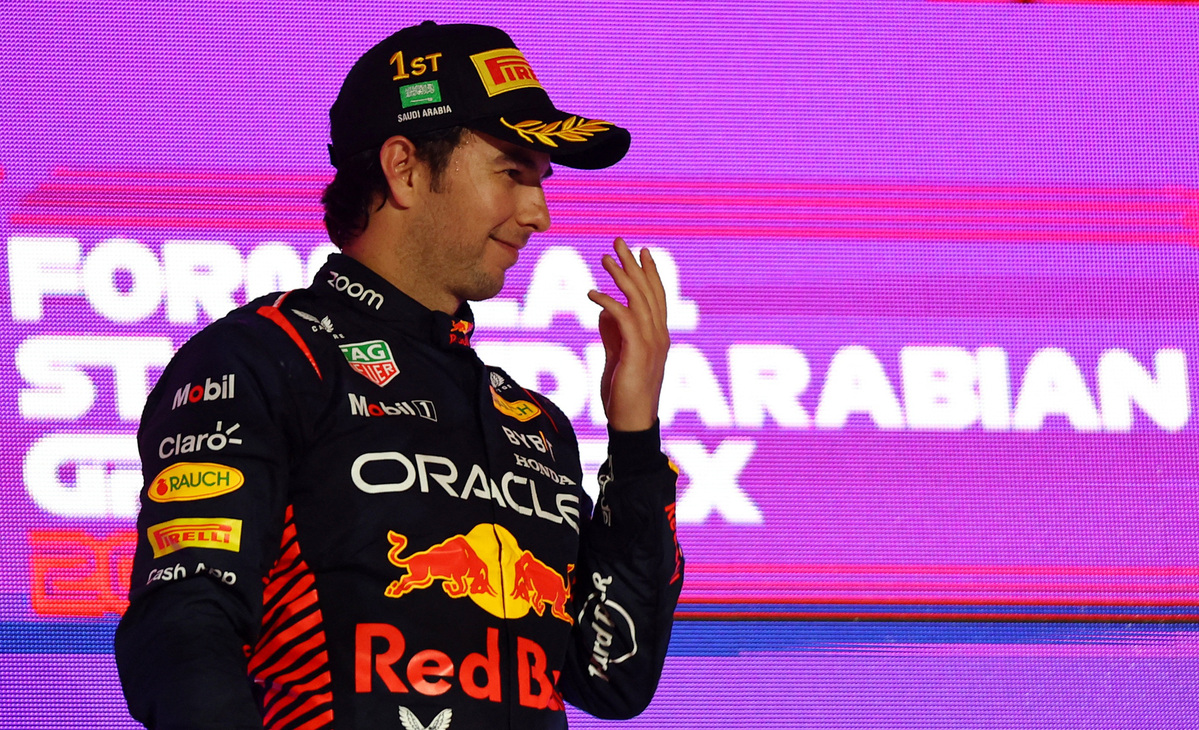 LONDON — Sergio Perez may have had his best race yet in Sunday's Saudi Arabian Grand Prix but Formula 1 desperately needs the Mexican to keep it up in a season turning into a tale of two Red Bull teammates.
The evidence from Bahrain and Jeddah suggests Max Verstappen, who started 15th on Sunday and was second already by the halfway point, will otherwise have his third successive title wrapped up in short order.
Perez, who started on pole position under the floodlights in Saudi Arabia, and his championship leading teammate are separated by just one point, a fastest lap, with everybody else fighting for the leftovers.
Neutrals will join Mexican fans in hoping the 33-year-old veteran, signed at the end of 2020 as solid support for the team's star talent, can at least give Verstappen some sort of a run for his money.
Red Bull was dominant last year and has been in a league of its own so far in 2023 — dropping only one point (for a fastest lap) out of a maximum 88 available.
The reigning constructor champion is enjoying its best ever start to a season with two one-two finishes.
Only one driver — Mercedes' George Russell in Brazil last November — has beaten it since July 2022 and Red Bull has won 12 of the last 13 races with some predicting it could sweep all 23 this year.
Verstappen won 15 of the 22 races last year to Perez's two triumphs.
"I've definitely never seen a car so fast," Mercedes' seven-time world champion Lewis Hamilton told reporters after finishing fifth in Jeddah.
Mercedes boss Toto Wolff, who knows a thing or two about serial success after his team racked up eight constructor championships in a row from 2014, put a more positive spin on the situation.
"We've had those years when we were as strong, but it's a meritocracy," the Austrian told reporters when asked about the sport's popularity taking a hit if Red Bull kept winning everything.
"Even if it is not great for the show that the same guys win all the time, it's because they've done a good job and we haven't.
"We shouldn't down-talk it because I remember hearing voices like that in 2014, '15, '16, '17, '18, '19 and '20. What makes the sport so special is that you need to work hard to win, and you deserve it as a matter of fact.
"Entertainment follows sport, and that maybe is not good from the commercial side but it is what makes Formula 1 so special."
Red Bull team principal Christian Horner did his best to conjure up some suspense, even if it did not sound entirely convincing, by suggesting the situation could change after the first three races and upgrades start coming through.
"We've got two drivers within a point of each other, one win apiece and they are going to be pushing hard in the races to come," he said.
"Albert Park (in Melbourne) has never been a lucky circuit for us. We've won there once I think, back in 2011," he added of next week's Australian GP.
"So we're going to go there and try and do the best we can."
Perez agreed: "I think we did a great job," he said of the race in Jeddah. "I don't know if it's my best weekend so far with the team, but I'm sure Melbourne will be even better."
Reuters