Experts welcome China's solution to Ukraine crisis
By CHEN WEIHUA in Belgrade, XU WEIWEI in Hong Kong and EDITH MUTETHYA in Nairobi | chinadaily.com.cn | Updated: 2023-03-22 23:45




Share - WeChat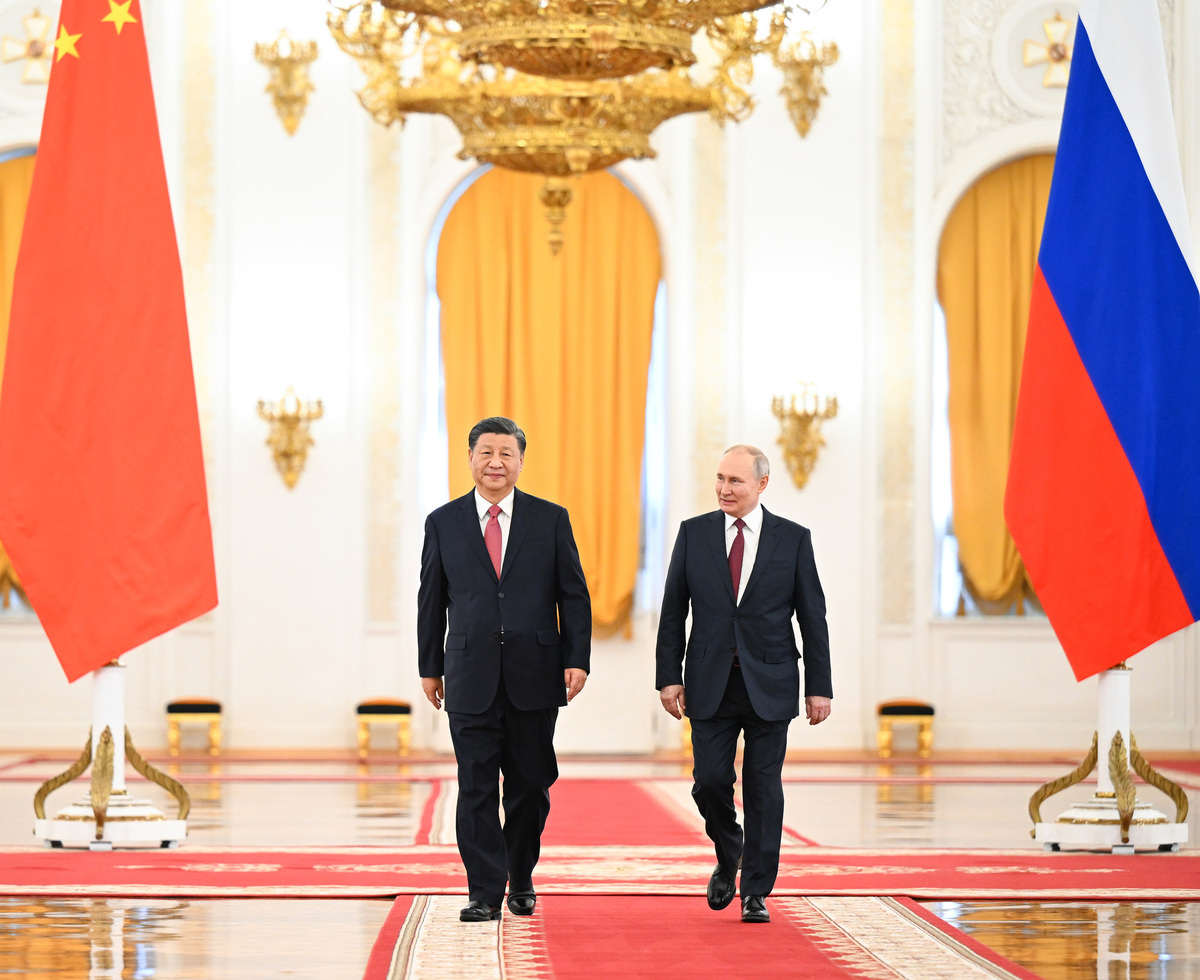 President Xi Jinping's visit to Russia, his first overseas trip since being elected earlier this month, projects the significant role of China in promoting peace and finding diplomatic solutions to the Ukraine crisis via dialogue, according to analysts.
It also comes amid increasing support in the developing Global South against United States-led moves to escalate the conflict, they said.
Martin Jacques, a British scholar, said Xi's visit is timely. The West, and particularly the US, intends to continue the conflict, while both Russia and Ukraine want to create the most favorable conditions for themselves before talking about a cease-fire or negotiations, he said.
President Xi and Russian President Vladimir Putin emphasized that the Ukraine crisis should be resolved through dialogue. The Russian side welcomed China's willingness to play a positive role for a political and diplomatic settlement of the crisis as well as its constructive proposals set forth in China's position paper, released on Feb 24, advocating a political settlement of the crisis.
The two sides pointed out that in order to settle the Ukraine crisis, the security concerns of all countries must be respected, while bloc confrontation and fanning the flames should be avoided.
The contrast between Xi and some Western politicians is vivid in the current global crisis, said Macharia Munene, a professor of history and international relations at United States International University-Africa in Kenya.
The Russia visit reinforces Xi's position as an advocate of global peace, while some politicians in the West "seem like perpetual warmongers that are hostile to cease-fires", Munene said.
Imtiaz Gul, executive director of the Center for Research and Security Studies in Pakistan, said that China pushing for peace through mediation and US-led NATO countries talking against a cease-fire and sending more weapons to Ukraine present remarkably contrasting positions.
Carlos Martinez, a British commentator and co-editor of Friends of Socialist China, said Beijing has maintained a principled position of neutrality and wants to see an end to the conflict.
Furthermore, China recently scored a historic diplomatic success, helping to broker a restoration of diplomatic ties between Iran and Saudi Arabia, which has been greeted with jubilation throughout the region.
Munene said that since Ukraine and Russia both bear huge losses, it is in the interests of both to find a way out.
Jacques said that the world is still under Western and US hegemony, but the Russia-Ukraine conflict shows the serious limitations of US influence. The US and Europe are too deeply involved in the conflict, so they have little room for maneuvering, while countries like China, India, South Africa and Indonesia have more leeway, he added.
"You can see very clearly that the developing world has definitely stood in a relatively neutral way in relationship to the conflict," Jacques said, adding that the developing world doesn't want to get involved in the conflict, feels uncomfortable about being pushed in that direction and refuses to impose sanctions on Russia.
Gul, the Pakistani researcher, noted India's refusal to go along the US narrative on Ukraine, and said China's 12 points, as stated in its recent position paper on the Ukraine situation, demonstrate its concerns and desire "to work for peace rather than fueling war through supplies of weapons like the Western nations have been doing".
Jacques said China's position paper on the Ukraine crisis has been taken more seriously in the West than he expected, and he believes China wants to be "a voice of authority, reason, cease-fire, settlement, fairness and anti-blocs".