China expands its toolbox for global unity
Share - WeChat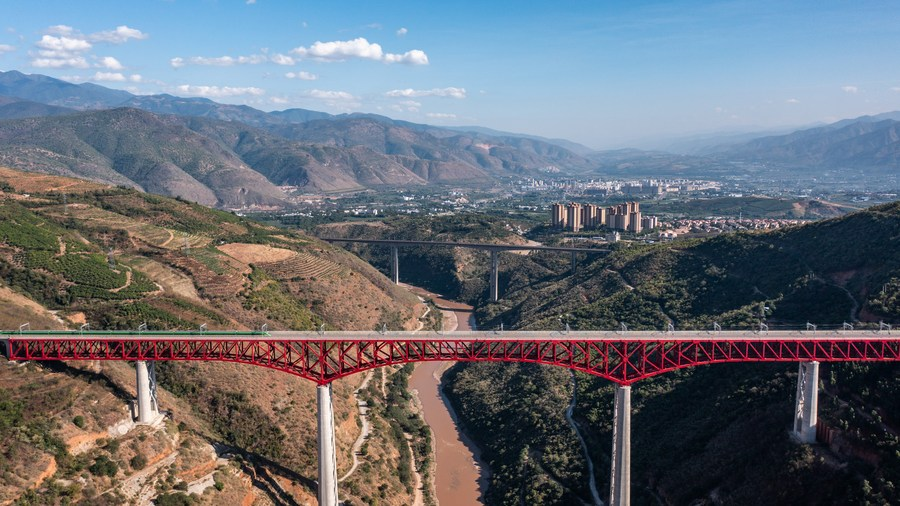 Initiatives reflect Beijing's commitment to community with a shared future
Over the past 10 years, many policy researchers have found that China has remained true to its word on its commitment to building a community with a shared future for mankind.
To achieve this major vision, Beijing has added to its huge toolbox, putting forward and developing a range of detailed blueprints and initiatives, such as the Belt and Road Initiative and the Global Development Initiative.
In the past decade, the BRI alone "has galvanized nearly $1 trillion of investment, established more than 3,000 cooperation projects, created 420,000 local jobs and helped lift almost 40 million people out of poverty", State Councilor and Foreign Minister Qin Gang told reporters earlier this month.
At the heart of these ambitious Chinese blueprints is the nation's unchanged belief that countries can and should get along well with one another and the global community needs teamwork and unity, officials and scholars said.
When speaking at the Moscow State Institute of International Relations in March 2013, President Xi Jinping observed that mankind, living in the same global village, has increasingly emerged as a community with a shared future in which everyone's interests are closely entwined.
After that, he proposed the Belt and Road Initiative, also in 2013, the Global Development Initiative in 2021, the Global Security Initiative last year, and the Global Civilization Initiative on March 15. The GDI alone has won the support of more than 100 countries and international organizations, including the United Nations.
"All these have enriched our vision for a community with a shared future for mankind and provided practical pathways toward it," Xi said in a signed article published in Russian media on Monday. "They are part of China's response to the changes of the world, of our times, and of the historic trajectory."
The community vision has been incorporated many times in key documents such as resolutions and joint statements focusing on global governance, including those of the United Nations and the BRICS grouping of Brazil, Russia, India, China and South Africa.
Vice-Foreign Minister Xie Feng said earlier this year that "the past 10 years has witnessed this vision displaying increasing power of truth and enormous potential in practice. ... Building a community with a shared future for mankind is not an empty concept, but enriched practices".
China is working with various countries to translate the GDI into reality and stepping up efforts on the high-quality development of the Belt and Road, he noted.
In addition, the GSI proposed by Xi "is an innovative measure for responding to international security challenges and tackling fundamental issues concerning the world's lasting tranquility", he said.
"All countries are entitled to prosper, and the success of all is the best of all," Xie added.
He also called for greater joint efforts among countries to further fulfill common development, security, openness, values and responsibility for tackling growth deficits, achieving peace, deepening win-win cooperation, building bridges among cultures and securing international strategic stability.
Cui Hongjian, director of the China Institute of International Studies' European studies department, said that "there has been a growing maturity of China's overall thinking and proposals in advancing the building of a community with a shared future for mankind".
Beijing's proposals have been reaching deeper and moving closer to the fundamental parts of global governance through the introduction, one after another, of the GDI, the GSI and the GCI, Cui said.
"All these efforts are refocusing global attention and efforts to address one common ultimate question — achieving security and development in the whole world," he added.
From the GSI to the specific documents proposed by China recently, including the position paper on a political settlement of the Ukraine crisis, China has made relentless, earnest efforts to offer Chinese solutions to global security governance, Cui said.
"Only by doing so will it be possible to see many of the existing hot spot issues eased or resolved and to see the climate for development in the world improve," he said.
Zhang Yuyan, director of the Institute of World Economics and Politics at the Chinese Academy of Social Sciences, said that building a community with a shared future for mankind is "a viable path for perfecting global governance".
"Currently, the international community is confronted with, and should deal with, worsening deficits in peace, development, security and governance," he said.
"It should be noted that China's efforts in seeking modernization will also face greater challenges and obstacles if such thorny issues haunting the whole of mankind are not resolved," he added.
Building a community with a shared future for mankind is in line with the natural law of economics when it comes to the division of labor in the global context, he said.
"As a major economic player in the world, China benefits from the international division of labor, and it contributes considerably to the world economy in return," he added.
Officials and scholars said that China in the future will, as always, remain committed to its global vision, earnestly participate in the global governance agenda and make greater contributions to advancing peace and development in the world as well as the progress of the whole of mankind.
Zhang Jun, China's permanent representative to the UN, said it will be important for China to make further efforts in overall planning and coordinating to advance the series of major initiatives and proposals put forward by Xi.
"We need to build a full-fledged, multidimensional framework that is aimed at building a community with a shared future for mankind through comprehensively advancing the BRI, the GDI and the GSI," he said.