China treats both criticism and praise matter-of-factly
Share - WeChat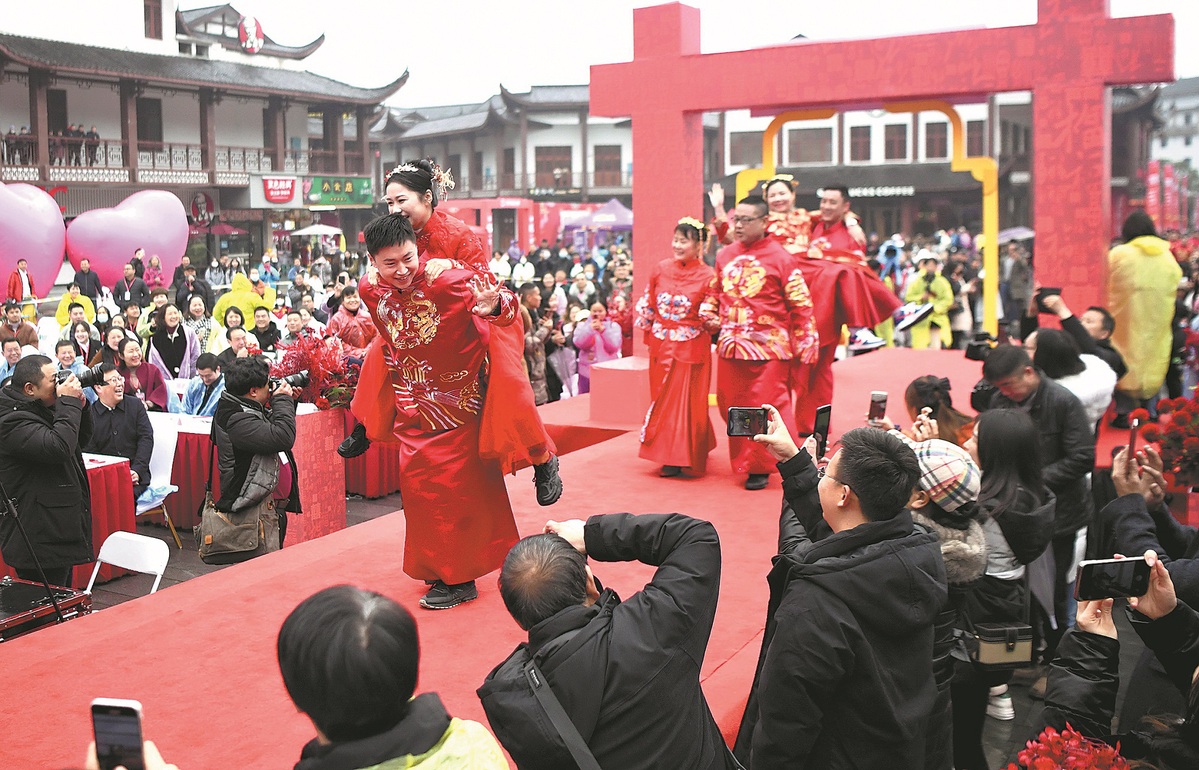 Editor's note: China has attained widely recognized economic success and promoted the well-rounded development of all its people over the past decade, with decisive achievements on its path to building a moderately prosperous society in all respects, writes a veteran journalist with China Daily.
Paris-based international market research group Ipsos released its 2022 Sense of Happiness poll results in the middle of March, saying China tops the world happiness ranking with 91 percent of those surveyed in the country claiming they are happy.
Exhilarating as it is, neither the Chinese government nor the public seems to be celebrating the good news. Having survived numerous challenges since the founding of the People's Republic in 1949, China is mature enough to treat both criticism and praise matter-of-factly.
The Chinese people know where they are and where they are heading to, and refuse to be disturbed by either laudatory or snide remarks. What's more, though several other surveys in recent years have also ranked China high on the happiness index, some polls have placed the country below the 70th place.
While not taking the poll results seriously, I still tend to believe the Chinese people are among the happiest in the world. And they have good reason to be so. Fast-paced development over the past four decades has made China the world's second-largest economy. The over 1.4 billion Chinese people have benefited from the country's development and rising incomes — more than 100 times — during the period.
While prices kept increasing in many countries in recent times because of the food and energy crises, China managed to keep the consumer price index rise to 2 percent last year — while the average disposable income of the Chinese people increased by 5 percent.
While workers in many countries went on strike in 2022 to protest against rocketing prices which made it difficult for them to pay their bills, the Chinese people increased their bank deposits to 126 trillion yuan ($18.3 trillion). That means on average every Chinese person has more than 90,000 yuan, about twice their annual income, in bank deposits.
Of course, that does not mean all the Chinese people have fat wallets. For years, the Chinese government has been according priority to creating about 11 million jobs to ensure the similar number of students graduating from college annually find employment. As a result, China's registered unemployment rate has been below 4 percent for years while the surveyed unemployment rate hovers around 5.5 percent.
Although China's GDP growth is slowing down because of factors such as the worsening international investment and trade environment, the COVID-19 pandemic, and Western countries' sanctions against some Chinese enterprises, the lives of the common people in China have not been much affected due to the government's people-centric development policies.
In fact, despite the tax exemptions and deductions, which benefited businesses but decreased the Chinese government's financial revenue, China kept increasing spending on sectors that are closely related to people's lives and livelihoods.
The government has also increased pension for 19 years in a row — at about 5 percent annually — making retired people in urban areas probably the happiest group who enjoy their life by singing and dancing in community squares or holidaying at home or abroad.
Retired rural residents, who didn't pay for endowment insurance during their working age because such a mechanism was non-existent for rural areas when they were working, are now getting monthly pension thanks to a new insurance system introduced by governments at different levels.
When people complained about expensive medical bills, the government joined hands with medical insurance companies to negotiate with medicine and medical equipment suppliers to reduce medical treatment costs. The efforts resulted in the reduction of costs for some medicines and medical equipments by at least half, thus saving billions of yuan for millions of people.
And when people complained about the high cost of rearing a child, the central government worked out a plan to increase the number of affordable kindergartens, especially kindergartens which admit children below three years of age so as to ease the burden and concerns of their working parents.
Besides, hundreds of thousands of apartment buildings which are more than 20 years old can expect a face-lift under a five-year national plan which urges governments at different levels to contribute their share in the repair and renovation project. Usually, the residents don't have to pay a penny.
Forget about the poll results, be they good or bad. An old Chinese saying goes: The feet know if the shoes fit or not. The Chinese, who believe that labor creates fortune, will continue to concentrate on their national rejuvenation targets for a better and happier life.
kangbing@chinadaily.com.cn


The author is former deputy editor-in-chief of China Daily.
Most Viewed in 24 Hours
China Views