US' game of us-vs-them condemnable
Share - WeChat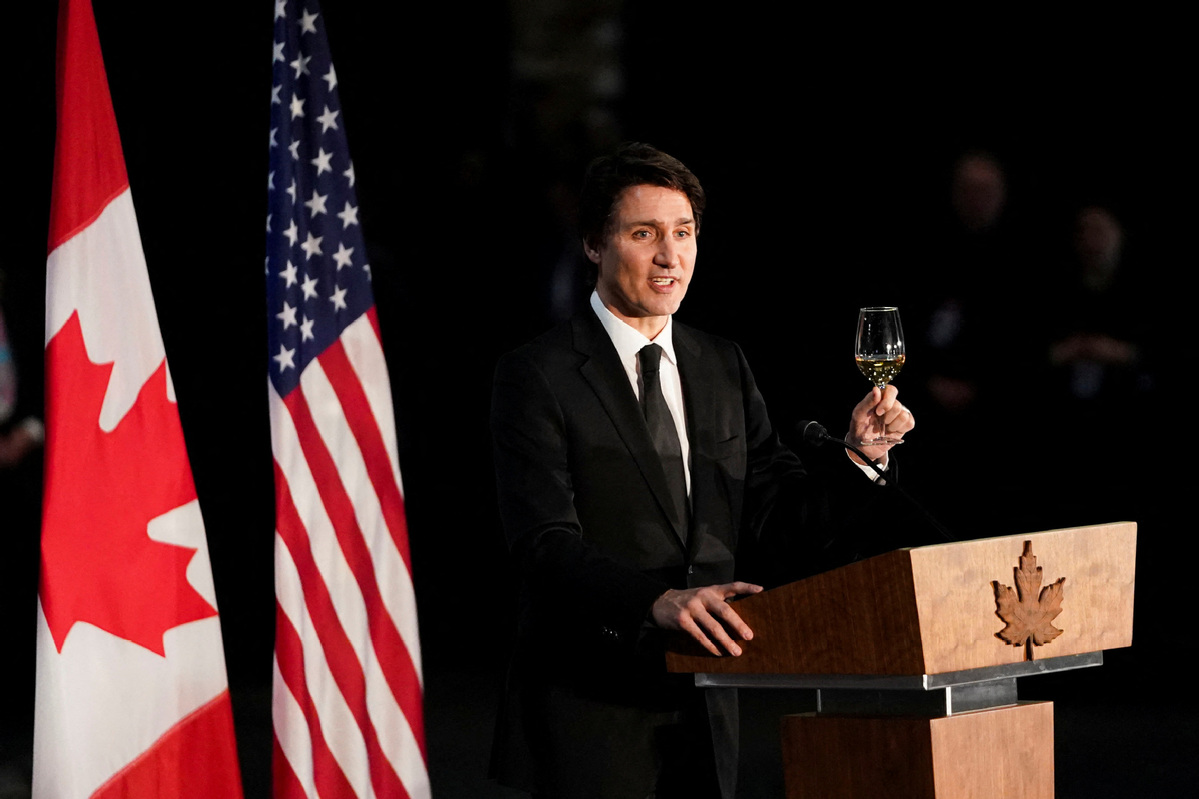 Canadian Prime Minister Justin Trudeau said during US President Joe Biden's visit to Canada last week that the two countries must be united against an "increasingly assertive China".
The Oxford Dictionary of English defines "assertive" as "having or showing a confident and forceful personality". Merriam-Webster, its authoritative US counterpart, defines "assertive" as "disposed to or characterized by bold or confident statements and behavior".
Isn't it normal that China, bullied by foreign countries (particularly Japan and the United Kingdom) for over a century until the late 1940s, now that it has become the world's second-largest economy and a major power politically, scientifically, technologically and culturally, is "increasingly assertive" on the international stage to defend its national interest? The United States and the United Kingdom, for instance, have been known for their political assertiveness for ages.
An example of an "increasingly assertive" US is the "Summit for Democracy" which President Joe Biden has called on Wednesday and Thursday. Its first version was held online in 2021. There is nothing untoward about holding a summit for democracy per se. It becomes problematic, however, if it adopts the perilous "us-vs-them" approach. According to the US State Department, the summit will include a conversation with Deputy US Attorney General Lisa Monaco "on defending the rule of law against hostile nation states" and "how the US Department of Justice is countering new and evolving threats to the rule of law posed by hostile nation states, from transnational repression to foreign malign influence".
The summit in the US capital is, no surprise here, entirely focused on Western-style democracy, also referred to as "liberal democracy", based on Western countries' long-running attempt to globalize (neo-) liberalism and ensure that, ultimately, global development and modernization result in global Westernization.
Liberal democracy is an indirect and representative form of democracy that is focused on regular elections and majority (or plurality) rule.
Democracy (from the Greek demos for "people" and kratos for "rule") takes, quite naturally, a wide range of forms, based on the world's more than 190 countries' different cultural, economic, political and social backgrounds and histories.
The Chinese word for democracy is minzhu (min meaning "people", zhu meaning "master" or "host"), a term that appeared in the mid-19th century.
Democracy isn't a status but a process. For instance, it was only in 1965 when then US president Lyndon B. Johnson signed the Voting Rights Act (I admire him for that) that the legal barriers preventing African Americans from exercising their constitutionally guaranteed right to vote were removed. And until 1952 immigrants of Asian descent were barred from becoming US citizens and, consequently, having access to the ballot box.
This may sound unreal, but Liechtenstein, a principality in Central Europe, granted women the right to vote only in 1984(this is not a typing error).
As every political science student knows, there are different models of democracy. Apart from the West's "liberal democracy" concept there are also "socialist democracy" and other forms of democratic systems (Singapore springs to mind) based on Asian values such as placing great emphasis on community, social cohesion, filial piety, benevolence and consensus politics. Aside from Confucianism, Taoism and Buddhism in Asia, Marxism continues to shape the concept of people's democracies in not only China but also, for instance, Vietnam, Laos and Cuba.
Several countries with rather different political systems have chosen to add the word "democratic" to their official names, such as the Democratic Republic of East Timor, the Democratic Republic of the Congo, and the People's Democratic Republic of Algeria.
Biden has described the current state of world politics as an "inflection point", that is, a moment when people need to choose between "democratic" and "authoritarian" systems of governance.
While the West, including the United States and the European Union, will deny they are out to contain China's development and modernization, in politics, geopolitics in particular, perception is (quasi-) reality. Western politicians ought to take this into account and accept that China's political system is different from theirs and that it would be foolhardy to attempt regime change in Beijing. They tried it in Hong Kong and failed miserably.
They should also accept the fact that the Taiwan question is China's internal affair. Taiwan is not Ukraine. Former Taiwan leader Ma Ying-jeou is on a 12-day visit to the Chinese mainland for paying his respects to his ancestors on Tomb Sweeping Day. Although he is visiting the mainland in his private capacity, it's a good sign for the positive development of cross-Straits ties.
The Chinese democratic system is people-centric and result-oriented. Under Xi Jinping's leadership, the Communist Party of China has been developing whole-process people's democracy, which the Foreign Ministry has described as "integrating process-oriented democracy with results-oriented democracy, procedural democracy with substantive democracy, direct democracy with indirect democracy, and people's democracy with the will of the state".
True, whole-process people's democracy is different from the West's election-focused "liberal democracy". But our planet which is home to 8 billion people is large enough to accommodate different forms of democracy. What is most needed to ensure world peace is mutual respect among countries in terms of their national development and security interests, noninterference in the internal affairs of other countries, and cooperative competition.

The views don't necessarily reflect those of China Daily.
If you have a specific expertise, or would like to share your thought about our stories, then send us your writings at opinion@chinadaily.com.cn, and comment@chinadaily.com.cn.
Most Viewed in 24 Hours
China Views