Embodying the spirit of the Games
Share - WeChat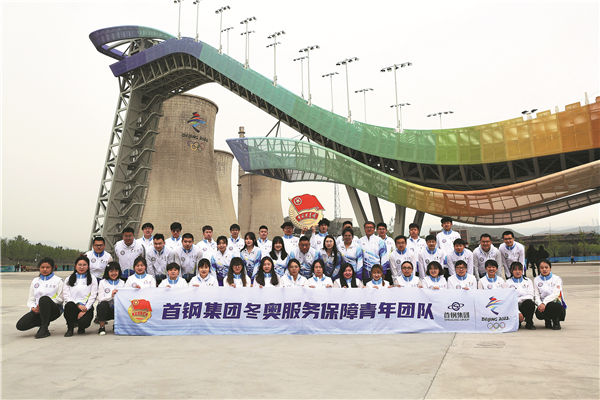 Olympics volunteer group praised for its professionalism and adroitness in delivering the best possible experience for athletes and visitors to Shougang venue, Gui Qian reports.
When Chinese freestyle skier Gu Ailing secured her first 2022 Winter Olympics gold in Beijing with a perfect landing, the whole Shougang Big Air venue burst into applause and cheering. Meanwhile, working as a volunteer not far away from the venue, Liu Junyu, 28, was moved to tears just hearing the thunderous cheers, although she was unable to see the historic moment.
"Many volunteers were on duty then, so we didn't all get the opportunity to witness the exciting moments of athletes winning the championship or the award ceremonies, but we all immersed ourselves in that atmosphere and could feel the charm of competitive sports," Liu says. "I felt so proud that the Winter Olympics ran smoothly because of our work."
Liu was one of 192 young volunteers from Shougang Group, who participated in the 2022 Winter Olympics in Beijing. Titled Shougang Group Winter Olympics Youth Service Team, they worked 66 days and provided more than 15,000 hours of volunteer service. For their dedication and professionalism, the team was later awarded the China Youth May Fourth Medal as a group, the highest honor that can be granted to Chinese youth collectives.
Shougang Group, a giant in China's steel industry, has been promoting its own evolution. As some of its old factories have been turned into new cultural parks and venues for big events, its young employees have embraced this transition by serving as volunteers in competitions, exhibitions and other activities, displaying their youthful energy.
The Shougang volunteers have been associated with the Olympics twice. They worked as drivers and cheerleaders for the 2008 Summer Olympic Games in Beijing. Fourteen years later, in 2022, chasing the honor of working at two Olympics, the group further developed its volunteering services.
Detailed volunteering support was provided for almost every aspect of the event, from closed-loop control, accommodation and catering, to guiding and translating. Liu remembers how she designed the line of motion, so the guests could enter and exit the venue more conveniently, as well as how her peers plowed 50,000 square meters of ice and snow each day to make sure the tracks and ramps were in the best condition.
"Working as a volunteer may not be as simple as it seems to be," says Liu. "We all received strict and intensive training and were equipped with the knowledge and skills we needed. I would say volunteering is actually a highly professional job."
Jiang Meng, 26, another volunteer from Shougang Group, agrees: "A volunteer needs to be very skilled to be helpful. Within three years, I've grown from a volunteering trainee to a trainer. Now, I lead a group of new volunteers to do publicity work. I also wrote a volunteer service guide and was in charge of some prejob training."
Such training for the Shougang volunteers included field trips, map-drawing and etiquette coaching.
Covering an area of 863 hectares, the Shougang park has landmarks, such as the Big Air, the skywalk, the cooling towers and Qunming Lake. "We were not only required to identify where they are, but also to remember the history and stories about them so we could better present to our guests the beauty of Shougang and Beijing," says Jiang.
"For example, the Big Air Shougang is nicknamed the 'flying apsaras', as it was inspired by the frescos at Mogao Caves, a UNESCO World Heritage Site, in Dunhuang," she says. "And for the cooling towers, I heard someone thought they were nuclear reactors, but they are actually an example of the green transformation of Shougang — from a steel industry facility to a beautiful backdrop for sporting events."
Most Popular