Vertical farming reaches new heights
Share - WeChat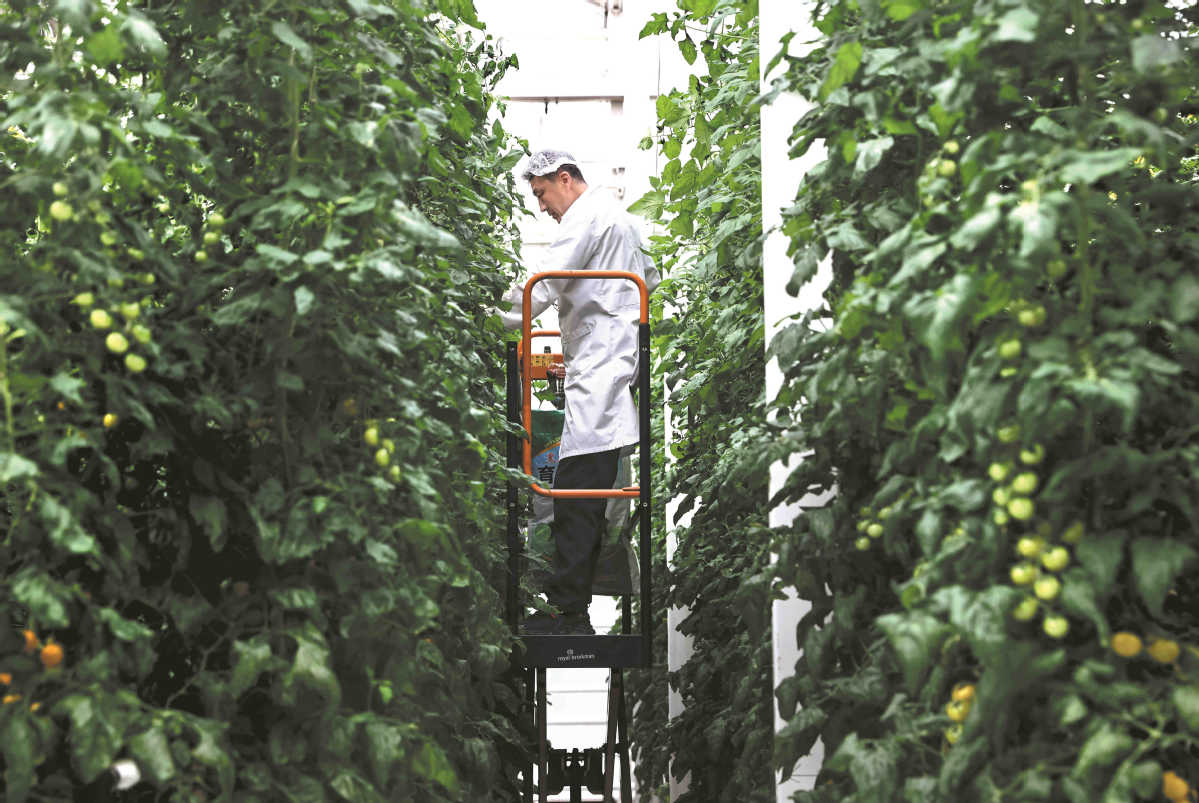 Innovative approach brings rewarding yields, saves water
One year ago, Li Xinxu was an official responsible for promoting technology at a government department in Beijing. However, he was not happy with his day-to-day work and longed for a more meaningful occupation.
Now, the 39-year-old operates new-tech farming in a 100,000-square-meter greenhouse in a northwestern suburb of the Chinese capital.
Cherry tomatoes hang up to 4 meters high, ripening on tiered shelves in the greenhouse, where the temperature is maintained between 15 C and 30 C in all seasons. Worker bees occasionally emerge from hives in the structure.
Fruits and vegetables are nourished in liquid nutrient solutions, rather than being grown in soil, thanks to vertical farming. This cutting-edge agricultural technique was developed by scientists to overcome the lack of resources, particularly as the world's population continues to rise.
The United Nations Food and Agriculture Organization has said the global cropland area per capita decreased from about 0.45 hectares in 1961 to 0.21 hectares in 2016. The UN also reported that the world's population reached 8 billion in November, and is expected to stand at 9 billion by 2037.
Against this backdrop, vertical farming is seen as a solution to maximize yield over a limited area by optimizing resources and space.
As urbanization accelerates in China, agricultural experts and leaders of "new farming" companies are exploring ways to localize this agricultural technology to ensure that people living in cities have access to stable food supplies.
In January, National Bureau of Statistics figures showed that China's urban population exceeded 920 million by the end of last year, and will continue to rise.
Since 1999, the vertical farming technique proposed by a university professor in the United States has been adopted not only in Beijing, but in different parts of the world.
Li Xinxu, now CEO of Beijing Cuihu Agricultural Technology Co, learned about vertical farming during three months of agricultural training in the Netherlands in 2014.
He said he was initially intrigued by the way this agricultural technique prevented insect disease.
"Before I went for training in the Netherlands, I visited croplands from time to time in Beijing's Changping and Miyun districts from 2011 to 2013. The farmers were plagued by insect diseases and were finding it hard to reduce water usage while spreading manure on their plants," Li said.
He added that he was determined to find an economical and environmentally friendly agricultural method that saved water.
Vertical farming in the Netherlands gave him ideas. Some 9,700 hectares of crops are grown in Dutch greenhouses, which use less fertilizer and water than those elsewhere. A farm in the Netherlands only uses 2.25 liters of water to grow about half a kilogram of tomatoes, while on average, more than 126 liters of water is used for such a purpose elsewhere.
After returning to China, Li decided to put the innovative technology to use in greenhouses owned by local farmers. As a result, more than 1,200 hectares of farmland in Beijing have benefited from this approach.