PLA Navy evacuates nearly 700 from Sudan
Share - WeChat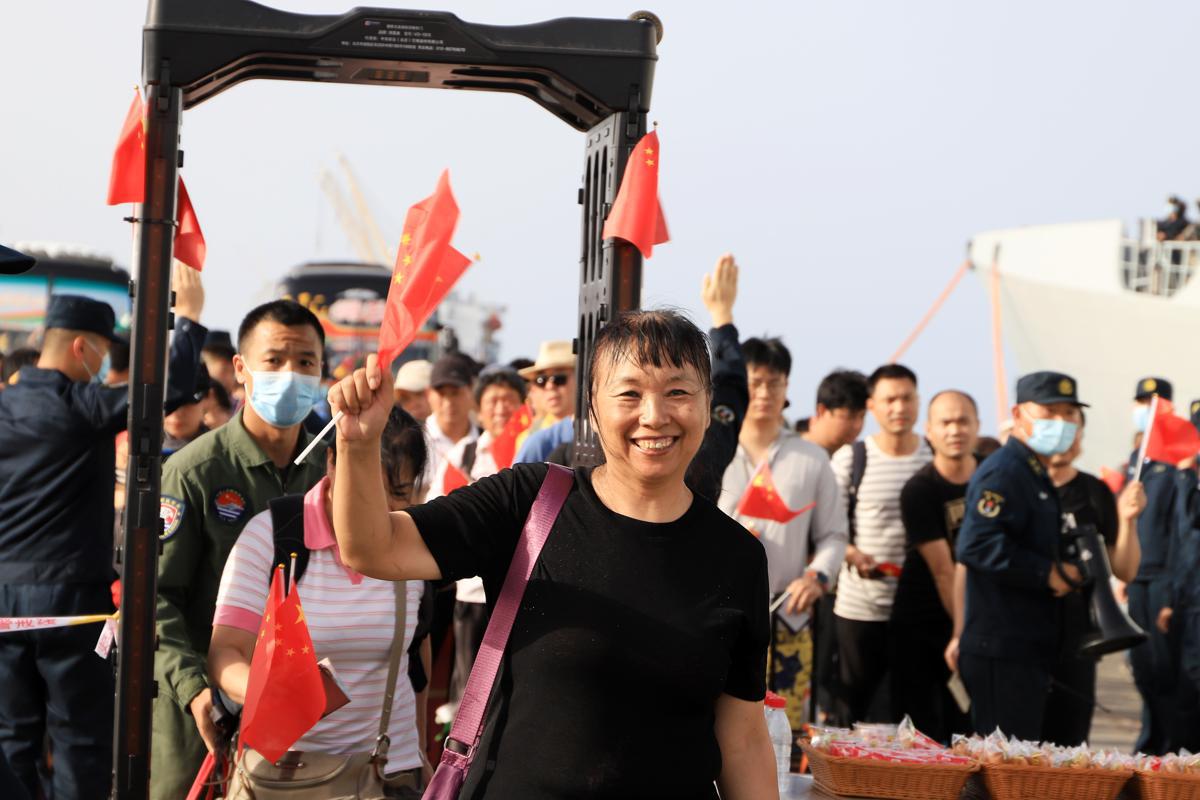 The People's Liberation Army Navy helped evacuate on Thursday nearly 700 Chinese and foreign nationals from conflict-torn Sudan.
In a news release published in the afternoon, the PLA Navy said that 668 Chinese citizens and 10 foreign nationals have been relocated to Jeddah, a coastal city in Saudi Arabia, by two Chinese warships — CNS Nanning, a Type 052D guided-missile destroyer, and CNS Weishan Lake, a Type 903 resupply vessel.
According to the release, the two vessels with more than 490 sailors and special operations commandos onboard are part of the Navy's 43rd escort flotilla in the Gulf of Aden and waters off Somalia.
Following orders from the Navy, the Nanning and the Weishan Lake sailed toward Port Sudan, the principal seaport of the African nation, and arrived there on Wednesday morning.
Navy personnel established a security zone in the port, with separate areas for assembly, registration, security check and boarding. Armed commandos stood on alert on the site.
A Navy video clip showed sailors of the Weishan Lake putting up banners on the portside, and one of these read: "Our ships are moving territories of China, and you will be home safe and sound as soon as you board them."
Footage also showed that the guns onboard the Weishan Lake were loaded with real munitions.
On Wednesday afternoon, buses transporting the evacuees reached the port. Many of the civilians were excited at the sight of the Chinese vessels and troops, and waved the Chinese national flag, while some cried, according to the PLA Navy.
In the video, a Navy officer is heard telling the evacuees that wherever they are, "the motherland will always protect you".
He continued: "The Navy will always safeguard our overseas compatriots' safety and interests. Please be assured that as we are here, you are safe now." The evacuees responded by saying, "Long live the motherland!"
On Thursday morning, the Nanning and the Weishan Lake arrived in Jeddah with the first group of civilians and after all of them safely disembarked from the vessels, the ships began sailing back to Port Sudan to evacuate a second group, the Navy said.
This is the third time the PLA Navy has carried out an overseas evacuation mission in recent years, the news release said, noting that the previous two operations took place in Libya in 2011 and Yemen in 2015.
At a news briefing on Thursday afternoon, Foreign Ministry spokeswoman Mao Ning said that more than 1,300 Chinese nationals had left the conflict zones within Sudan, and the ministry is closely monitoring the situation of Chinese citizens remaining in that country and would spare no effort to help them as and when needed.
Mao said that nationals from five foreign countries boarded the two Chinese naval ships by Wednesday night, while some other countries had also sought China's assistance. China will do whatever it can to help them, she added.
Wang Xu contributed to this story.