In Kenya you'll find much more than lions and elephants
Share - WeChat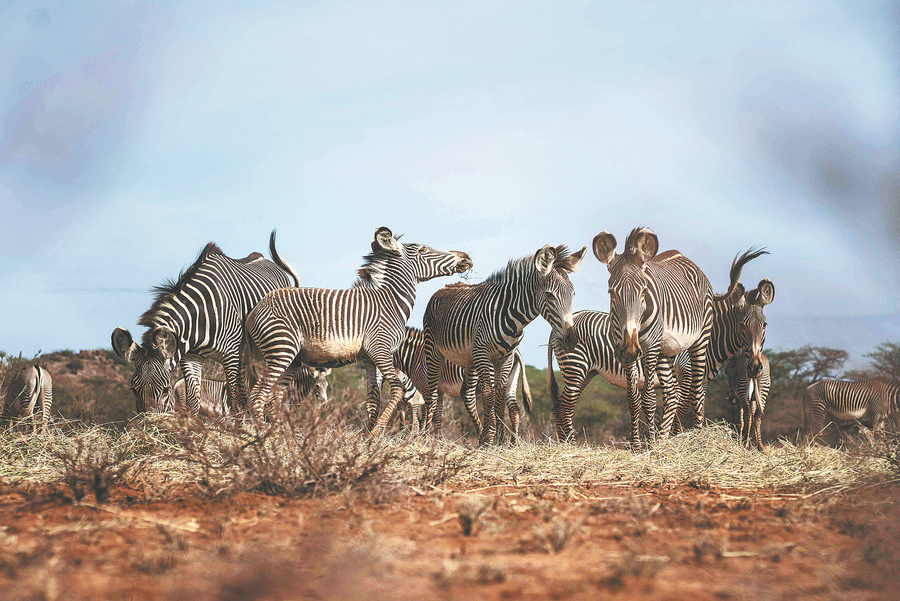 From animal reserves to a site of ancient civilization, lakes and beautiful marine life, the East African country has so much to offer tourists.
Kenya is famed for its world-class long-distance athletes, scenic game reserves and picturesque beaches.
The country also has many other things worth getting to know, many off the beaten track. It was East Africa's leading tourist destination with more than 1.5 million international visitors last year and offers tourists a wide variety of adventures in both rural and urban areas.
One of the hidden gems is Lake Turkana, the world's largest permanent desert and alkaline lake, in the country's far north. The lake serves as a pit stop for migrant waterfowl and is a major breeding ground for the Nile crocodile. It also hosts a variety of venomous snakes as well as hippopotamuses.
While in the area, visitors have access to Sibiloi National Park, South Island National Park and Central Island National Park, with flora and fauna covering 161,485 hectares. The Lake Turkana National Park site was inscribed on the United Nations World Heritage List in 1997, and in addition to serving as a tourist destination it has been identified as an outstanding laboratory for the study of plant and animal life.
While in the area, tourists can visit Nariokotome village near the shores of Lake Turkana, where the remnants of the Turkana Boy were found, a near-complete skeleton of a 1.6-million-year-old Homo erectus, which has given Lake Turkana the moniker "cradle of mankind".
A commemorative pillar and a brass replica of the Turkana Boy mark the spot where researchers discovered the fossil in 1984. Lake Turkana's status as a notable archaeological site was cemented by the discovery in 2011 of some of the oldest known stone tools, believed to have been in the area for 3.5 million years.
Further south of Lake Turkana visitors interested in seldom-visited attractions will find the Samburu National Reserve. It teems with rare species of animals such as the Grevy's zebra, the Somali ostrich, the gerenuk, the reticulated giraffe and the beisa oryx.
In addition to these rare species, visitors also have a chance to view other animals because it is home to at least 900 elephants as well as large predators such as lions, leopards and cheetahs. Wild dog sightings are also common in this protected area.
Central to the Samburu National Reserve's ecosystem is the Ewaso Ng'iro River, on which visitors can take a safari in inflatable rafts. The river's banks are also dotted with the larger grazers found in the reserve such as impalas, buffalo and hippopotamuses.
The Samburu National Reserve is also seen as a bird watcher's paradise because it hosts more than 450 species of resident and migrant birds. With a good pair of binoculars and the help of park guides, anyone passionate about all birds or those who just enjoy seeing the colorful ones will be delighted by the abundance of plumage in the reserve.
On request, visitors to the reserve can also enjoy a visit to a Samburu village to interact with members of the Samburu tribe and get a glimpse of their culture and way of life.
Chyulu Hills, closer to Nairobi, Kenya's capital, presents another lesser-known but naturally endowed tourist destination. Even though it receives far fewer visitors than flagship wildlife destinations in the country, Chyulu Hills was ranked among the top 50 places to visit worldwide this year by the Times magazine.