Hotel Éclat Beijing marks 10th anniversary with concerts, exhibitions
Share - WeChat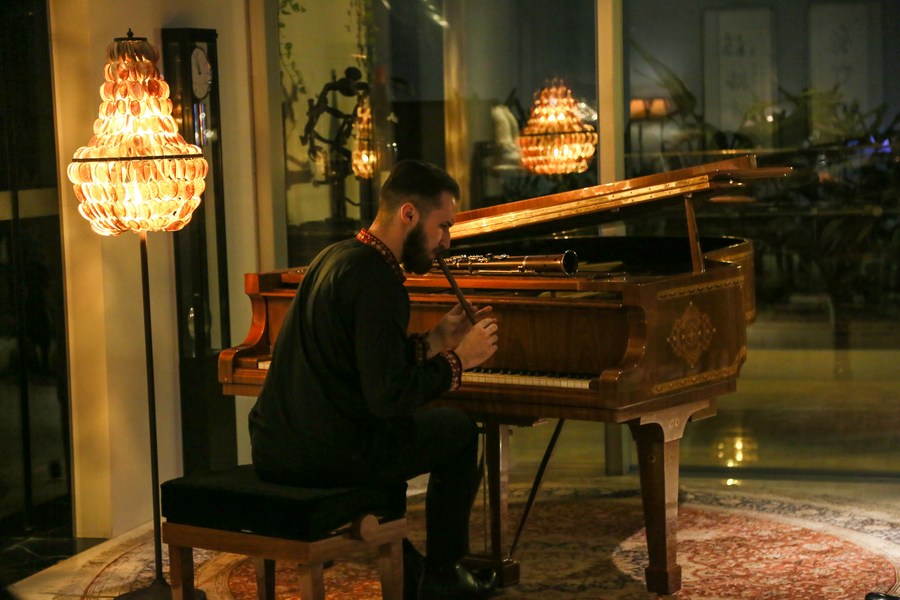 A chamber concert featuring Romanian musician Mihai Teacă was held on Wednesday at Hotel Éclat Beijing in Parkview Green Fang Cao Di complex, as part of the celebrations of the 10th anniversary of its establishment.
Teacă is a pianist, tenor and artist of taragot, a clarinet-like woodwind instrument in Romanian folk music.
On a Fazioli grand piano, the 22-year-old musician performed, in the presence of Romanian ambassador to China Basil Constantinescu, Romanian folk transcriptions such as the sixth and tenth of Franz Liszt's Transcendental Etudes, Mephisto Waltz No.1, and piano suite Mussorgsky: Pictures at an Exhibition.
Staged at its presidential suite, which is covered by a mélange of Salvador Dali's manuscripts and other various contemporary artworks, Teacă's recital marks the third monthly chamber concert organized by the Beijing luxury boutique hotel this year, inviting renowned artists from around the world.
"For our distinguished guests, this chamber concert was not just a musical extravaganza that they could partake in; it was also a magnificent celebration of the exquisite harmony between art and music," said Dany Lützel, the hotel's general manager during the first concert held in March.
Aside from the chamber concerts, the hotel, known for its museum-quality collection of artworks adorning its lounge and rooms, will also host a range of celebratory events such as art exhibitions, to mark its 10th birthday, according to its public relations department.
Endless Dew, an installation made of glaze and copper that occupies the hotel's 21st floor Cocoon, is also part of the celebration. Created by Lu Zhengyuan, a professor at the Central Academy of Fine Arts, the piece is on view until May 21 and is free to the public.