CIIE Stories solicitation campaign launched
Share - WeChat "The going may be tough when one walks alone, but it gets easier when people walk together."
This familiar Chinese proverb succinctly summarizes the truth that when individuals, communities and nations strive to coexist in harmony and goodwill, humanity benefits at every level.
Since the debut of the China International Import Expo (CIIE) in 2018, Shanghai's famous "four-leaf clover" — formally known as the National Exhibition and Convention Center (Shanghai) — has welcomed guests from all over the world to compose and present vivid "CIIE Stories" that embody and celebrate the theme of openness.
Today the CIIE shines as a showcase of China's new development paradigm, a platform for high-standard opening-up and an international public good shared globally. "Open, cooperative, innovative, and win-win" — the common elements of CIIE Stories are timeless.
No matter in what capacity you or your organization has participated in or experienced previous CIIE celebrations or personally witnessed the positive impact of the CIIE on your life or work, we invite you to tell us your stories.
We look forward to you joining us in witnessing history and writing a new chapter in the CIIE legacy.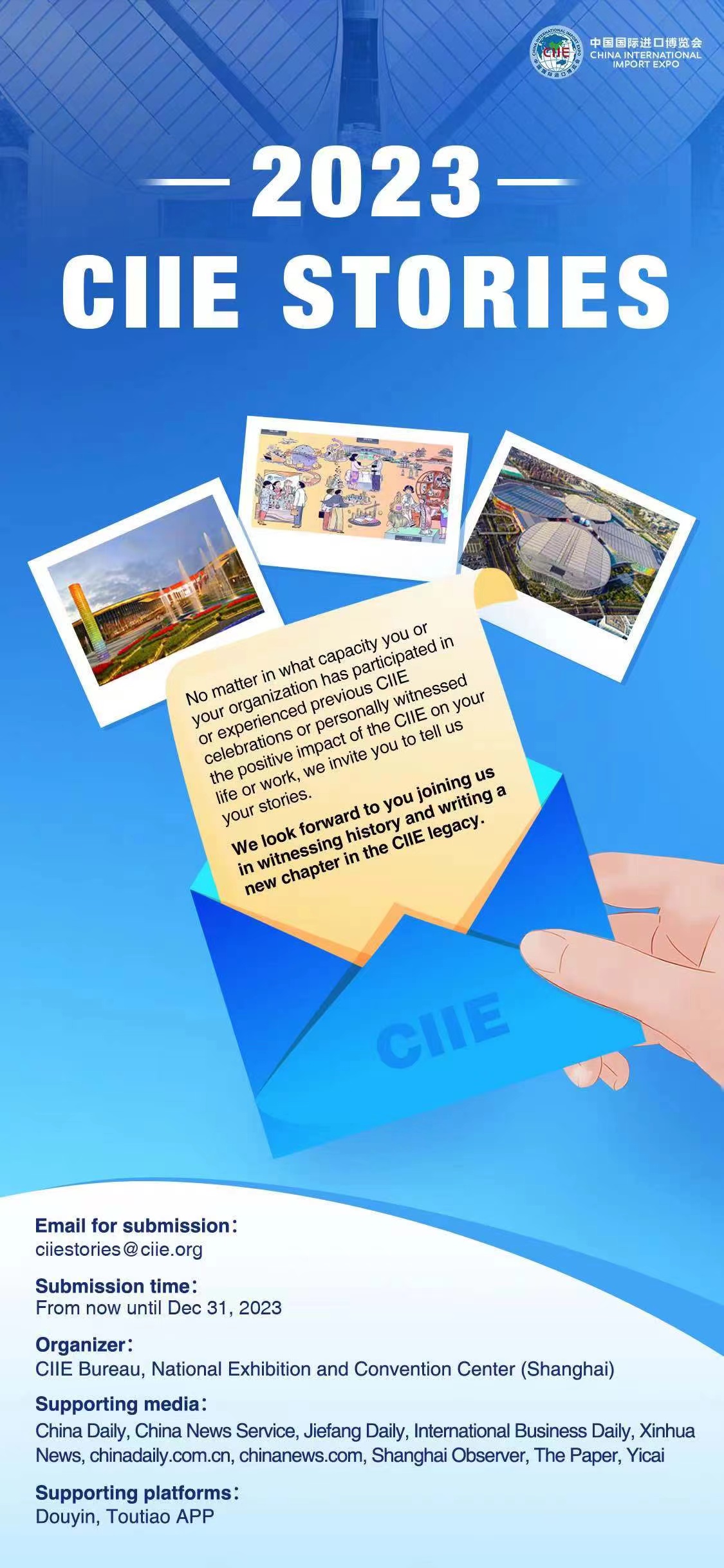 Collection method
This solicitation is international, as we are actively engaged in pursuing clues to real stories related to the CIIE from around the globe. Please send an email titled "CIIE Stories clue" along with an MS Word file attachment. Include your name, cellphone number and employment title/position in the main body of the email. If we select your proposal we will contact you for an interview.
This solicitation campaign protects the relevant information provided by participants. Please refer to the relevant announcements on the official website of the China International Import Expo for information protection instructions.
Languages for solicitation: Chinese, English and French
Email for submission: Please send to ciiestories@ciie.org
Thank you for your participation!