New postal stamps celebrate International Tea Day
Share - WeChat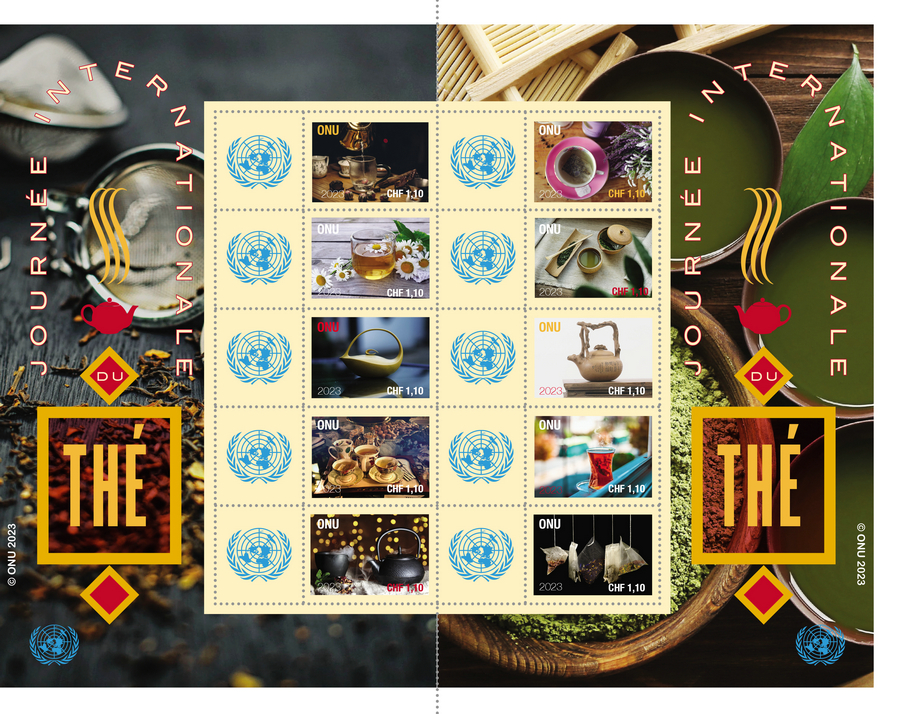 A ceremony was held on Thursday to launch a set of 10 UN stamps to mark the upcoming International Tea Day, which falls on May 21, at the international body's Beijing office.
The event, co-organized by the Food and Agriculture Organization of the United Nations (FAO) and the United Nations Postal Administration (UNPA), is part of the celebration of the fourth International Tea Day, established by the UN General Assembly in 2019.
Featuring teas from around the world, tea ceremonies and exquisite teapots, including China's Zisha, or purple clay, teapots, the 10 new postal stamps will be issued by the UNPA on May 21, to raise public awareness of the cultural, social and economic value of tea.
"Tea is the world's most consumed drink, after water. Tea has been with us for a long time. There is evidence that tea was consumed in China 5,000 years ago," said Atul Khare, UN's under-secretary-general, in a video speech.
Khare also mentioned tea production and processing constitutes as a main source of livelihood for millions of families in developing countries and is the main means of subsistence for millions of poor families who live in a number of the least-developed countries.
International Tea Day celebrations can promote the sustainable production, consumption, and trade of tea and help tea play an important role in reducing extreme poverty, fighting hunger and protecting natural resources, said Carlos Watson, FAO representative to China and DPR Korea, at the event.
"A carrier of traditional communication, stamps can build a new bridge on a small piece of paper for the exchange of tea culture around the world," said Ni Hongxing, a high-ranking official in charge of international cooperation at China's Ministry of Agriculture and Rural Affairs.
As the world's largest tea producer and consumer, China is willing to do what it can to spread tea culture; to share its experience in developing the tea industry; and contribute to the healthy, sustainable development of the global tea industry, he added.
In 2022, China produced 3.18 million tons of tea, consumed 2.4 million tons and exported 380,000 tons, making it the second largest tea exporter, following Kenya.
"The last few years have seen great growth in China's tea industry, which has played a constructive role in lifting millions of people out of poverty in the country's mountainous areas," said Wang Qing, president of China Tea Marketing Association, during a panel discussion at the event.
Nearly 30 million people in 1,100 counties of China are engaged in tea production and processing and, among them, 575 are recognized as impoverished counties. Wang encouraged people to drink more Chinese tea to support the livelihoods of millions small-scale tea farmers, he added.
Nalika Kodikara, commercial minister counselor at the Sri Lanka embassy in Beijing, and Wang Xinchao, deputy director general of the Tea Research Institute affiliated to Chinese Academy of Agricultural Sciences, also shared Sri Lanka and China's latest developments in tea trade, research and cultural exchange.