Italian restaurant celebrates 10th anniversary in Beijing with special menu
Share - WeChat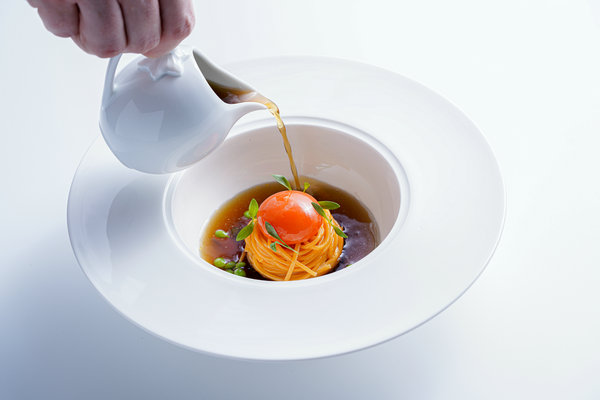 After four long years, Italian chef Umberto Bombana is excited to be able to return to Beijing to celebrate Opera BOMBANA's 10th anniversary in May and share the latest culinary innovations from 8½ Otto e Mezzo BOMBANA Hong Kong with diners in the capital.
For the 10th anniversary menu, chef Bombana joined Opera BOMBANA executive chef Andrea Susto in the kitchen, where they drew on their shared culinary philosophy and appreciation for fine Italian cuisine. Their menu showcases Opera BOMBANA's story over the past 10 years.
Bombana said that he noticed during the past decade that customers have been more knowledgeable of the food they can get at Opera and the number of young guests has been increasing.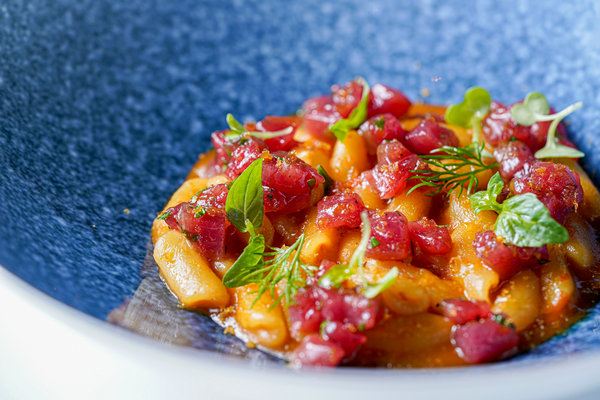 Bombana hails from Bergamo in northern Italy, where he developed an interest in food at a young age. In 2002, he was awarded the title of "Asia's Best Italian Chef" by the Italian Culinary Institute for Foreigners and, in 2006, he was appointed "International White Truffle Ambassador" by the Piedmontese Regional Enoteca Cavour.
Today, he is known around the world as the "King of White Truffles". 8½ Otto e Mezzo BOMBANA Hongkong has been awarded three Michelin stars 12 times since it opened. In 2017, he was awarded the title of "Diners Club Lifetime Achievement Award" by Asia 50 Best.
As the youngest chef in the BOMBANA family of restaurants, Susto has grown substantially and achieved incredible things since joining Opera BOMBANA. His youthful exuberance, combined with chef Bombana's years of experience, is sure to create a magical experience for guests.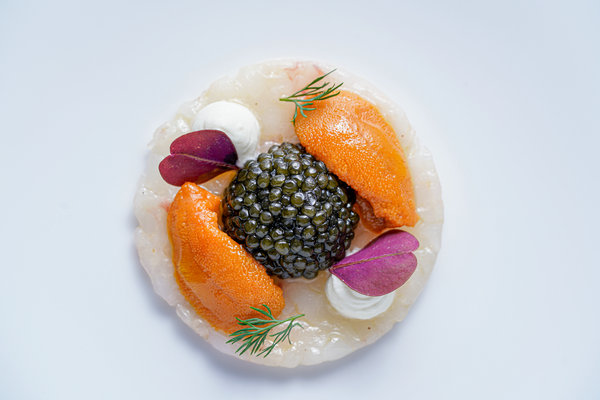 The anniversary menu brings together tradition, innovation and a fair few surprises along the way. It starts with scampi carpaccio with caviar, Japanese sea urchin and yuzu chantilly, followed by an Italian twist on traditional Chinese "birthday noodles", served with the finest tuna belly and tuna heart.
Inspired by northern Chinese cuisine, chef Susto has also created a dish using butter and parmesan tagliolini in a rich beef consomme, drip-extracted for more than three days.
In addition to innovative twists, the menu also features some of Opera BOMBANA's signature dishes, including the famous braised beef short ribs with grilled beef tenderloin, a duo of beef that has delighted countless diners over the years. Finally, the menu wouldn't be complete without Opera BOMBANA's signature take on a classic tiramisu.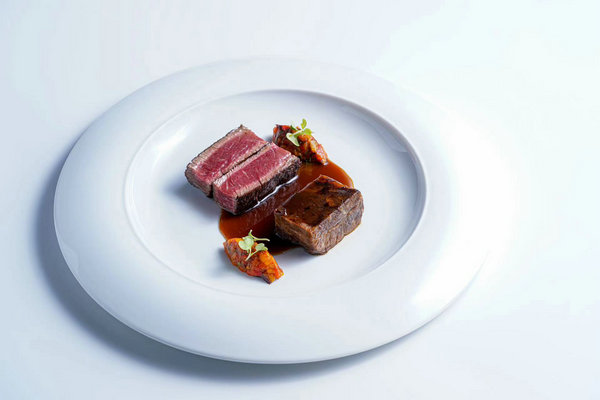 Most Popular