Higher penalty for dog attacks will force pet owners to follow rules
Share - WeChat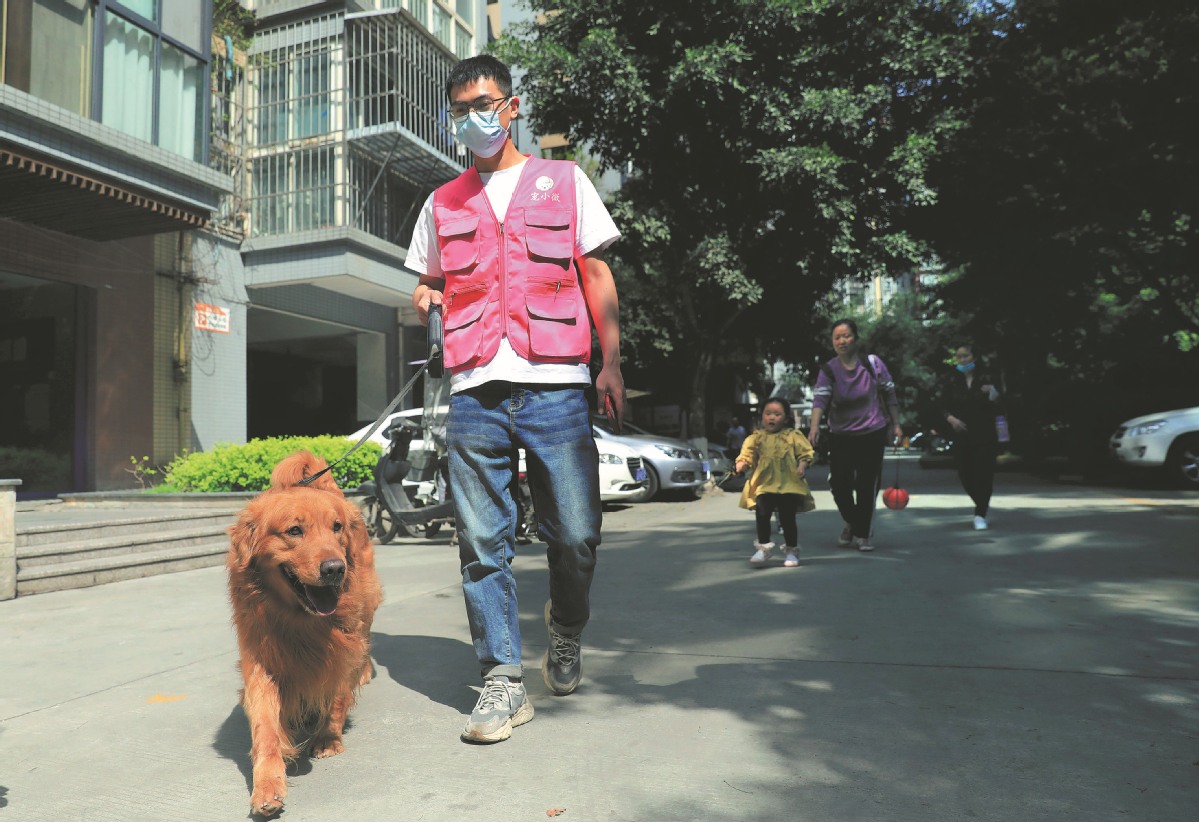 Editor's note: The pet-friendly community can provide numerous benefits for both residents and pet owners. In addition, pet owners can enjoy a sense of community with individuals who share their love for animals, writes a veteran journalist with China Daily.
My neighbor, Grandma Li, would have taken a much longer time to reach home had it not been for the help of a young couple. "I was attacked by a dog outside our community compound," she told the neighbors in a trembling voice the other day.
She said that as she was entering the community compound, a big border collie rushed out of the bushes and jumped on her. Panicked, she began shouting while protecting herself with her hands. At the "last second" the dog was stopped by her owner who was standing about 50 meters away.
The owner called her dog back and walked away without even apologizing. A young couple passing by accompanied the visibly shaken Grandma Li to her apartment. On checking, we found that her blood pressure had shot up and heart was beating faster than normal.
Grandma Li was largely bedridden for the next few days. Often she would wake up with a start, the effects of a nightmare. The neighbors discussed whether or not to dial 110 and seek the appropriate punishment for the person responsible for Grandma Li's trauma, but after studying how the police had dealt with similar cases in the past, they decided not to do so.
There are more than 50 million registered pet dogs in China. If we include the abandoned and unregistered dogs, the number could be well over 80 million. Also, an estimated 40 million people suffer dog and cat attacks each year. Considering that dogs are responsible for half of the attacks, the number of dog attacks would be about 20 million a year. Even if we assume that 90 percent of the dog attack victims are the dog owners or their family members, we still have 2 million dogs attacking non-family members every year.
Besides, reports from regional police departments show that disputes related to dog attacks have become the most frequent cases they have to deal with. But the lack of specific laws and regulations prevent the police from handling such cases appropriately. What the police can do in the existing circumstances is to ask the dog owner to not walk the dog in public places, persuade him or her to pay the medical bill of the dog attack victim and, if the dog owner refuses to do so, inform the victim that he or she has the right to sue the dog owner in court.
The problem is that even if the victim wins the case, the dog owner might be asked to pay the medical bill of the victim, as well as compensation for the loss of the victim's working time, which might add up to a few thousand yuan. In such a scenario, what happens to victims like Grandma Li who was not bitten by the dog but still suffered from serious trauma. The most the police can do is to issue a warning to the dog owner, asking her or him to publicly apologize to Grandma Li. But a forced apology is unlikely to be sincere.
Grandma Li is one of the many victims of a dog attack. Although China has central and local laws and regulations on animals, they mostly focus on the protection of animals rather than victims of animal attacks.
According to government regulations, dogs should be always leashed in public places and dog owners should appropriately dispose of the pet's excreta. But such regulations are not followed by all dog owners. So it's time the authorities revised relevant laws and regulations in order to better protect the interests and, sometimes, lives, of dog attack victims.
And while revising the laws and regulations, the authorities should consider subjecting dog owners to pay heavy compensation in case their pet attacks anyone, especially because such a provision has helped reduce dog attacks in many countries. In fact, in some countries, the average compensation amount for a dog bite is $30,000.
If the compensation amount for a dog bite is raised drastically, dog owners will be forced to pay huge amounts to buy insurance for their pet and make sure they are always kept on a leash in a public place.
The author is former deputy editor-in-chief of China Daily.
If you have a specific expertise, or would like to share your thought about our stories, then send us your writings at opinion@chinadaily.com.cn, and comment@chinadaily.com.cn.
Most Viewed in 24 Hours
China Views