Giro's China return is ride on time
Share - WeChat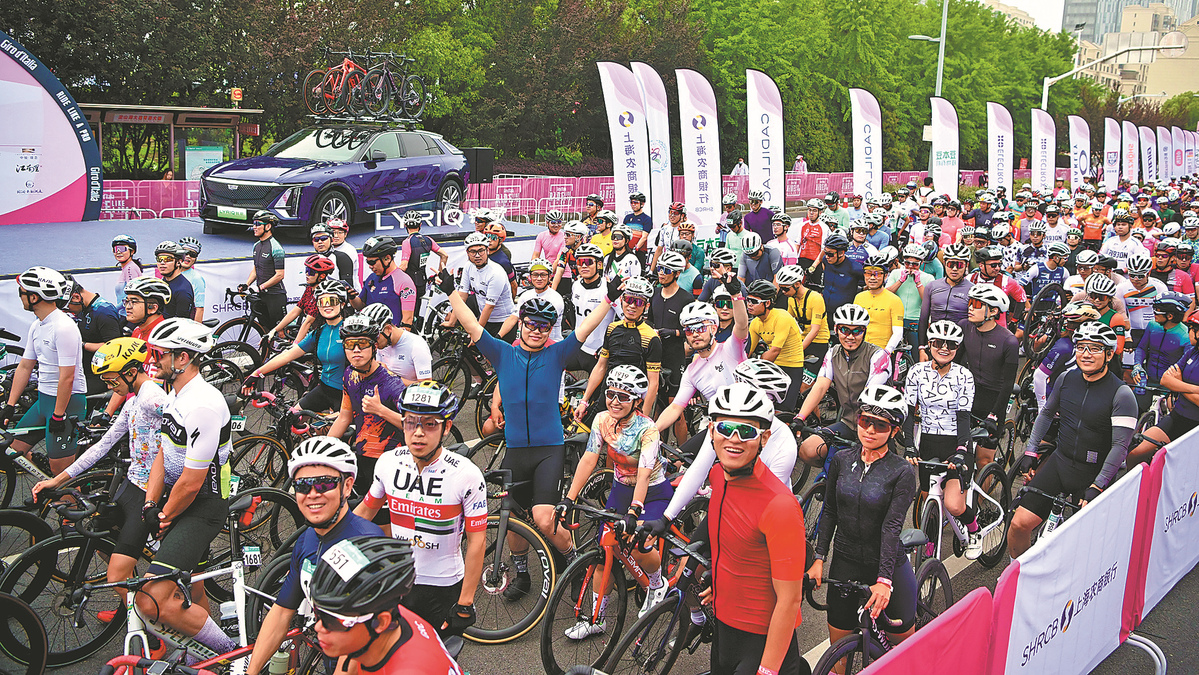 The 2023 Giro d'Italia Ride Like A Pro Yangtze River Delta Open treated Chinese cycling fans to a two-day carnival of top-class road-racing action and entertainment over the weekend.
The event not only attracted some of the world's leading riders, local government support, and throngs of cycling enthusiasts, but also served to showcase the Yangtze River Delta region's thriving economic and cultural sectors.
This year's event — the third time the prestigious Italian race has visited China via this promotional model — comprised a circuit race geared toward amateur riders on Saturday, followed by an elite-level road race on Sunday.
The 88-kilometer route of the road race traversed three areas within the so-called "integrated demonstration zone" — commencing and concluding in Shanghai's Qingpu district, and passing through Jiashan county, Jiaxing, Zhejiang province, and the Wujiang district of Suzhou, Jiangsu province.
This international event was jointly hosted by the Shanghai Administration of Sports, local government and sports bureaus of the relevant regions, the Yangtze River Delta Ecological Green Integration Demonstration Zone Executive Committee, the Shanghai Cycling Association, and a number of other organizations.
Legendary rider Andy Schleck was making his second appearance at the Giro d'Italia Yangtze River Delta Open, and hailed this year's edition as a major upgrade on his debut in 2019.
"I finished the 70-kilometer road race across Qingpu district last time. But when I see this year's organization, I feel that, whether it be the track, the carnival or the organization of the entire event, it is more professional and on a larger scale. In addition, more people have attended this year's event," said Schleck, who won the 2010 Tour de France and the Giro's young rider classification in 2007.
"The Giro d'Italia Yangtze River Delta Open Race, as an international and professional cycling event, represents one of the largest, high-level, and most influential cycling events to have taken place in the Yangtze River Delta in recent years," said Gu Jun, vice-secretary-general of the Shanghai Municipal People's Government.
"Through hosting this event, we aim to foster closer ties among the governments of Qingpu, Wujiang, and Jiashan, thereby showcasing our shared vision of development, construction, and mutually beneficial cooperation in the integrated development demonstration zone of the Yangtze River Delta," said Gu, who is also the director of both the Shanghai Development and Reform Commission, and the Executive Committee of the Integrated Demonstration Zone.
Saturday's circuit race featured five categories — open, master, team time trial, youth, and family fun ride. Located on Dianshanhu Avenue, the design of the course allowed participants of all ages and ability levels to take part.
Over 100 riders competed in Sunday's elite road race, with the 88-km route taking in the Yangtze River Delta ecological development demonstration zone, and passing through the ancient town of Zhujiajiao, Wujiang, and Jiashan.
Tegshbayar Batsaikhan of Mongolia topped the podium ahead of second-placed Kongphob Thimachai of Thailand, and Bold Iderbold of Mongolia in third spot.
"The essentials of cycling stay the same, people who ride the fastest will win the race eventually. But what has changed is the size," Schleck said of cycling's global boom in recent years.
He added that cycling is thriving outside of its traditional European stronghold, with events like last weekend's increasingly popular in North America, China, and the Asia-Pacific region. In addition, community activities and public participation are also on the rise.
"On the professional side, I don't think that in the big races riders are faster compared to when I was racing. However, I do think lower down the levels riders are becoming faster. So, the density of good riders is a lot higher than it was a couple of years ago," explained Schleck, adding that improvements in cycling equipment have also contributed to the rapid development of the sport.
China's two-time Olympic track champion Zhong Tianshi hailed the vast scope of the Giro d'Italia Ride Like a Pro as a great way of promoting cycling.
"We have a very large group of participants, including children riding on balance bikes, the youth group, professional athletes competing on professional courses, and amateur athletes, which allows for leisurely cycling in an excellent environment. So this event appeals to a wide range of participants," said Zhong, who won team sprint gold for China at the 2016 Rio and 2020 Tokyo Games.
"Although China is considered a top cycling nation, most people still associate bicycles with transportation," Zhong added. "But now, when you witness the scenes at this two-day festival, you can feel that Chinese people's perception of cycling is changing, and this is a really positive development."
Most Popular
Highlights
What's Hot