Suzhou thriller a smash hit
Share - WeChat Team China caps dramatic week's action with record-extending triumph at Sudirman Cup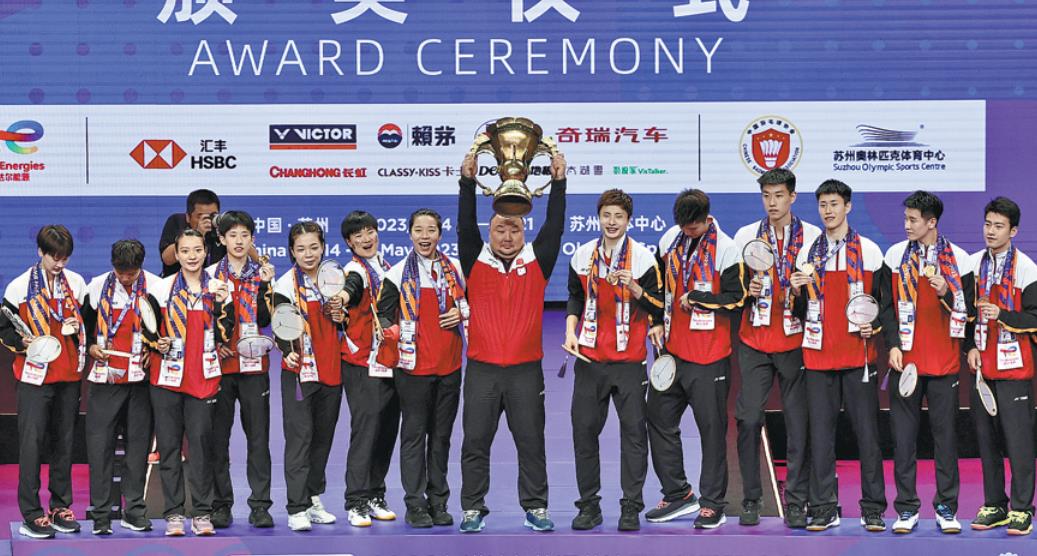 A third straight Sudirman Cup title cemented China's dominance of badminton's prestigious mixed team championship in Suzhou, Jiangsu province, on Sunday.
However, the epic effort required to fend off their rivals last week suggested Chinese players will face major challenges to retain their crown in the future.
With the deafening roar of around 7,000 spectators filling the Suzhou Olympic Sports Center, and tens of millions of fans glued to the action on TV, Team China delivered under pressure to beat South Korea 3-0 in Sunday's final.
Men's singles ace Shi Yuqi, reigning women's singles Olympic champion Chen Yufei and world No 1 mixed doubles pair Zheng Siwei and Huang Yaqiong were the heroes, sweeping the Koreans to secure victory.
Despite their individual brilliance, all the Chinese players were keen to stress the triumph was a collective effort.
"If I can win my match and ensure the players after me face a 2-0 situation, then that eases the pressure a bit and all they need to do is focus on their matches. Simply reaching the final was an extremely tough journey. So in Sunday's final, all the Team China players shared the same goal of winning," said Shi.
China breezed through the group stage, beating Egypt, Singapore and Denmark, all 5-0, before seeing off Indonesia 3-0 on Friday in the first knockout round.
An epic seven-hour semifinal tussle with Japan, however, pushed Team China to its limit, with the reigning champion somehow managing to battle back from the brink of elimination and prevail 3-2.
China found itself trailing 2-1 after Huang Dongping and Feng Yanzhe lost the opening mixed doubles rubber, and Chen Yufei was defeated by women's world No 1 Akane Yamaguchi. Shi Yuqi managed to get China off the mark by winning a tough men's singles three-setter against Kodai Naraoka.
Liu Yuchen and Ou Xuanyi were then faced with a must-win men's doubles clash, and they obliged in dramatic fashion — saving four match points to rescue the defending champion. Women's doubles pair Chen Qingchen and Jia Yifan completed the stunning comeback to seal glory.
The enthralling semifinal highlighted the increasingly stiff competition China faces on the global stage.
Denmark's Viktor Axelsen remains the world No 1 in men's singles, where the highest-ranked Chinese player is Shi at No 10. In the women's singles, reigning Olympic champion Chen Yufei is now world No 4, and her compelling battle with the top-ranked Yamaguchi of Japan was another wonderful advertisement for the sport.
Men's double heroes Ou and Liu still only rank No 5 in the world, although China tops the standings in the mixed and women's doubles, with Zheng and Huang, and Chen Qingchen and Jia retaining their No 1 positions this week.
Back when legends Lin Dan and Zhang Ning held court, Team China was the undisputed dominant force in every discipline. Whether China's new generation can truly fill those greats' shoes remains to be seen. However, in Suzhou they showed they certainly don't lack for determination and persistence.
"You can say that my skills are not the best and you can say that I'm even a mediocre player, but you can never say that I lack fighting spirit and resolve. I never give up on any match and I never run away from my responsibilities," said an emotional Chen Yufei after her victory over world No 2 An Se-young of South Korea, which followed Saturday's defeat to Yamaguchi.
"No matter what physical condition I'm in, I always want to win once I step onto the court. No one should underestimate me. I have great courage from all the people and friends who support me."
Most Popular
Highlights
What's Hot