African nations courted by Russia, Ukraine for support
Share - WeChat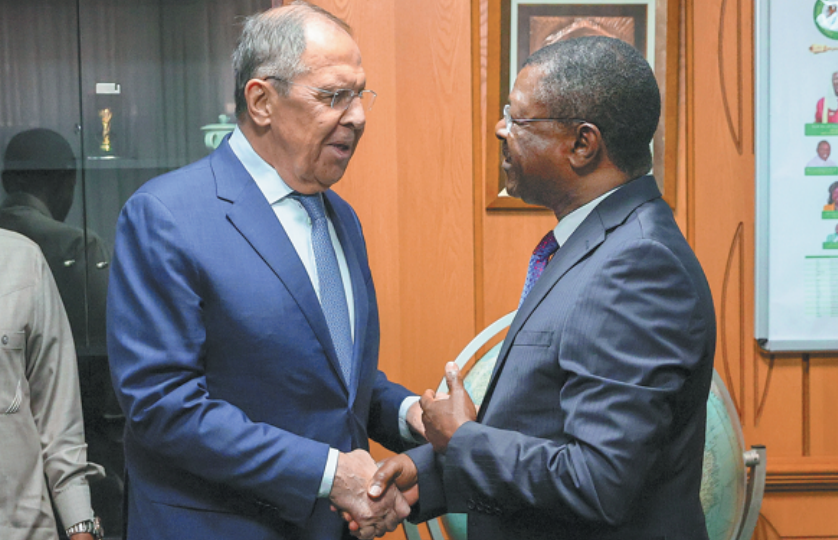 Days after Ukrainian Foreign Minister Dmytro Kuleba left Africa last week, his Russian counterpart Sergey Lavrov made a surprise visit to Kenya on Monday for a series of meetings with local leaders.
Lavrov who was on his maiden trip to Kenya, but his fourth to Africa since the war in Ukraine began, met with Kenya's parliamentary leaders led by National Assembly Speaker Moses Wetangula. During the meeting, Lavrov reiterated the importance of Africa-Russia relations and said that his country is looking forward to the Russia-Africa Summit, which will take place at the end of July in St Petersburg.
"During the summit, we will discuss our cooperation in security, trade, investment and economy, as well as cultural and humanitarian issues, education, cooperation within the UN, and many other matters. This is a wonderful opportunity to coordinate our steps and outline plans for the future," Lavrov said.
Later that day Kenyan President William Ruto hosted the Russian foreign minister at Nairobi's state house and said that Kenya and Africa are calling for the Ukraine conflict to be resolved in a manner that respects both parties.
Ruto also said the United Nations Security Council needs to be reformed to make it more representative and responsive to the needs of the 21st century, adding that Africa should be represented at the UN's top-decision making organ.
Lavrov's trip reflects the latest effort by both Russia and Ukraine in their ongoing campaign to win support in Africa, after Ukraine's foreign minister visited Ethiopia, Morocco and Rwanda last week.
After his trip to Kenya, Lavrov is expected to attend a meeting of the foreign ministers of Brazil, Russia, India and China in South Africa.
Early this month, South African President Cyril Ramaphosa said a delegation of African leaders will soon travel to Russia and Ukraine to present a peace plan. Ramaphosa added that Africa wants to be involved because the conflict has an impact on the lives of many Africans with regard to food security, the rising prices of fertilizers, cereals and fuel.
Gilbert Khadiagala, a professor of international relations at South Africa's Witwatersrand University, said Africa's offer to mediate in the Russia-Ukraine conflict has elicited varied reactions on the continent and globally.
Some observers have lauded the African initiative, while others have derided it. "To supporters of Africa's proposal, it is about growing African agency and African voices would bring a measure of neutrality required to unlock the stalemate," Khadiagala said.
otiato@chinadaily.com.cn