Hong Kong welcomes back its favorite giant rubber ducks after 10 years
Share - WeChat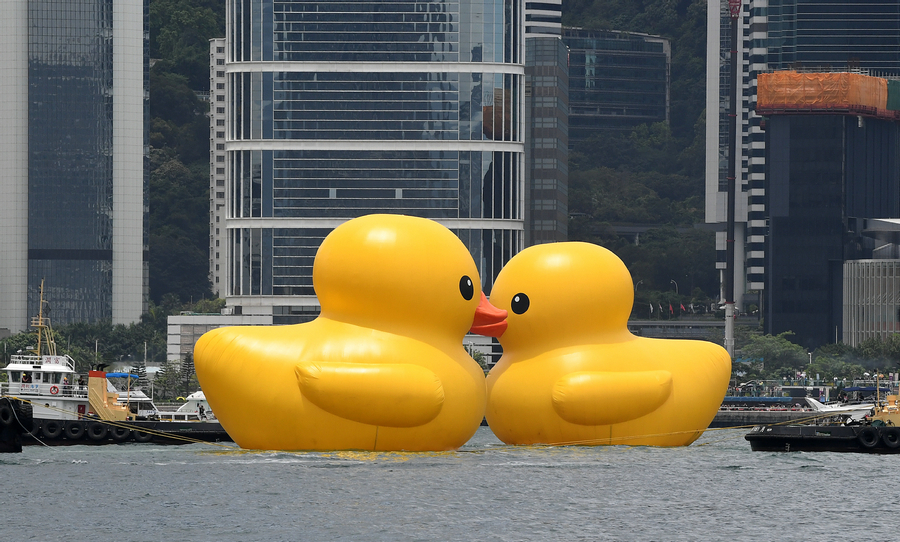 A pair of giant rubber ducks captured the attention of Hongkongers on Friday as they floated in Victoria Harbor as part of a public art exhibition that aims to bring more joy to the city.
The iconic yellow rubber duck made its first appearance in Hong Kong 10 years ago when the installation by Dutch artist Florentijn Hofman attracted enormous crowds at Victoria Harbor. As the duck comes back, it is bringing a friend this time.
"Double duck is double luck," said Hofman. "'Double ducks' is not about looking into the past but enjoying the moment together."
The duo, 18 meters high, will officially open to the public on Saturday and sail on the harbor for about two weeks.
On early Friday morning, local residents and tourists flocked to the waterfront to catch a glimpse of the ducks, which to many carried joyful memories.
"Hong Kong and the Chinese mainland resumed normal travel this year, and now the yellow duck is back. It's truly 'double happiness' to me," said a Hong Kong resident surnamed Wang.
On the upcoming Father's Day this year which falls on June 18, one of the ducks will make a trip to Tsim Sha Tsui, passing numerous landmarks to greet fans on the Kowloon shoreline before rejoining its partner in Central.