Sanbei project's success essential to further expanding green coverage
Share - WeChat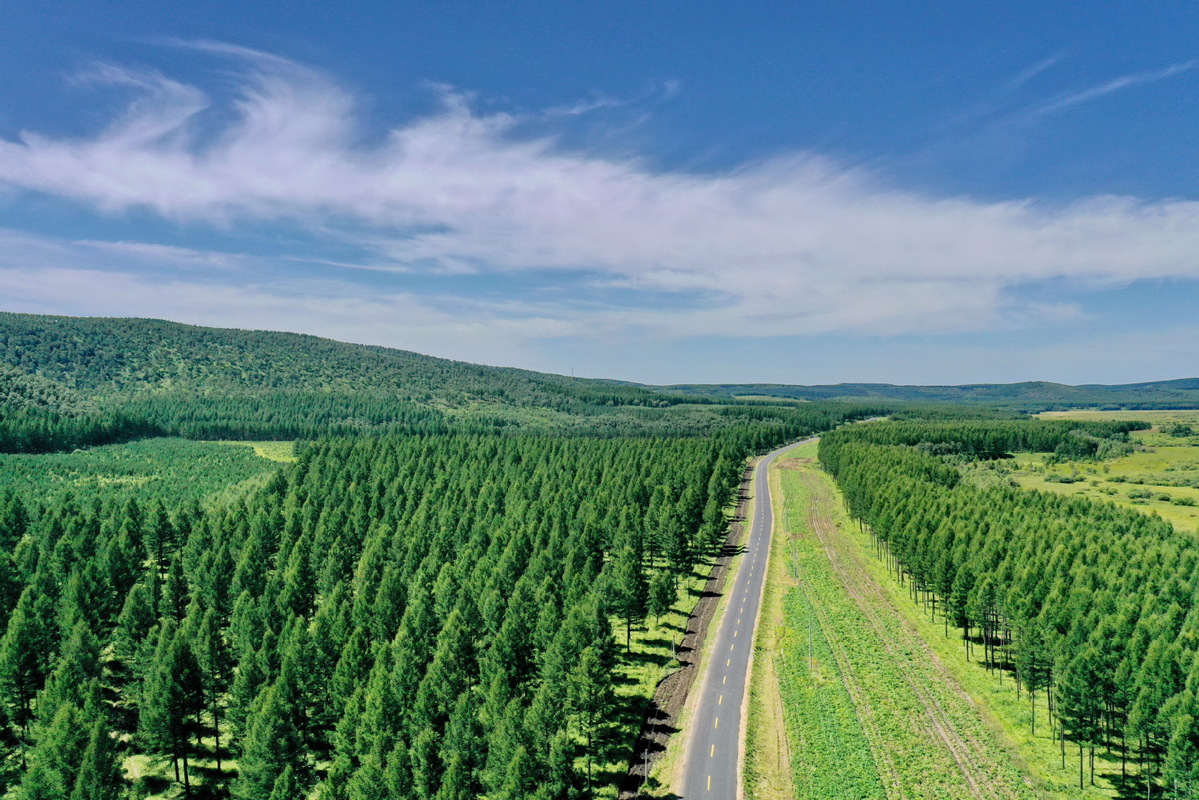 Editor's note: The Three-North Shelterbelt Program has effectively curbed desertification and become a green "Great Wall", preventing sandstorms, conserving water and soil, and safeguarding agriculture in northwestern China, writes a veteran journalist with China Daily.
Many young Chinese people today may be ignorant about the Sanbei (the Three Norths) Shelterbelt Project, although they have greatly benefited from the world's biggest and longest tree-plantation program.
President Xi Jinping's inspection tour of the Sanbei Shelterbelt Project in the Inner Mongolia autonomous region in June once again drew public attention to the 45-year-old environmental campaign, which according to the plan, will continue until 2050.
In 1978, the central authorities announced a 72-year project to plant billions of trees to build a green screen along China's northwest, north and northeast regions in order to prevent desertification, reduce soil erosion and improve the environment and conserve the ecology. The launch of one of the biggest environmental projects, however, failed to draw the world's attention, perhaps because few people believed the Chinese people were serious about such an ambitious project that would take more than a lifetime to complete.
The Chinese people have proved those skeptics wrong. Millions of people from 13 provinces, autonomous regions and municipalities in the northern region have been mobilized to plant trees and grass on arid land, deserts, including the Gobi Desert, and naked mountain slopes.
After generations of hard work, 336,000 square kilometers of desert land — equivalent to the size of Finland or Vietnam — has now turned green. A green belt covering more than 30.14 million hectares is taking shape along the country's 10,000-kilometer northern border.
The forest cover in the project area is now 13.57 percent, a remarkable increase from the 5.05 percent four decades ago.
These achievements show the project is steadily marching toward achieving its 2050 goal of afforesting 35.08 million hectares of land and raising the forest cover percentage to 14.95 in the project area.
The emerging green "Great Wall" has not only stopped further desertification from the north but also remarkably reduced sandstorms in the Sanbei area. Beijing, for instance, used to have on average 26 sandstorm days a year in the late 1970s. Now they have shrunk to three a year.
Women aged above 50 have their own stories to tell about the sandstorms. They will tell you how children in those days were frustrated by the sandstorms, for they couldn't go to school or play outdoors during the frequent sandstorms in April and May. They will also tell you how decades ago they had to cover their faces, even their eyes, with scarves during sandstorms when they were forced to venture outdoors to attend to some work.
The younger generations should treasure the improved environment and be grateful to the participants in the Sanbei project who devoted their career and life to make the skies bluer and air fresher. Not to forget that top Party and government leaders of different generations have been planting trees since 1979 on National Tree Planting Day. It is thanks to such efforts that the Sanbei Shelterbelt Project has been successful until now.
"Such a project would be impossible without the leadership of the Communist Party of China," President Xi told ministers and provincial leaders in a meeting held to discuss the future work of the Sanbei project.
Today, few doubt that the project will achieve its goal despite its scale, complexity and its length of time. During my visits to the Sanbei region over the past decades, I have frequently heard people talking about the Party's indispensable role in the project.
Farmers in Minqin county, Gansu province, for instance, told me about the Party's role while harvesting sunflower seeds. After decades of painstaking efforts, they have turned what till a few decades ago was a desert into huge sunflower farms, which draw thousands of tourists in summer and produce tons of sunflower seeds in autumn.
The same was repeated by farmers in Kubuqi, Inner Mongolia, who were growing watermelons on former arid land under the shade of trees they had planted under the Sanbei project. On the "reclaimed land", they were growing not only watermelons but also herbs used in traditional Chinese medicine.
However, we should not indulge in premature celebrations, because the progress made is still fragile. Any relaxation in efforts and any mistakes in planting trees could lead to the loss of all achievements. No wonder President Xi has said the next 10 years are critical, for they will decide the battle against desertification.
Only if the battle is won can the environment and ecology in northern China see real improvement. And we cannot afford to lose that battle.
It's a battle we can and must win.
The author is former deputy editor-in-chief of China Daily.
Most Viewed in 24 Hours
China Views