Panda paradise treats visitors to bear necessities
Share - WeChat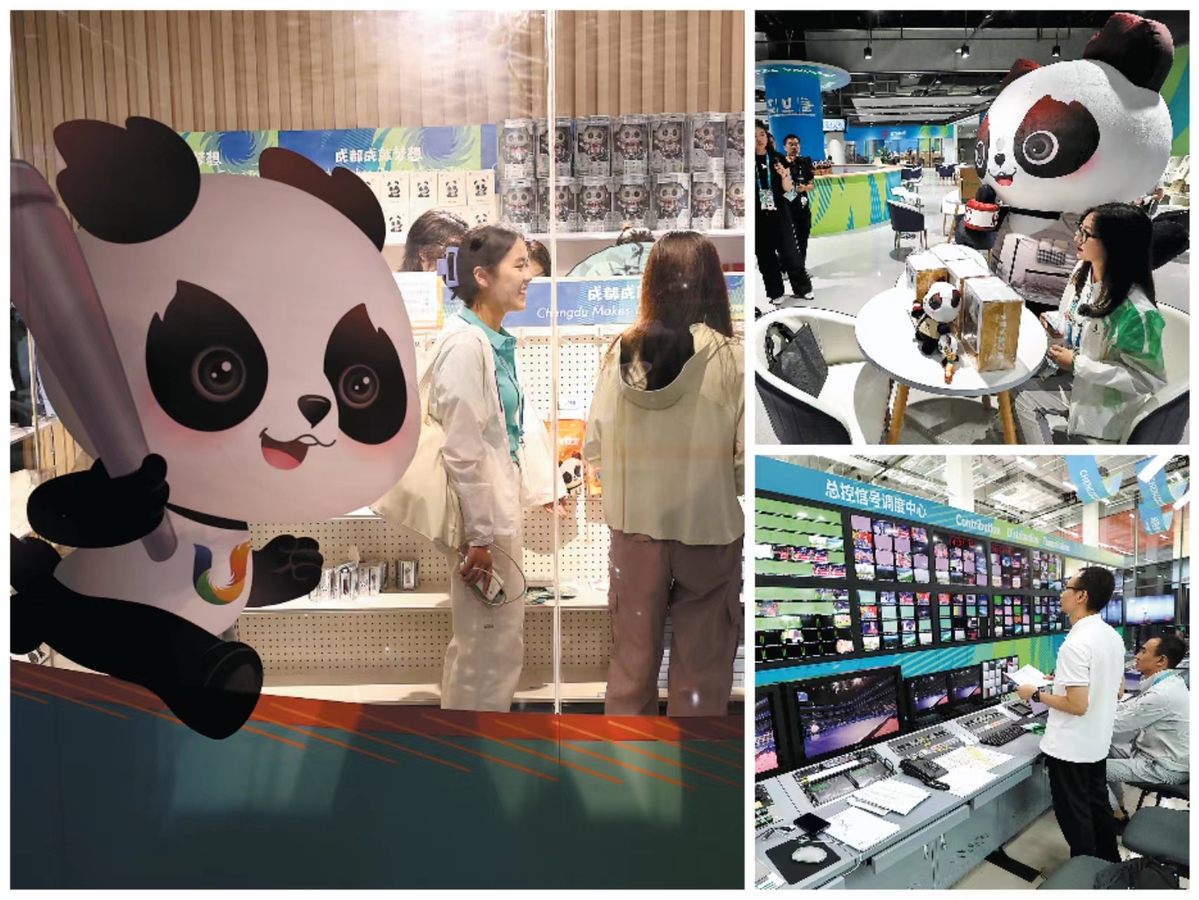 Stickers, sketches and sugar painting images hail the city's famous resident
Journalists reporting on the Chengdu FISU World University Games, which opened on Friday, are being welcomed with panda-themed decorations and a variety of leisure activities at the event's media center.
Sketches and stickers of pandas decorate bulletin boards displaying key information, including competition schedules, news conference arrangements and canteen opening hours at the event's main media center.
"When getting the notice boards ready, our volunteers took the initiative to make panda-themed drawings and add stickers to catch the attention of reporters," said Li Jin, who works in the media workroom.
Chengdu, capital of Sichuan province and host city of the games, is well-known for its large panda population, and a giant panda named Rongbao is the official mascot of the games.
"The amount of information on the boards could be overwhelming, so we hope these cute little additions will create a relaxing vibe," Li said.
The six-story media center officially opened on July 13 and began 24-hour operations on Wednesday. It will be open for 30 days until Aug 11, three days after the event concludes.
Louis Gilles, a reporter from France who arrived in Chengdu last Monday, said that he was impressed by the "big and beautiful" media compound.
"I thought that as this is an event for university athletes, the media center would not be very big, but coming here, I was totally surprised by the big and professional facility," he said. "I was at the 2022 FIFA World Cup in Qatar, and I would say this one is on the same level."
The center has recreational facilities for reporters on the second floor, including video game booths, virtual reality-powered exercise bikes and a table tennis table.
"I feel spoiled here," Gilles said.
Miha Trost, a Slovenian reporter from Radio Slovenia, said that he had already visited the city's giant panda breeding research base and can't get enough of the panda elements dotted around the center.
"In the merchandise store, there are pins of pandas holding mics and cameras," he said, adding that the attractive design speaks to his profession.
Through the floor-to-ceiling window on the first floor, a large expanse of grass and the rippling surface of Dong'an Lake can be seen.
"The city strikes me as very green, with a lot of parks and natural scenery," said Trost.
The center also puts on cultural activities in the afternoon, such as martial arts and bamboo harp performances, calligraphy and woodblock printing, and demonstrations of Shu embroidery, which is unique to Sichuan.
Liu Pengcheng, an inheritor of intangible cultural heritage, manages a kiosk where he makes sugar paintings, a folk art that involves pouring hot, molten sugar onto a stone or marble slab to create two-dimensional images.
He said that he was not surprised that one of the most-requested patterns is the panda.
"It is a great honor for me to be able to come here and demonstrate sugar painting to reporters from across the world," he said. "I hope more people will get to know this traditional art."
According to organizers, the facility will be retrofitted as a public library once the event is over.