Measures needed to ensure people enjoy a good cup of tea
Share - WeChat Editor's note: China's traditional tea processing techniques and practices are inscribed in the UNESCO Representative List of the Intangible Cultural Heritage of Humanity. Tea culture embodies the Chinese culture of harmony between humans and nature, individuals and society, writes a veteran journalist with China Daily.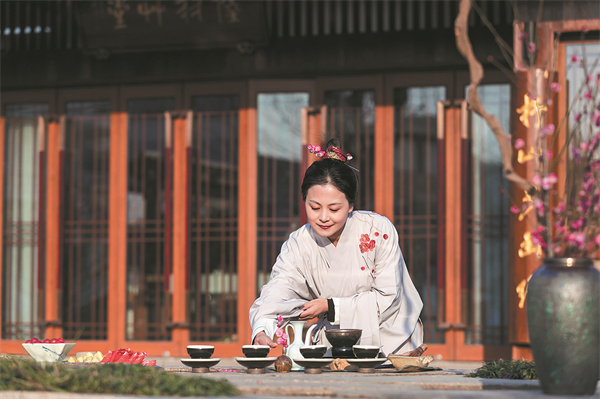 The inclusion of China's traditional tea processing techniques and their associated social practices in UNESCO's Representative List of the Intangible Cultural Heritage of Humanity late last year came to me as a surprise. Not because the techniques and practices are not part of the intangible cultural heritage of humanity but because, unlike many other heritages that are dying, tea is gaining in popularity in its birth place, China, as well as across the world.
Tea making and drinking is China's 44th entry into UNESCO's representative heritage list. Judging by the previous entries, it appears the heritages are ancient artistic forms or practices which are now rarely practiced or draw little audience.
Tea's inclusion, however, is an exception.
Written records show the ancestors of Chinese people began using tea leaves to treat wounds about 5,000 years ago. By the Tang Dynasty (618-907), the culture of tea making and drinking became systematic, especially among officials and the gentry as evident in the poems of the time.
It was during the Tang Dynasty that tea was introduced to many other countries and regions through the West-bound Silk Road and the "tea-horse routes "leading mostly to the South. Today, tea is the favorite drink of more than 2 billion people in 160 countries and regions.
While more than 60 countries grow tea today, China remains the biggest producer. It produced about 1.85 million tons of tea, about one-third of the world's total, last year. Statistics show China today has about 1.5 million tea-related farms and companies which employ more than 50 million people for planting, picking, processing and marketing tea.
But danger looms behind the prosperity.
Increasing planting hectares and higher output by using new technologies could soon lead to oversupply of tea in the Chinese market, which may eventually reduce the profits of tea growers. Also, tea exporters find the global competition getting fiercer. Last year, China exported nearly 400,000 tons of tea, earning an average of only $5.9 on each kilogram. To tea growers, that profit margin is very low considering the investment and workforce involved.
Rising labor costs are another factor that may affect the development of China's tea industry. While modern machines are being widely used in production, tea leaves and bud heads still have to be picked with the nimble hands of skilled workers. One such tea-picker can collect about 20 kg of fresh tea leaves a day and is paid a daily wage of 100-200 yuan in China.
While the daily pay in China appears decent, their counterparts in some South, Southeast Asian and African countries are paid only one-fourth that amount, which gives the tea growers in other countries an edge over Chinese tea planters in terms of labor costs. Given the present global tea price, tea garden owners in China will have little money left after paying the tea pickers, not least because 5 kg of fresh tea leaves, after processing, are reduced to 1 kg of dried tea.
Besides, tea has been a favorite gift for the Chinese people, but nowadays many people hesitate to gift tea to relatives and friends, because of the high prices of good tea. And the absence of tea-tasting institutions to determine the quality of tea has caused much disorder in the domestic tea market. You may spend 4,000 yuan ($557.82) to buy your friend a beautiful tea gift package. But he/she may throw it away because he/she may not have any idea about the quality of the tea or because the neighborhood tea shop may be selling a similar tea package for less than 100 yuan.
Although there are a few self-proclaimed tea-tasting institutions and companies, their labeling cannot be accepted as authoritative, and even if they have qualified tea tasters, their small number can't meet the needs of about 1.5 million tea producers and companies.
As a result, whether the tea from a garden is good or not largely depends on how much money a company spends on publicizing its product. Tea prices are also decided by the sellers, leaving the innocent consumers confused.
However, after the inclusion of traditional tea processing techniques and associated social practices in UNESCO's intangible heritage list, I hope relevant departments will take measures to address the challenges facing the tea industry and help us enjoy a good cup of tea.

The author is former deputy editor-in-chief of China Daily.
kangbing@chinadaily.com.cn
Most Viewed in 24 Hours
China Views