Pianist Liu Shih Kun uses music as bridge
Share - WeChat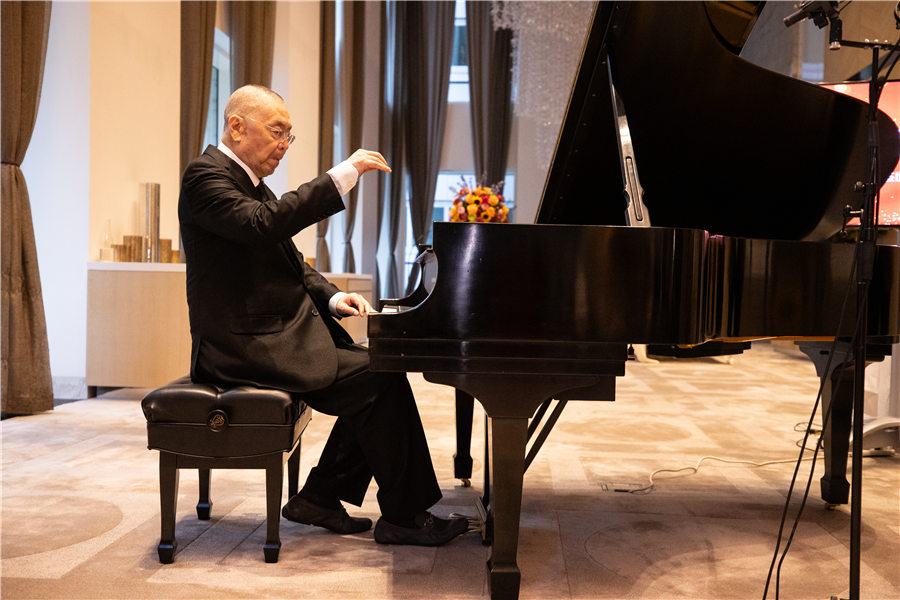 Traversing the world, city after city, the 84-year-old Chinese pianist Liu Shih Kun weaves his musical legend, bridging nations and cultures through the harmonious dance of black and white keys.
"Playing piano is first my profession, in other words, my livelihood, and secondly my expertise, but also my career," Liu said.
Liu has received numerous piano awards in both domestic and international competitions. He highlighted three awards as the most meaningful honors in his career — the China Children's Piano Competition in Shanghai, the Liszt International Piano Competition in Budapest, Hungary, and the International Tchaikovsky Competition in Moscow.
But Liu emphasized the special meaning of the Most Outstanding Asian Artist Lifetime Achievement Award he received from the Chinese American Arts Council (CAAC) on Saturday in New York City.
"I have received numerous awards in the past, but this award holds a profound meaning for me and has made me feel particularly honored. I never expected to receive an award at this age, as it's considered a time for retirement. Receiving this award feels like a boost of energy for me. I'm extremely happy. I never thought that in my 80s there would still be some remaining value in me," Liu said.
Established in 1981, the award is one of the most significant honors in the United States dedicated to recognizing excellence in the Asian arts community. Past awardees include pianist Fou Ts'ong, Chinese opera performers Hung Sin Nui, Zhang Junqiu, Gu Zhengqiu, playwright David Henry Hwang, and cellist Yo-Yo Ma.
New York Governor Kathy Hochul congratulated Liu, acknowledging his outstanding accomplishments as a pianist and musician and the immense pride he has brought to Asian communities throughout his life.
New York Mayor Eric Adams described Liu as "a globally acclaimed piano prodigy and performer who has made a tremendous contribution to the cultural sector" and celebrated "the incredible and inspiring imprint he has made on budding musicians around the world and across generations".
"Winning this award has further promoted a friendly relationship between China and the US, and it also enhanced the status of Chinese Americans in the US," he added.