Bruce lee's legacy packs powerful punch
Share - WeChat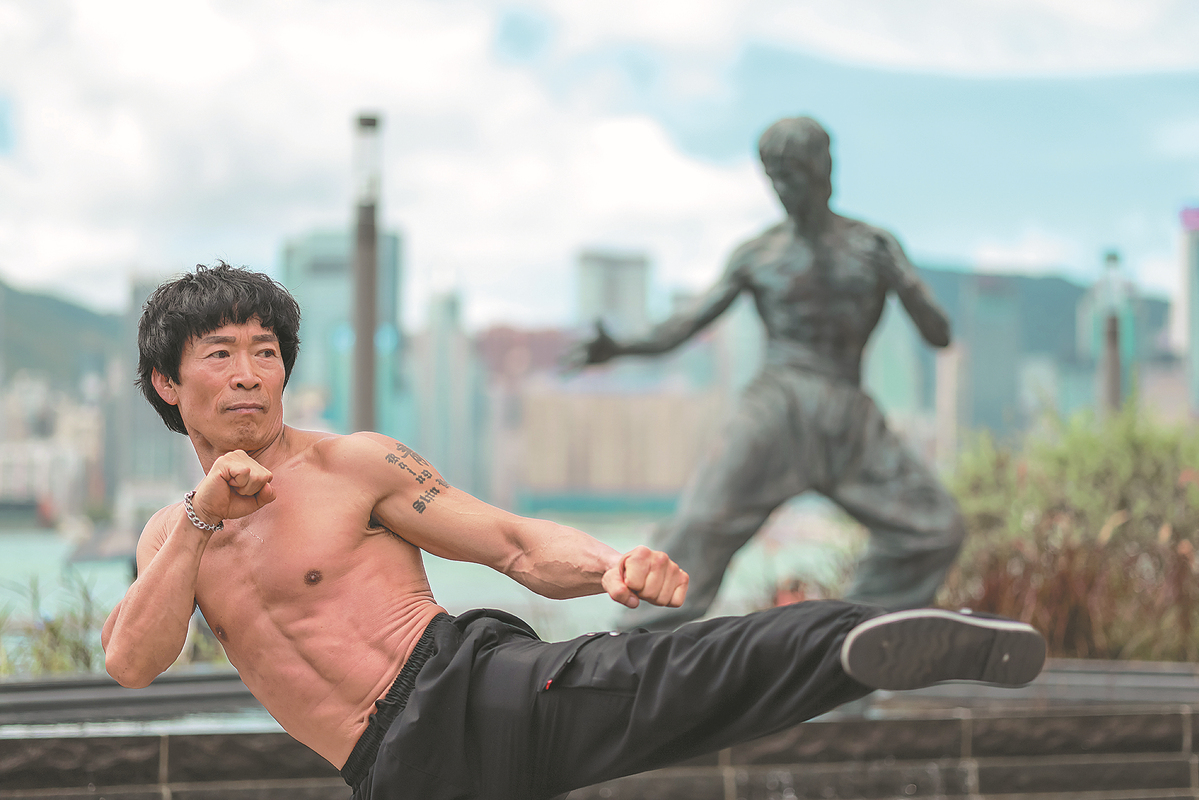 Fans pay tribute to box-office phenomenon 50 years after his death in Hong Kong
By the end of this year, fans of movie star and kung fu master Bruce Lee, who died 50 years ago in Hong Kong, will be able to visit a virtual replica of his former mansion in the city.
Virtual reality headsets will enable fans from across the world to get a close look at their idol's home and daily life, including the serene courtyard at the mansion and the cherished Mercedes-Benz owned by Lee, which bore the license plate AX6521.
Lee, who was born on Nov 27, 1940, is renowned for his martial arts prowess and artistic achievements. He popularized the term "kung fu" to the extent that it became a Chinese cultural symbol globally.
Born in San Francisco and raised in Hong Kong, he bridged the gap between East and West, learning martial arts while immersing himself in philosophy.
Lee, 32, died from cerebral edema, or swelling of the brain, on July 20, 1973.
His spirit continues to resonate with admirers worldwide, including Wong Yiukeung, who is in his 50s and has been a Lee fan for about 40 years. Wong is responsible for the virtual revival of Lee's Hong Kong mansion at 41 Cumberland Road, Kowloon Tong, which was demolished in 2019.
At primary school, Wong read magazines that featured Lee's kung fu skills. He was immediately drawn to the star and started to imitate him.
As a teenager, Wong repeatedly watched films and television programs that featured Lee. In the 1990s, when Wong was in his 20s, he placed an advertisement in a magazine to seek Lee collectibles, but instead of being offered items, he received numerous replies from people hoping to get their hands on such collectibles.
Sensing this large fan base, the magazine's editor-in-chief established the Bruce Lee Club, which within weeks boasted hundreds of members. Responsibility for organizing the club was handed to Wong, who became its chairman.
In 2004, when the Avenue of Stars opened in Tsim Sha Tsui, Hong Kong, as a new attraction, Wong wrote to its management several times, suggesting that a bronze statue of Lee be built on the site. After this idea was approved, he spent several months persuading friends and celebrities to give donations. Some HK$800,000 ($102,240) was received and the statue was completed in nine months.
Four years later, when it was announced that Lee's former mansion was to be sold by the owner, a business tycoon, Wong wrote to the Hong Kong government and the owner, calling for the property to be preserved.
Over the next 11 years, Wong lobbied stakeholders, proposing ideas such as transforming the residence into a Bruce Lee museum. However, in 2019, due to conflicts of interest, collaboration between the owner and the government ended, and the property was demolished.
In 2019, Wong decided to digitally reconstruct the residence to safeguard its legacy indefinitely in the virtual world. After four years of work, he is ready to launch the project in November.
Wong has more than 3,000 items of Lee memorabilia, including videotapes, books, DVDs, clothing, tiles from the star's former residence, and even slot machines from Japan adorned with Lee's image. "If I had enough space at home and at the club, I would buy more," Wong said.
Wong's club, which boasts more than 600 members, has organized some 70 commemorative events.