China, Zambia upgrade relations
Share - WeChat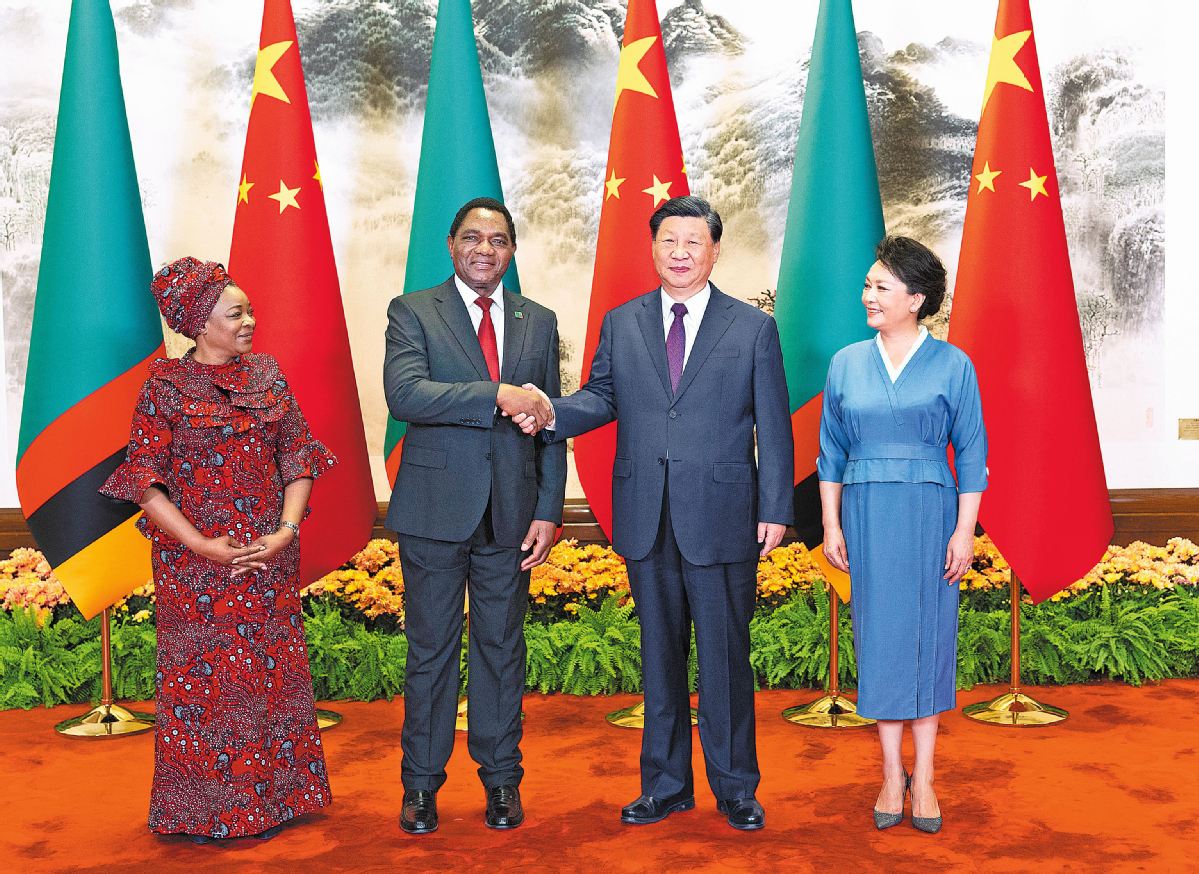 Cooperation deals signed as leaders meet in Beijing
China and Zambia on Friday underscored the two nations' goal of achieving sustainable, common prosperity via powerful tools such as the Belt and Road Initiative and the green economy.
In the morning, President Xi Jinping held talks in Beijing with Zambian President Hakainde Hichilema, who is on a state visit to China from Sunday to Saturday.
The two leaders announced that China-Zambia relations would be upgraded to a "comprehensive strategic cooperative partnership".
They witnessed the signing of a number of bilateral cooperation documents covering areas such as the BRI, green development, the digital economy, investment cooperation, inspection and quarantine, and the two sides issued a joint statement.
According to the statement, Zambia said it speaks highly of the positive role played by the BRI over the past 10 years in promoting economic development and improving people's livelihoods, and it wishes China every success in hosting the Third Belt and Road Forum for International Cooperation.
Last year, bilateral trade between China and Zambia reached a record high of $6.73 billion, an increase of 30.2 percent year-on-year.
At the meeting, Xi said, "China's high-quality development and modernization process will continue to bring new opportunities to countries around the world, including Zambia."
China encourages more high-quality Zambian products to enter the Chinese market, and it supports more Chinese-funded enterprises to invest in Zambia, Xi said.
Hichilema said Zambia endorses the guiding concepts and principles of the Chinese path to modernization, it looks to learn from China's development experience, and it is willing to work with China in deepening cooperation in areas such as the BRI.
Analysts noted that China and Zambia have been "all-weather friends" for more than half a century, and Zambia was the first country in southern Africa to establish diplomatic relations with China.
Chinese Ambassador to Zambia Du Xiaohui said the two heads of state jointly mapping out a new blueprint for the development of China-Zambia relations "will have a sustained and far-reaching impact on bilateral relations".
"China-Zambia pragmatic cooperation stays true to advancing high-quality development", and has effectively boosted both the quality and quantity of two-way trade and investment, Du wrote in an article published in People's Daily.
Next year marks the 60th anniversary of the establishment of diplomatic relations between the two countries.
At the meeting, Xi said the two sides should make the celebrations a success, strengthen exchanges and cooperation in education and training, healthcare, culture and tourism, and step up people-to-people exchanges.
Xi talked about the Tanzania-Zambia Railway, a mega project built with China's assistance in the past century, saying that it "is a symbol of China-Africa friendship", and that the bilateral traditional friendship has "stood the test" of changing international situations.
Hichilema said that Zambia treasures the bilateral friendship, and it faithfully honors the one-China principle.
Xi said that China-Africa cooperation "has become a pioneer in South-South cooperation and international cooperation with Africa".
China "firmly supports African countries to become an important pole" in the world's political, economic and cultural development, he added.
Xi said the developing countries' growing international influence "has become an irreversible trend of the times".
He underlined the need to strengthen solidarity and cooperation, practice genuine multilateralism, boost the voice of developing countries, support African countries' capacity for independent development and "realize economic recovery and sustainable growth".
Hichilema said Zambia is grateful to China for supporting the African Union's accession to the G20 and for its positive role in resolving Zambia's debt problems.
He said China's development has given a boost to progress in the whole of the Global South.