Rural vitalization programs provide growth, better lives
Share - WeChat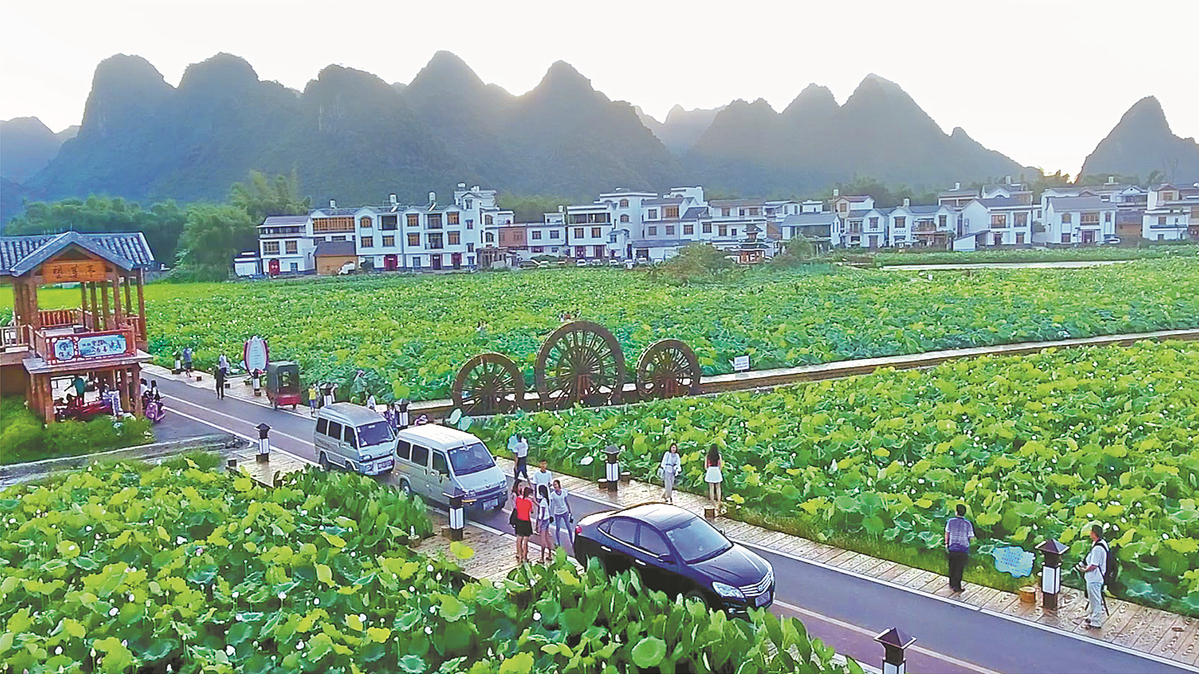 A range of measures is bringing higher living standards and a cleaner environment across the Guangxi Zhuang autonomous region. Jiang Wei reports.
In 1996, Luo Changri started working as a truck driver. However, despite long hours and hard work, he only made about 20,000 yuan a year.
For generations, residents of his hometown — Dazhao village, Luzhai county, Zhongdu township, in South China's Guangxi Zhuang autonomous region — made a living by growing rice.
After years of transporting construction materials along lonely expressways, Luo began to consider what he would do when he got too old to drive trucks.
At the end of 2014, he returned to Dazhao to consider the prospects for starting his own business. Having passed many scenic spots during his days on the road, he wanted to do something related to tourism.
By coincidence, the Ministry of Agriculture and Rural Affairs had just started a national campaign to build a beautiful countryside.
As such, it had introduced 10 development modes to help villages nationwide develop tourism and related industries.
Luo learned that the Dazhao authorities were encouraging farmers to grow lotus flowers instead of rice, as agricultural experts had discovered that the village land was ideal for cultivation of the plant.
He thought it was a good opportunity, so he followed suit. "We can earn 4,000 to 5,000 yuan ($550 to $690) per mu (0.06 hectares) growing lotus flowers, but only 750 yuan per mu growing rice," he said.
The village's lotus ponds cover 67 hectares, equivalent to 93 soccer fields, and the beautiful flowers draw tourists from all over the country.
To better develop rural tourism, the local authorities spent 800 million yuan on 30 major projects designed to improve the settlement's appearance, upgrade roads, renovate several scenic areas and establish a tourist center.
In 2018, Luo converted his houses into homestays. Now, he earns 700,000 yuan a year and employs a dozen workers. His success inspired other villagers to follow in his footsteps. As a result, lotus ponds now generate a combined revenue of more than 2 million yuan every year, while also providing jobs for more than 100 villagers.
With several income streams, such as rent from homestays and money from working odd jobs at scenic spots, each household's income has risen by 50,000 yuan per year.
Dazhao is one of many villages in Guangxi that have benefited from rural tourism. The region has plenty of tourism resources, including karst landforms, beaches, terraced fields, waterfalls and ancient towns.
To make good use of these resources, local governments have formulated plans and laid out paths to facilitate the development of the tourism industry.
Since 2021, Guangxi has allocated 370 million yuan to support the construction of public service centers, tourist centers, toilets, parking lots and self-drive campsites in rural areas, as well as cleaning up rivers and repairing cultural relics.
In 2021, Guangxi's rural areas received 386 million tourists, a year-on-year rise of 25.7 percent, while rural tourism generated 258 billion yuan, up 28.8 percent year-on-year.