Out of the oven to the entire nation
Share - WeChat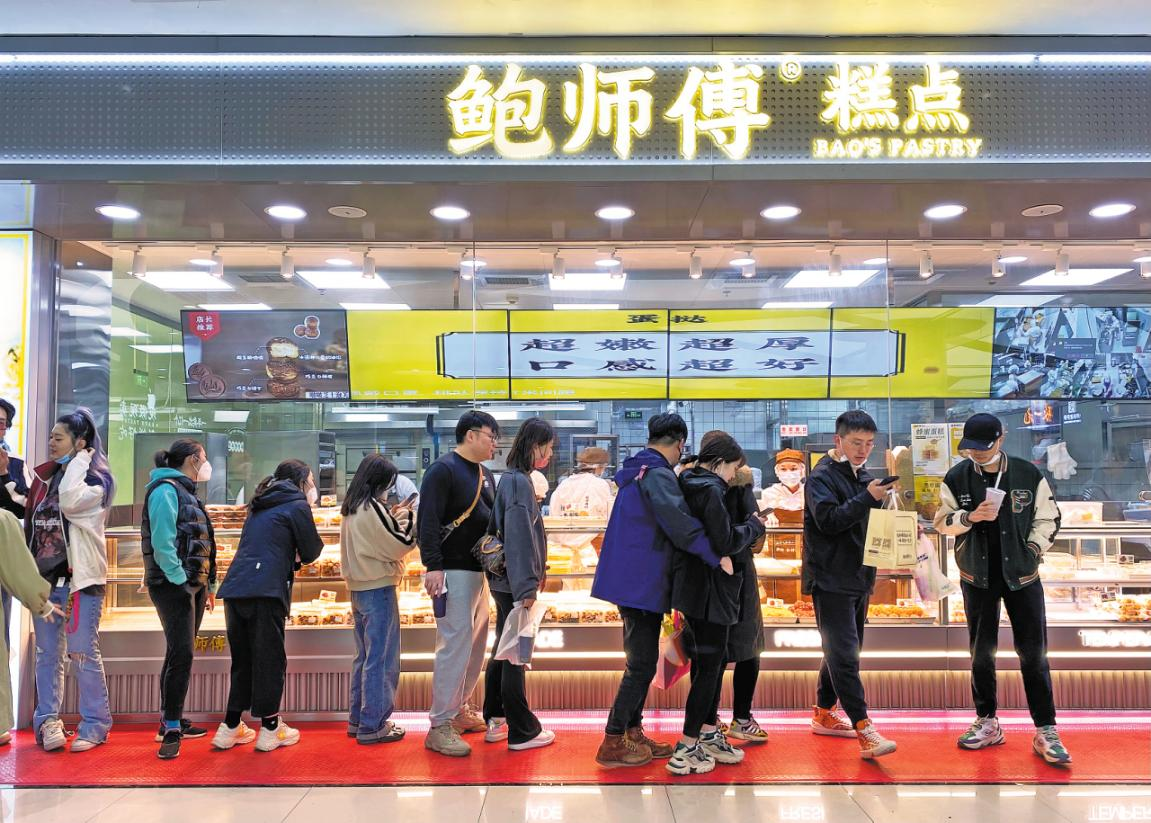 Remote county in Jiangxi becomes 'land of bakeries' despite having negligible production of wheat and no flour mill. Wang Xiaoyu reports.
If it's 3 pm on a weekday, then you will find Chen Xinxin, a Beijing-based human resources manager and self-acclaimed pastry aficionado, gorging on a tennis ball-shaped cake from Bao's Pastry — a Chinese chain bakery. That's one of the guilty pleasures she allows herself.
"Every ingredient of this item -from the crunchy pork floss and seaweed crumbs, the cake base and a decadent layer of salad dressing that glues everything together -hits the right note," the 32-year-old said. "Even its size is just right for an afternoon snack, enough to satisfy my craving while not killing my appetite for dinner later."
This mini cake apart, Chen buys a variety of other baked goods and snacks from Bao's Pastry.
"I made my first purchase about six years ago when I first started working in Beijing, and am still a loyal customer," she said.
But it was not until July when Chen discovered that Bao's Pastry was founded in Zixi, a mountainous county surrounded by dense forests, in Jiangxi province. She got to know of it when she came across an online video promoting the county on the microblogging platform Sina Weibo.
"It's hard to imagine that a remote county where people's staple food is rice has now been crowned 'the land of bakeries' in China," she said. "Little is known about this place."
Chen is not the first person to be surprised at Zixi's knack for making pastries. The remote county is gaining nationwide attention for its bakery franchises, with people from Zixi opening branches across China and local authorities making dedicated efforts to help bakery brands from Zixi build modern bakeries.
Around 40,000 people from Zixi, which has a total population of around 130,000, work in the bakery industry, said Cai Qing, vice-mayor of Jiangxi's Fuzhou city, which administers Zixi.
"They have opened about 16,000 bread or pastry stores in more than 1,000 cities across the county, which is responsible for an annual output value of 30 billion yuan ($4.11 billion)," she said during a recent news conference.
The city does not have natural advantages that make it suitable for making pastries. Nestled amid mountains in southeastern China and with nearly 88 percent of its area covered with forests, it has never grown wheat extensively and does not have a single flour mill.
"Zixi's bakery lineage can be traced to two veterans from the county, who made use of baking skills they picked up in the army to start a bakery in a region near Zixi," said Cai.
Zhang Xiewang, one of the veterans born and raised in Zixi, joined the military in 1984 and was assigned catering duty. "To this day, I remember the first time I tasted buttery toast," he said, adding that he tried to make bread for his fellow soldiers as breakfast once a week and got a chance to learn baking skills.
Zhang set up his first bakery in Yingtan, a city neighboring Zixi that is more accessible by train, after retiring from the military. By 1990, his business had expanded to other cities in Jiangxi and places in Jiangsu province.
Zhang's business gradually caught the attention of fellow inhabitants in Zixi who hoped to learn baking skills from him. During busy days, Zhang said that his bakery spanning 40 square meters had more than 10 apprentices. "As a veteran, I feel like it is my obligation and responsibility to help more villagers earn a living," he said.