Pioneering trade zones playing vital role in high-quality development
By LIU ZHIHUA | China Daily | Updated: 2023-11-21 09:41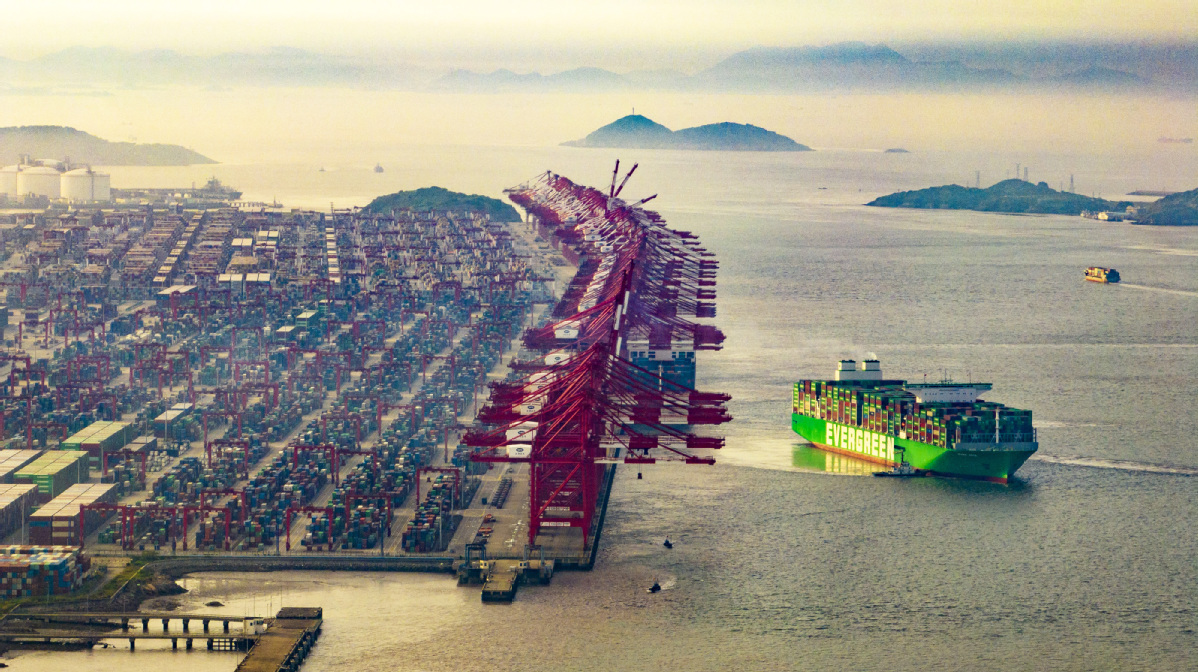 China's pilot free trade zones are expected to greatly expand institutional opening-up, and contribute significantly to China's economic growth, experts said.
Since the establishment of the China (Shanghai) Pilot Free Trade Zone 10 years ago, China has set up 22 pilot FTZs in seven rounds.
According to a report released recently by the Beijing-based Chinese Academy of International Trade and Economic Cooperation, China's pilot FTZs have made remarkable progress in pioneering increased openness, propelling high-quality development through institutional innovations, and fostering clusters of key industries.
More than 300 institutional innovations by pilot FTZs covering investment, trade facilitation and financial openness have been selected for replication at the national level.
Since 2022, pilot FTZs have effected 537 institutional innovations across areas including investment, trade, finance and regulation. Among them, 120 have promoted remarkable development in related areas, the report showed.
Gu Xueming, president of the CAITEC, said: "As pacesetters of opening-up and reform, pilot FTZs in China have made remarkable progress in the past decade in better aligning themselves with high-level international trade and economic rules, to facilitate broader market entry and improvements to institutional innovation in trade and investment policies."
"However, pilot FTZs are expected to make more efforts to serve a better role as the test field for the whole nation's reform and opening-up, especially as they are facing severe challenges from international conditions as well as arduous domestic reform tasks," Gu said at a forum on the development of pilot FTZs in Zhengzhou, capital of Henan province.
The forum was jointly organized by the CAITEC, the Department of Commerce of Henan Province and the Zhengzhou municipal government.
According to Gu, pilot FTZs need to take the lead in building institutional systems and regulatory models that align with high-standard international economic and trade rules, and form more targeted institutional innovations in key areas including trade and investment, government procurement, intellectual property, environmental protection and digital trade.
They should also expand market entry.
For instance, they are expected to increase stress tests in the field of investment and services trade, continue to downsize the negative list for foreign investment in an appropriate manner, increase the openness of the modern services industry, and encourage foreign investment in high-end services sectors.
They should also proactively adapt to emerging new industries, new business formats and models, enhance the mechanism for coordinated, efficient and targeted institutional innovations, and improve their integration of institutional innovation as pacesetters.
To further tap pilot FTZs' potential as a test field for China's reform and opening-up as well as engines of economic growth, it is very important for pilot FTZs to devote more efforts to enhancing the business environment, said Gu Qingyang, an associate professor at the Lee Kuan Yew School of Public Policy of the National University of Singapore, via video link.
"Pilot FTZs are pioneers of social and economic development in China, and they must build a world-class business environment to attract world-class resources like talent and investment, to achieve world-class development," he said.
There is ample room for pilot FTZs to enhance the business environment in a systematic manner, including reducing hidden costs for market players, he added.
He also said there are three important ways in which pilot FTZs in China can enhance the business environment.
The first is to align with high-standard international economic and trade rules to ensure that domestic standards and regulations keep up with international ones.
The second is to allow the market to be the decisive factor in allocating resources while letting the government better serve its duty.
The third way is to enhance a rules-based society and management, which means leveling the playing field for all market entities and sincerely protecting intellectual property rights.