African Americans in China
By Ishmawiyl Claiborne | chinadaily.com.cn | Updated: 2012-02-16 10:38
China Daily website is inviting foreigner readers to share your China Story! and here are some points that we hope will help contributors:

It has been what seems like six long years since I have been back here in the North Capital of the Middle Kingdom; Beijing, China and I am very excited about my life next big adventure! The Olympic Games definitely has given Beijing a face lift and the city looks totally different. I came back right on the verge of the Chinese Lunar New Year. The streets lined with red lanterns and trees strung with budding lights from root to tip; The Christmas holiday has definitely become both an economic venture and a welcome mat to many foreigners. Glowing Chinese characters, large and colored boldly mark the roof tops of high rises and glass sky scrapers. Beijing in the winter is known to be one of the coldest place and amazingly I have gotten adjusted to the cold very quickly that most times I never notice it. China is definitely pushing forward to make its mark on the world and to obtain the highest position it can achieve. With business on an all time height in the newest Economic Power there are many new opportunities.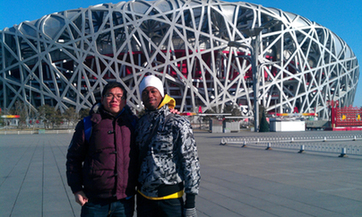 The author (R) poses with his friend in Beijing in an undated photo. [Photo provided to chinadaily.com.cn]
There are not many African Americans here; we tend to be over shadowed by those from Africa and the Caribbean and the Chinese usually can not tell one from another. Everyone is assumed to come directly from Africa and meeting people always makes for interesting stories and births opportunity for cross cultural exchanges! It is good that we all learn from one another! With the US economy moving up and down I decided that I would join the ranks of millions of foreigners who have come here to do everything from teaching, studying, working with different companies and even opening up their own businesses. Life in the "New China" is great! Currently working at Vance Info Information Technology, I will be diving into new opportunities in Shanghai China; China's economic and business hub.
Food in Beijing has exploded into a whole array of all you can eat. There is Thai food, Japanese food, Korean, Vietnamese, Moroccan, Italian, Tibetan, Persian, Pakistani, Persian, Italian, Indian, and Vietnamese. Food, food, food everywhere! Even Vegetarian places! There is food for days! I have certainly had a warm welcome, even by strangers I just met. There is much to see as Beijing is a large cultural hub in China and one can enjoy many tourist and local sites alike. My Mandarin language skills are developing rapidly in both written and oral and there is plenty of opportunity to use both. I enjoy meeting people from all over and it is important to me to build, network, learn and share with others. I have even made close Chinese friends and that means a lot to me.

In the past I noticed there were two experiences one could have here as a person of African descent and those two experiences seem to have grown along those lines. One is an experience in which black is exotic; where curiosity of blackness drives the interaction and or relations. You may be asked to pose for a photo with someone. Your hair and skin will spark ooos and ahhhs and drive some to reach out to touch or ask you how you made your hair like that. You may be bombarded with comments on how you are so beautiful, or so handsome, or black is so nice. In this case black is beautiful, black is exotic, black is erotic, black is cool, black is mysterious.

On the opposite end of the black experience in China is the Afrophobic experience where black is scary, dangerous, unintelligent, and poor. It seems that both experiences are fueled by perceptions and not enough genuine interaction and knowledge between the two groups of people. African Americans and Chinese have much to learn from each other and much to share with each other to foster cultural ties and economic business as well! Nowadays things are much more different and there you are rarely started at. There is no one rushing to touch my hair or anything like that. Progress is always good.
2012 is the year of the dragon and while things may not always seem clear. This is a year in which I see many great things will happen. Great culture, great experiences, and great business! I am inspired and would like to inspire other African Americans to expand economically by looking East.

The author is from Washington D.C and is currently working at Vance Information Technology.

The opinions expressed do not represent the views of the China Daily website.
[Please click hereto read more My China stories. You are welcome to share your China stories with China Daily website readers. The authors will be paid 200 yuan ($30). Please send your story to mychinastory@chinadaily.com.cn.]