Once upon a village
By Gareth Collins | chinadaily.com.cn | Updated: 2012-03-07 09:54
China Daily website is inviting foreigner readers to share your China Story! and here are some points that we hope will help contributors:

Whenever I close my eyes and think of Dazhai, I'm suddenly transported to the terraced slopes of a nameless rolling hill, where I'm standing alone, surrounded by ambitiously positioned rice paddies and vegetable gardens, the sounds of a waterfall pouring down the cliffs of a mountain in the distance, and the wind rustling through the trees that loom over my head. I breathe deeply and realize that I will remember this place forever, though someday I might not even believe I ever was here, with my two feet planted in the muddy silt of this valley in rural Yunnan province. A place so far away from the bustle of modern life that I had grown so accustomed to in what seems like a former life. Yes, it will certainly seem impossibly far away someday.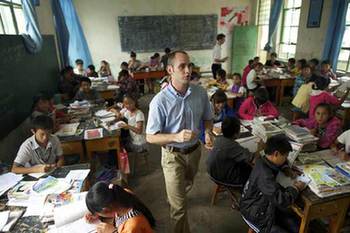 Gareth Collins, Princeton in Asia Fellow and Teach for China teacher, teaching English to his middle school students in Yunnan province. [Photo taken by Ted Alcorn]
As my friends, two local teachers and Tom, holler up at me in the jubilation of another mountain eel they've been able to electrocute and catch, I snap out of my daydream. The waterfall across the valley flows on, but the crystal-clear, trickling stream of my memories is frozen still in the essence of that moment.
Dazhai (大寨), is a small town (by Chinese standards) of around 40,000 people, situated in western Yunnan province. It lies in a valley that plays host to several trickling streams that all feed into a small river, surrounded by a series of cascading hills and mountains. These extend about as far as the eye can see, right up to the edge of the horizon in just about every direction. It is a stunningly beautiful place, with spectacular sunsets and a beamingly starry night sky devoid of light pollution. But despite its picturesque surroundings, Dazhai is an isolated and poor rural community. This means that the local people have fewer resources to devote to things like roads and schools. The latter being the reason that Tom and I find ourselves here on a two-year teaching fellowship through a program affiliated with Princeton University.
Is this dusty town and it's smattering of satellite villages important? It would be easy to say that, in the grand scheme of things, it isn't. But Tom and I are among the first sets of foreign eyes to glimpse this place, and certainly the first to call it home. In a world whose frontiers are all but fully explored, there is something alluring about rural life in the developing world. A cell-phone tower, a bumpy road, and spotty internet access represent the only links to the outside world and so-called civilization. Two years in Dazhai, far away from the comforts of home, has seemed at times like an eternity, but it's merely a snapshot of another side of modern China. Even this place is changing quickly, just as I have changed during my time here.
The people I have met and the experiences we've shared have greatly altered my perspective on the arc of China: past, present, and future. Whereas before I thought of China through the prism of its rapid urban development, that vision has been complicated by the difficulty of life out here in the hinterlands. But most of all, I've been deeply moved by my relationship with my students. I love them the way I hope to love my own children some day. I will always remember them, and hope to keep in touch as they begin their perilous journeys into adulthood.

The author is from Chicago and went to University of Michigan, but has spent half of his life living in China in places like Hong Kong, Shanghai, and now Yunnan. He is currently in the final year of a two-year Princeton in Asia fellowship with Teach for China.

[Please click here to read more My China stories. You are welcome to share your China stories with China Daily website readers. The authors will be paid 200 yuan ($30). Please send your story to mychinastory@chinadaily.com.cn.]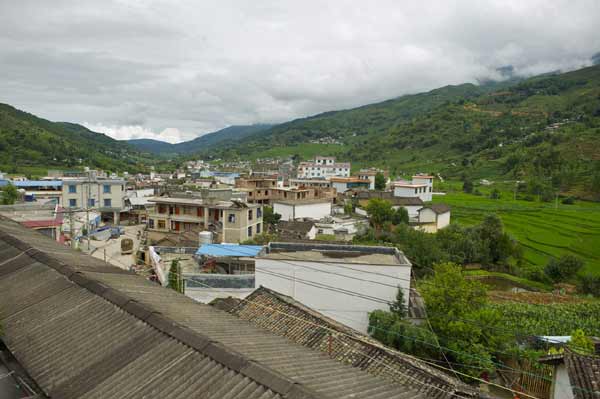 The town of Dazhai in which the author lives as seen from the school courtyard. [Photo taken by Ted Alcorn]