Teaching in Chengdu
By James Patrick Matecki | chinadaily.com.cn | Updated: 2012-03-12 13:56
China Daily website is inviting foreigner readers to share your China Story! and here are some points that we hope will help contributors:

It'd been just over a week since my arrival in Chengdu. I had spent nearly three weeks in Beijing before coming to Chengdu and it was an absolute riot. I was part of a large group of teaching interns that were being trained and housed on the UIBE (University of International Business and Economics) campus in the first weeks of February. For all intents and purposes my time in Beijing was as Chinese as wal-mart or Macdonalds. The majority of our time was spent frollicking around in the blistering cold going to pubs and western cafes. One of the favorite spots being a little sports bar just down the street named Laker's where you could get a delicious burger and ten pints for around $10 dollars.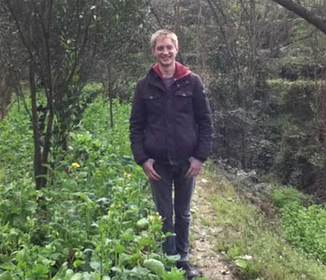 James Patrick Matecki [Photo provided to chinadaily.com.cn]
The time came for all one hundred fifty-three of us to split up and head to our separate placements all over China. I was stationed in Chengdu. While I had never heard of it before upon finding that it was the capital city of it's province I was reassured that it wouldn't be too much of a leap if I didn't want it to be.
Even before getting on the plane things started to go wrong. Someone became too ill to board and had to be rushed to the hospital where they would be diagnosed with pneumonia. As a result of their premature evacuation the oragnizing member of staff that was supposed to accompany us on the trip became separated and upon arrival I along with 10 other interns were left hanging in the wind. We were however treated to a very sophistocated lunch at a european dining area before heading to the bureau of education. It was there that we met the leaders of our respective schools for the first time and set off rather anticlimactically to our new homes for the coming months.
Arriving on a Friday afternoon I was given the weekend to settle in to my new apartment which was admittedly very nice and contained far more than I had anticipated. So for the next two days I walked around my neighborhood taking in the sights and sounds, the smells and tastes of the streets next to mine. Those two days flew by however and come Monday morning I found myself standing before nigh 1,500 students giving my introductory speech. It didn't contain much and I was given a heads up so after some fervent practice it became a fairly managible task. Indeed it went off without a hitch and I was rewarded with the cheers and applause of all those young adults.
What I wasn't ready for was what happened next. After giving my speech I was told that I now had to teach two lessons back to back to the same class. This was a terrifying prospect. Not four days before then I was in Beijing standing in front of my peers giving my first lesson as part of a group of three. Upon being informed that I had two lessons to give without any preparation time I actually began laughing out loud at the notion. I walked into class and with all the clout of a scared little puppy I tried to get everyone to settle down and focus on me. I had no idea what I was doing. The two forty minute classes turned into a never ending Q&A about America and myself in regards to anything you would remotely consider personal. It got the job done I suppose but damn was it rough getting there. Thankfully those two classes were all I had for that day and in fact my first week I only taught a total of seven classes. Not a bad way to ease into a new job. It wasn't until the second week that things became far more interesting.
At the end of the first week I was given a schedule for the following week which contained over three times as many classes as the former. It was never once mentioned how many classes I would be teaching or what material to teach throughout that whole first week where I spent aproximately forty hours sitting at my desk doing nothing. This left me with the weekend to prepare for twenty-two classes. Like any prudent and thurough advocate of knowledge I waited 'til the very last possible moment to start my lesson planning, Sunday evening a few hours before I planned to be asleep.
Monday morning dragged itself to my front door and kicked it in with the force of a small army. It started miserably and without surprise continued to be miserable. I was still a little nervous about getting in front of all these groups of kids and my lack of preparation did nothing to promote a sense of confidence. I managed to get to wednesday before sucumbing to a rather nasty infection. My illness brought me to the apex from which I didn't think things could get any worse. I arose on Thursday morning and rushed to the bathroom spewing shit from both ends of my body. It was a nightmare. I phoned into work saying that I couldn't make it that day, that I was ill and needed to rest. Within a few hours four members of the school including the the head of the English department arrived at my abode to take me to the hospital. It was magnificent. They spoke to the doctors for me and paid for my medication, bought me a large box filled with cartons of milk and a bag of fresh fruit. I lay peacefully in utter awe of the level of care I had received. The following day I also stayed home and again two teachers showed up at lunch time and cooked me a homemade meal of dumplings and soup. I couldn't believe it, really. I'm almost positive that if the situation had been reversed and a chinese person had come to America under similar circumstances the only thing they'd get if they were sick is the middle finger.
For me this marked a turning point that opened my eyes to the beauty that was all around me. Sure Chengdu isn't what I'm used to, the toilets are basically holes in the ground, the concept of a set schedule bears little meaning, and there's clouds in the sky literally all the time, but when you get a chance to see past the exterior what's underneathe satisfies the soul in a way the senses never could. I am truly grateful for all that my school and it's people have done to make me feel welcome in this new home of mine. In earnest, I wouldn't want to be anywhere else rather than here in Chengdu.

The author is from Grandville, Michigan. He is a twenty-one year old English teacher at Qingsu Vocational School.

The opinions expressed do not represent the views of the China Daily website.

[Please click here to read more My China stories. You are welcome to share your China stories with China Daily website readers. The authors will be paid 200 yuan ($30). Please send your story to mychinastory@chinadaily.com.cn.]