My first day at university
By Ian Murimi ShopBoy | chinadaily.com.cn | Updated: 2012-11-28 10:52
China Daily website is inviting foreigner readers to share your China Story! and here are some points that we hope will help contributors.
Krriiing!!! Kriiiing!! went my alarm o'clock. It's Monday morning, the day I hate the most especially after having a well spent out weekend. But this Monday is a special Monday to me; it's the first day of the semester and the first day of my life at the university.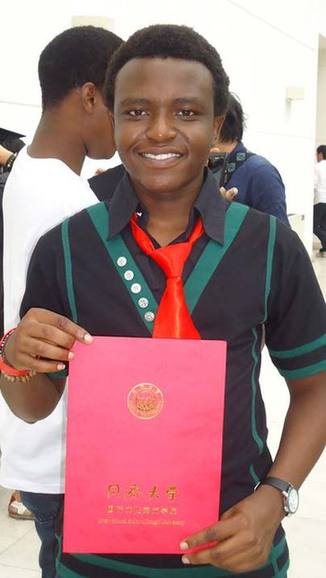 Ian Murimi ShopBoy [Photo provided to chinadaily.com.cn]
I am very excited that finally I shall start classes after one month of waiting for my Chinese classmates to finish the military training compulsory for them as per the Chinese education curriculum. At the same time a little nervous because I am going to meet new people, people I have never interacted with before. I have a million questions in my head like how are they going receive me? Am I the only alien in class?
Anyway I get myself ready for class. I check on my timetable and my first class is calculus. I have never studied calculus my whole 19 years of lifetime despite being in an international school back in my country. Despite all that I am excited for my new day at university.
The university is very big, at first I get lost trying to find my class and arrive in my class five minutes after the class has begun. I walk to my professor with my timetable in hand and he tells me, "you are in the right class son, please have a seat". I take a look at the class and damn it, I am the only alien in class. A black in the midst of 65 Chinese students. At once I wish I would just disappear like how they do it in the super hero movies. The students are very excited to see a foreigner in their class. I decide to take a seat at the back of the class because I am a little shy.
The teacher continues teaching calculus.
At first I try to read the presentation on the wall projected from the teacher's computer. It's all in Chinese; I try to understand what the presentation is about. With my one year learnt Chinese language at Tongji University up to level five, nothing makes sense to me that's on the wall. I turn to my desk mate and ask him what the teacher is talking about; he turns to me and politely tells me 听不懂 (sorry I can't understand you). I try paraphrase the question and ask him again, but this time he tells me "对啊, 他是我们的老师" (Yes, he our teacher). This time is really confused. I wander what's wrong with him!
I turn to my desk mate on the right and she is a girl. I first smile to her, and then she shy's off and smiles looking away. I ask her the same question I asked first. She is amazed that I can speak Chinese; she is very excited until she stammers but at least she understands me and tells me the teaching is doing an introduction to calculus. The young lady is very curious about me and floods me with a million questions. It is when we are conversing that I realize my Chinese pronunciation is wanting, I can't say the tonal variations well and so I end up saying a different meaning instead of the one I intend to. That's why my desk mate on the left could not comprehend what I was saying.
I try to listen to what the teacher is teaching and all I hear is 是不是 (isn't it). I turn to the book and try reading it to understand what the teaching is saying, just a look at the book, I see I know all the Chinese characters but then how they have been combined differently to make a word leaves me feeling stupid and blank. I have no idea what they mean. I take out my cellphone to check the words in the dictionary but then the eagle eyes of the teacher are on me. He asks me why I am using my cellphone in class, I tell him I am checking the dictionary. He asks me 听的懂吗? (do you understand what I am teaching?), I reply 马马虎虎(so-so)。 The whole class is happy that I can speak Chinese, but I wonder what I would be doing in a Chinese class if I don't know how to speak Chinese.
The teacher continues and gives as an example of a calculus problem on the wall. Its figures, no more Chinese characters that don't make sense and I perfectly understand, as he finishes to tackle the problem the answer turns out to be 10 (which is correct) so he says 答案是四(the answer is 4) and he writes 10 on the board。
My keen me, I raise my hand and ask him 为什么你说答案是四然后写十? (Why did you say the answer is 4 and instead write 10?). The teacher is surprised at my question; he doesn't understand what is asking. So I paraphrase the question and he replies 对啊答案是四 (Yes, the answer is 4). I am now totally confused how the answer turns from 10 to 4, but for the sake of the other students I tell him 明白了(understood). I try review the example again and still the answer turns out to be 10 but I wonder why the teacher said the answer is 4. I turn to my desk mate and ask him why the teacher said 4 while the answer is 10, he tells 对啊答案是四 (Yes, the answer is 4), so I ask him why did the teacher write 10, he tells me that 10 is the correct answer. I become totally confused and wonder what's wrong with him.
Krriiing! kriing! there goes the bell, the class is over. I decide to follow the teacher and ask him why he said the answer was 4 while the correct answer is 10, he takes me through the whole example and finally says 答案是四 (The answer is 4). I tell him 四 is 4 and the answer is 十 which is 10. The teacher repeats in English "yes, I just said the answer is 10". It's then that it dawns on me that some Chinese can't say "shi" to mean 10 but instead says "si" to mean 10 and unfortunately one of them is my teacher and my deskmate. So I wonder what more other words can't they not pronounce well? Is that how I shall survive in the next 4 years? Anyway the class is over and is more confused than I came in. I then realize the Chinese I have learnt is only basic to help me with my day to day life in china.

The author is an international student from Kenya studying at South China University of Technology in Guangzhou.