A perspective on the younger generation in China
By David Burt | chinadaily.com.cn | Updated: 2013-04-17 13:39
I have lived in China for eleven years, with some brief breaks to go to back to New Zealand for family weddings. I now wish I had kept a detailed dairy of my time in China. I did not intend to remain here so long. I am still in China. My dream in China is yet to be completed. It is to go into a country area of Jiangxi and set up an early childhood school there. I know the exact place I want to go to, but it will take time to develop.
It all began on the Oct 17, 2002, I remember it all very clearly. I arrived at Beijing Airport to be met by a Chinese student from Nanchang. This was my first experience of Chinese friendliness and hospitality. We spent the evening together walking around Tianamen Square.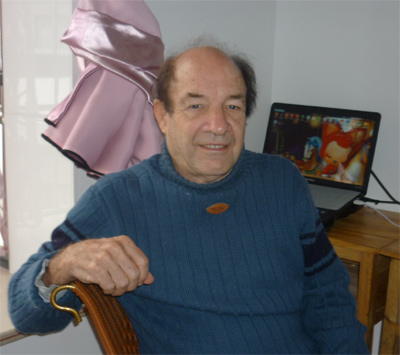 David Burt [Photo provided to chinadaily.com.cn]
The next day I was taken by her to the Beijing Railway Station to board the train to Nanchang, I was on my own, and only had had 24 hours in China on that journey of 22 hours on the "K" train. I was cared for by an elderly Chinese couple, neither of us spoke each other language, but to got to know each other very well.
The following eleven years have been a replica of this experience, Chinese police have also been very helpful and considerate, I got lost in Shenzen one time and they gave me a ride in their car to where I was to go to. Another time I did not let them know I had changed my place of residence during Spring Festival. They waived the fine for me. I have made friends and been given their kindness in Nanchang, Shanghai, Tianjin, Guangzhou and other places as well. I taught English in these cities.
I am now in my China "hometown" Nanchang voluntarily, helping my Chinese friend in this Traning School and others who seek my help.
I have lived for a number of years with a Chinese family, that's the best way to really get to know the people.
Other experiences of Chinese kindness are from ten years old girl who gave me her only possession, an English/Chinese dictionary as gift. A father of one of my students while visiting her family in Ganzhou gave me a limited edition of Chinese currency, worth 2900rmb, in appreciation for helping his daughter. The value of the present is not important to me .It's the thought that counts.
Going back to New Zealand to be with my family is not easy, even though some of them have been to Nanchang to visit me. They have a clouded view of China. They don't really understand the size and immensity of China and its people.
I have taught about 4500 students during my time in China. They are basically hard working and show me respect as their teacher and friend. I have enjoyed many wonderful occasions with them. Having class on Quingsang Lake in Nanchang in a boat. Going to the riverside near Juijiang and cooking sweet potatoes Hangi style on the riverbank. Being taken to West Lake for Spring festival. These are but a few of happy times I have had.
One question that remains in my mind is this.
Does China have a future in its younger generations?
When I go to class and look around the students, some are very good entrepreneurs, others just content to do their best for their future. They are all individuals. One young female student in Tianjin was running her own Language School in Beijing while attending University.
The answer to my question is.
Yes, China does have a future in its younger generation. I wish them all every success in their future endeavors in making China a stronger and better nation.