Initiative promotes 'go global' policy
China Daily | Updated: 2017-04-26 06:58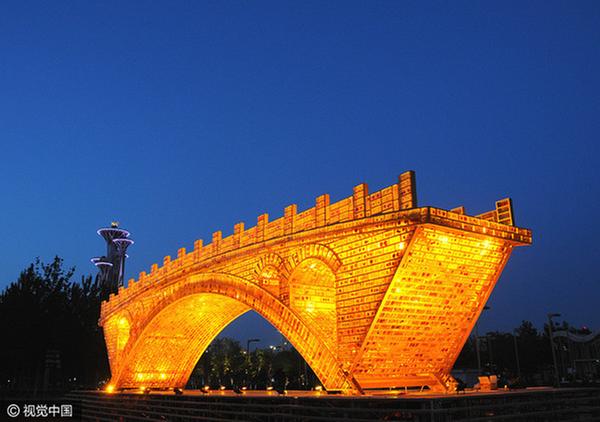 The newly built "Silk Road Golden Bridge" in Beijing Olympic Park gets its lights tested on April 18, 2017, in preparation for the upcoming Belt and Road Forum for International Cooperation that will be held from May 14 to 15. [Photo/VCG]
Editor's note:
Three researchers share their views with China Daily's Cui Shoufeng on the Belt and Road Forum for International Cooperation scheduled for May 14 and 15 in Beijing, which will be attended by 28 heads of state and government leaders. Excerpts follow:
The focus is squarely on interconnectivity

Zhao Minghao, a research fellow at the China Center for Contemporary World Studies of the International Department of CPC Central Committee / CHINA DAILY
The Belt and Road Initiative (the Silk Road Economic Belt and 21st Century Maritime Silk Road) was proposed by China, but its dividends belong to all the countries and organizations that are part of it. The grand multinational program is endorsed but not unilaterally funded by China, and it is supposed to motivate all participants to pitch in and enjoy their share of the fruits.
The Belt and Road Initiative "starts from within" China; it is part of the country's pursuit to better interact with the rest of the world. In other words, the initiative matters a great deal to China for its economic transition, especially to the less-developed provinces and regions in West China, which are likely to be at the forefront of the reform and opening-up if they manage to capitalize on it.
The implementation of the Belt and Road Initiative focuses on economic growth and interconnectivity. It, as President Xi Jinping has emphasized, is aimed at facilitating transnational trade and investment cooperation, as well as creating fresh demand to achieve global economic balance.
To a large extent, infrastructure connectivity, capacity cooperation and trade exchanges will serve as a linchpin of the initiative's construction. For the local governments in China, they should be careful not to overstep the boundaries as their job is to guide enterprises, be they State-owned or private, to participate in the projects.