Traditional kung fu defeated by modern boxing?
China Daily | Updated: 2017-05-02 14:24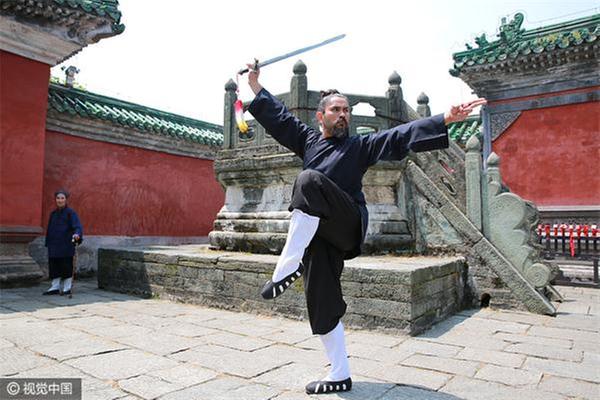 Mexican man Mario learns tai chi on the Wudang Mountains in Shiyan city, Central China's Hubei province, April 27, 2017. The 41-year-old has visited Wudang, renowned for the practice of tai chi and Taoism, for 25 times to learn tai chi in over a decade.[Photo/VCG]
Editor's note: A video showing a retired mixed martial arts boxer Xu Xiaodong knocking out tai chi "master" Wei Lei within 20 seconds went viral recently. It sparks a heated debate on whether wushu, or traditional Chinese martial arts, is weaker than MMA, and whether such a fight is equal or morally right. Two college wushu researchers and one veteran journalist share their views with China Daily's Wu Zheyu. Excerpts below:
Kung fu needs to revive fighting skills
Actually this event will be a chance to push kung fu practitioners to improve their combat skills. Jiji, or the art of attack, was a core part of kung fu in olden times. Ancient Chinese learned martial arts to defend themselves or to fight their enemies, and learn military techniques.
With the country's rapid economic development and social transition, the golden days of wushu are gone. In modern China, wushu is more treated as a performance art rather than fighting skills.
In 1979, after the then national sports commission conducted a series of surveys, sanshou became the new competitive form of martial arts. Sanshou combines traditional kung fu and modern fighting skills but bans any lethal moves.
Professional training was given to members selected for provincial wushu teams, in contrast to the various wushu schools across China where practitioners don't have set rules to follow.
Chinese sports authorities have long endeavored to make wushu a sport in the Olympic Games, but the precondition for this is that it must be competitive, rather than a performance. The debate sparked by the tai chi and MMA contest is a good chance to reflect on the real combativeness of wushu. The old fighting style of wushu should be revived.
Ma Yongzhi, an associate professor and wushu coach at the department of sports science and physical education of Tsinghua University
Sensational reports misleading
So-called contests like this arouse the public's curiosity about whether modern boxing is superior to the traditional wushu. But the fight was sensational for business reasons and had no sporting spirit.
Any sports event should follow the rule of "survival of the fittest". As time goes by, tai chi functions more as a way to improve individuals' fitness rather than a means of self-defense, that's part of its attractiveness and sustainability. Nowadays, practitioners of tai chi rarely have chance to participate in fight contests, so it's natural that their fighting abilities are in decline.
However, attack and defense capabilities used to be part of tai chi. For example, Yang Luchan, the founder of Yang-style tai chi in the 19th century, gained fame for his attack and defense skills.
The problem is, nowadays many self-proclaimed kung fu masters, who have not inherited the true skills and real values of traditional martial arts, have tarnished the reputation of traditional kung fu. People can't judge wushu by these so-called kung fu masters.
We should be more rational and unbiased. Modern sanshou absorbs both merits of Chinese traditional martial arts and modern combat fighting techniques. Traditional wushu is thus evolving with the times.
Tang Tiejun, a wushu lecturer at Capital University of Physical Education and Sports and vice- chairman of the Wu-style Tai Chi Research Association in Beijing
No rules, no losers
The fight in the video is more like a street fight rather than a professional competition. In any standard competition, the athletes should be divided into different categories by their ages and weight, otherwise it is not feasible to determine which competitor is. Take an easy example, when the practitioners of different categories compete together, which standard should be adopted to determine who the loser is?
Besides, these two competitors are not at the highest level of each category they are in, that's to say, it's just a fight between two amateurs, so it's not logical at all to speculate that tai chi, as one category of Chinese traditional wushu, has been defeated by modern boxing based on the outcome of this fight.
Zhu Linyong, a veteran reporter who covered kung fu for China Daily