Polls a turning point for France and EU
By Chu Yin | China Daily | Updated: 2017-05-03 07:24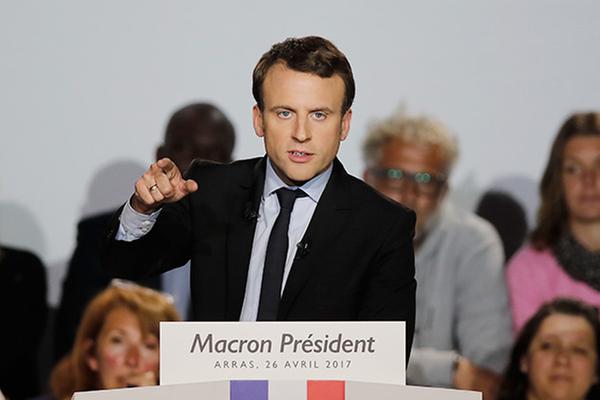 Emmanuel Macron, head of the political movement En Marche !, or Onwards !, and candidate for the 2017 presidential election, attends a campaign rally in Arras, France, April 26, 2017. [Photo/Agencies]
The French presidential run-off will see self-proclaimed centrist Emmanuel Macron compete with far-right leader Marine Le Pen in less than one week. The first-round election result on April 23 came as a shock to many French voters, because for the first time in more than half a century no candidate from an established party made it to the second round.
Macron led the poll with 23.8 percent of the votes while Le Pen won 21.5 percent. Neither Francois Fillon, a conservative and former prime minister, nor leftist leader Jean-Luc Melenchon could win more than 20 percent of the votes. Senior politicians, including Fillon, the defeated Republican candidate, were quick to voice their support for Macron in the run-off on May 7.
The highly charged campaign and the absence of "mainstream" candidates signal an unprecedented change in French politics. It was almost unlikely that any of the 11 French presidential candidates would secure 50 percent of the votes in the first round. But in what has rarely been seen, Macron won against his three closest rivals by only a small margin in the first round, and the traditional left- and right-wing candidates lost to a self-proclaimed centrist whose party was founded just a year ago and a far-right leader who is dead set against globalization.
The 2012 elections saw current President Francois Hollande beat Le Pen by more than 10 percent votes before going head-to-head against then president Nicolas Sarkozy. And that has often been the case in the past elections, which saw either a Socialist or Republican candidate holding a decisive sway.
That many French voters chose extreme right and independent leaders over established party leaders, to some extent, indicates that populism and extremist political tendencies are not to be overlooked in the country. Plus, Macron's narrow win offers a glimpse into the widening divisions among French citizens.
These political changes will be felt by the European Union, too. German Chancellor Angela Merkel and European Commission President Jean-Claude Juncker congratulated Macron on his first-round victory, for good reason, as the 39-year-old centrist has not only vowed to keep France in the EU but also vowed to take measures to boost Europe's economy.
Le Pen, on the other hand, believes economic globalization could put French civilization in danger, and has said she would consider pulling out of the EU and abolishing the euro if elected to the highest office. These seemingly wild pledges did offer another option to a number of French voters who have grown increasingly impatient with the current establishment. Notwithstanding that reality, Le Pen's election will inject more uncertainty into Europe.
Seen on larger canvas, the French presidential election could once again put globalization at a historic crossroad. Although both are known as "anti-establishment", Macron is in favor of free trade and controlled immigration, and urges France to play a pivotal role in Europe, while Le Pen emphasizes the need to protect domestic enterprises from competition. One way or the other, a turning point for France and the EU will emerge in less than one week.
The author is an associate professor at the University of International Relations, and a research fellow at the Center for China and Globalization.