Competition takes a bite out of Apple's second-quarter revenue
By FAN FEIFEI | China Daily | Updated: 2017-05-04 09:22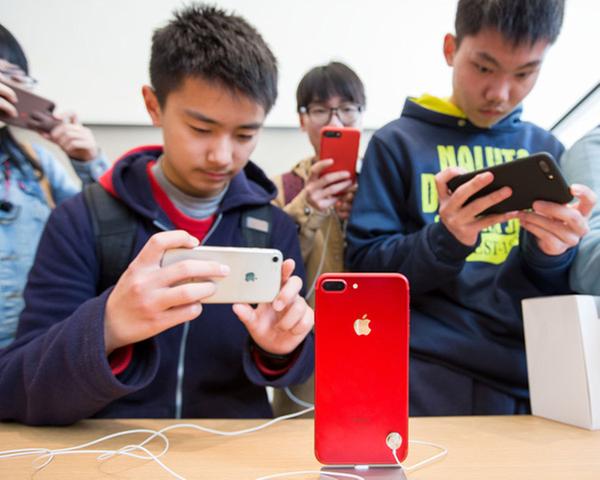 Customers take photos of iPhone 7 RED at an Apple Inc store in Nanjing, Jiangsu province. SU YANG / FOR CHINA DAILY
Apple Inc reported a drop in revenue in China for its fiscal second quarter ended April 1, the fifth consecutive quarter of decline in the region, caused by ever-growing competition from local rivals.
Apple's revenue from China fell 14 percent to $10.73 billion in the quarter, compared with $16.49 billion in the same period last year, despite growth in all other regions.
Apple's Americas, Europe, Japan and rest of Asia-Pacific regions saw revenue grow by 11 percent, 10 percent, 5 percent and 20 percent, respectively.
During a conference call with analysts, Apple CEO Tim Cook blamed unfavorable exchange rates for the decline.
Apple has been facing a growing challenge from local smartphone vendors in the China market, such as Huawei Technologies Co Ltd, Oppo Electronics Corp and vivo Mobile Communication Technology Co Ltd.
The US tech giant experienced year-on-year decline in China last year with its shipments to China falling from 58.4 million phones in 2015 to 44.9 million in 2016, according to research firm International Data Corp.
Its market share dropped to 9.6 percent, while Chinese smartphone vendors saw their market share rise. Oppo sold 78.4 million smartphones, with a market share of 16.8 percent, ranking in first place, then followed Huawei and vivo.
"Apple has witnessed a decline in the Chinese market after it launched the iPhone 6S in 2015, due to a lack of technological innovation. However, local manufacturers stepped up their efforts in upgrading the functions of smartphones and enhancing their popularity," said Jin Di, research manager of IDC China.
Jin added that Oppo and vivo are attracting younger customers with their stylish appearance and design as well as lower prices, adding that Apple should ramp up its product innovation.
In its second quarter, Apple sold 50.76 million iPhones, down from 51.19 million a year earlier. Analysts on average had estimated iPhone sales of 52.27 million.
Its revenue rose 4.6 percent to $52.9 billion, compared with analysts' average estimate of $53.02 billion, while net income rose to $11.03 billion, or $2.10 per share, compared with $10.52 billion, or $1.90 per share, a year earlier.
Apple is expected to launch its 10th anniversary iPhone range this autumn.
Analysts predicted features like OLED displays, wireless charging, and even perhaps augmented reality could come to upcoming iPhone models.
Jason Low, a tech industry expert at Canalys, said the development of smartphones had slowed down, and manufacturers are paying more attention to their design, adopting OLED screens that enhance picture quality and dual cameras.
"It is too early to say whether Apple could help bolster its sales in Chinese market," said Low.