Young generation emerges as big spenders using credit
By HE WEI in Shanghai | China Daily | Updated: 2017-05-05 07:49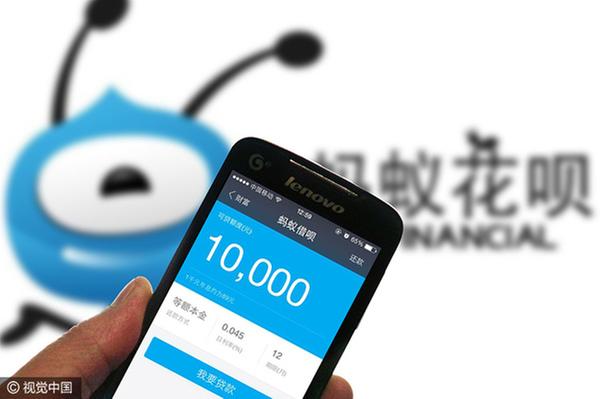 A man uses pay-by-credit services Ant Check Later on his smartphone. [Photo/VCG]
The traditional frugality of Chinese people and their high rate of household savings are being challenged by the younger generation, who are motivated to spend with borrowed money, a new study has found.
One in four of those aged between 18 and 27 use pay-by-credit services Ant Check Later, a personal loan and installment service under e-payment provider Ant Financial Services Group, as these freer spenders form the very core of the country's burgeoning consumer-credit landscape.
That translated into 45 million young adults using the money of tomorrow for discretionary purchases, Ant said. People born in the 1990s constitute 47.3 percent of the platform's registered users.
Among them, nearly 40 percent prioritized the service as a payment option over its sister service Alipay, China's largest mobile wallet by market share. This is 11.9 percentage points higher than those born before 1985.
Ant Check Later extends consumer credit ranging from 500 yuan ($72) to 50,000 yuan based on its risk assessment of customers using big data analysis. Credit is interest-free for up to 41 days.
Young urban dwellers are comfortable about borrowing money to fund their modern lifestyles, such as buying gym training sessions and tipping online bloggers.
While youngsters in relatively affluent areas like Shanghai, Beijing and Zhejiang province take the lead in credit consumption, their peers in the Tibet autonomous region came fourth, borrowing an average of 963 yuan per month.
Ant attributes the upsurge to deepened internet penetration, a quick takeoff in smartphone usage, and the consequent easier access to micro loan services which are unattainable through conventional financial institutions.
The report said 99 percent of the young consumers can repay borrowed money on time, partly also because the troves of consumer data through online transactions could help vendors screen out those with a bad credit history.
The findings echoed a study by insurer Manulife, which discovered that China's millennial generation (aged between 18 and 35) are among the most indebted of their peers in Asia, taking on debt that is 18.5 times their income.
Consumer loans in China are projected to more than double over the next five years to more than 50 trillion yuan, according to market data consultancy Mintel.
"Young adults are quick adopters of new payment methods like internet pay-by-credit services. Installments are clearly a trend and a lifestyle choice," said Aaron Guo, a senior analyst at Mintel.