Belt, Road boost e-shopping for imported items
Xinhua | Updated: 2017-05-08 09:38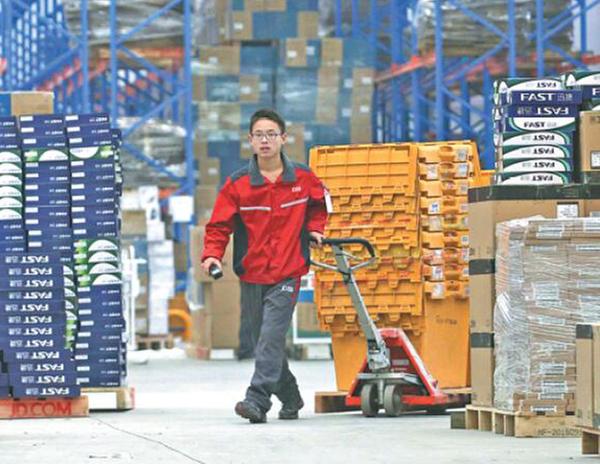 An employee works at a JD.com logistics center in Langfang, Hebei province. REUTERS
BEIJING - Even in his wildest dreams, Wu Zhen never expected to run a business with annual sales of 100 mil-lion yuan ($14.5 million) when he started his cross-border online store in 2015.
But two years later, his maternity child care shop on Chinese e-commerce giant JD.com has gone beyond his expectations.
The US-based online store has easily achieved its first-quarter sales target, and Wu is confident of promising full-year results.
Wu used to do domestic business in China, but sales volumes were not comparable with his cross-border business.
He realized that his growing business was closely related to the Belt and Road Initiative, a China-proposed transnational network of trade, investment and economic development.
The network relies on infrastructure like communication and transport links, and local facilities like warehouses of companies with global operations.
Wu and his colleagues make purchases from the United States, Europe, Australia and New Zealand, and then send them to bonded areas in China for stocking.
"There were only two bond-ed warehouses serving JD.com's cross-border e-commerce in 2015, and now there are seven,"Wu said.
JD.com has noticed the vast opportunities brought by the Belt and Road Initiative, which is expected to include more than 60 percent of the world's population and more than one-third of global economic output.
By 2016, JD.com opened 256 major warehouses across the country, covering most of the domestic key cities along the Belt and Road Initiative, including Shanghai, Xi'an and Chengdu.
According to data from the Ministry of Commerce, cross-border e-commerce turnover in China has grown by about 30 percent a year from 2008 to 2015. In 2016, total turn-over reached 6.3 trillion yuan($926 billion).
Instead of preparing shipments after receiving orders, robust sales allow retailers to keep sufficient inventory in domestic warehouses, so that customers do not have to spend weeks waiting for goods to be shipped overseas. For retailers like Wu, the Belt and Road Initiative has made shipping across continents easier.
Using the China-Europe rail network, a crucial part of the Belt and Road Initiative, JD.com has cut the time trans-porting auto supplies from Germany to southwest China by half compared with sea routes. It now takes just two weeks.
China now has express freight services to 28 Europe-an cities. Since March 2011, more than 3,500 trips have been made, and the figure should rise to 5,000 by 2020."We are confident of the logistics system," said Qi Ting, JD Worldwide general man-ager.
The further opening up to overseas markets has brought the number of product brands available at JD Worldwide Service to over 20,000, covering more than 70 countries and regions, according to Qi."They range from food and body care to home appliances and auto supplies," Qi said, revealing that JD Worldwide Service outperformed all other departments of JD.com, with three-digit growth, last year."It has become a lifestyle for more Chinese people to buy overseas products online," she said.
Besides traditionally popular exporters such as Europe and the US, Chinese e-commerce has seen growing interest in products from Belt and Road economies, such as pillows and rice from Thailand, and electronics from Israel. According to a report jointly issued by DT Caijing and AliResearch, the research arm of Alibaba Group, one of JD.com's major domestic rivals, nearly 280,000 latex pillows from Thailand were sold through Alibaba's cross-border retailing site Tmall Global in 2016.
The sales volume of Thai products at Tmall Global jumped 152 percent year-on-year in 2016. The huge demand for Thai latex pillows in China has even driven up natural rubber prices by three to four times in Thailand, a strong lift for local farmers' income, the report said.
"We are also looking into products from western Asia, as well as eastern and central Europe," Qi said.
She said her company was actively seeking cooperation with a dozen brands from Belt and Road economies to meet domestic consumer demand.
In the next five years, JD.com is planning to open more than 20 overseas warehouses to store and transfer goods from over 100 countries and regions, including those along the Belt and Road Initiative. It has already taken a further step into the Belt and Road markets by starting an e-commerce business in Indonesia.
By 2020, trade volume through cross-border e-commerce will account for 37.6 percent of China's total exports and imports, making it a significant part of China's foreign trade, research agency CI Consulting predicted.
Cross-border e-commerce cooperation has brought China and Belt and Road economies closer, and the benefits will extend not only to trade but sectors such as the internet and e-commerce, said the DT Caijing-AliResearch report.