Carrier offers Belt and Road bonus
By MA SI and OUYANG SHIJIA | China Daily | Updated: 2017-05-09 07:40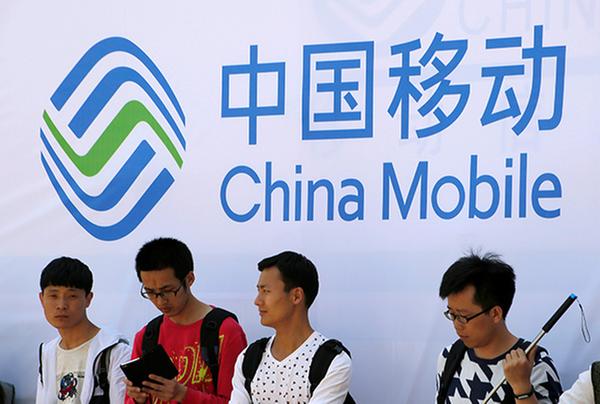 Attendants stand in front of the logo of China Mobile at a venue for the launch of Xiaomi's new smartphone in Beijing. [Photo/Agencies]
China Mobile to build cross-border optical fiber cables with neighbors
China Mobile Communications Corp, the world's biggest telecom carrier by subscribers, said on Monday it aims to build a globally connected telecom infrastructure system, as it scrambles to promote regional connectivity and offer better services for economies along the routes of the Belt and Road Initiative.
The State-owned company announced on Monday that it will step up efforts to build key cross-border optical fiber cable projects to link China with neighboring countries, including Myanmar, Nepal, Pakistan and Kyrgyzstan.
It also plans to build eight internet data centers in economies along the Belt and Road within three years, and build new submarine cables and international communication services gateways to Asia, Europe and the United States.
"The move will create new business opportunity for us," China Mobile Chairman Shang Bing said. "It will not only help us gear up in the expansion of international business, but also promote the regional connectivity for China and overseas economies through the Belt and Road Initiative."
He did not disclose the specific investment size and timetables.
China Mobile has built eight land optical fiber cables and five submarine optical fiber cables across regions in Asia and Europe.
Over the next three years, the Beijing-headquartered company also aims to have 61 Point of Presence sites along the Belt and Road, up from the current 29. POPs are essential in connecting different networks and communication devices. The closer to home a POP is from where you're calling, the better your call quality will be.
"Telecom connectivity is an important foundation for international communication and cooperation," Shang said.
With more than 856 million users, China Mobile is the biggest telecom carrier in China, followed by smaller rival China United Network Communications Ltd and China Telecom Corp.
Xiang Ligang, a telecom expert and founder of the telecom industry website cctime.com, said that different from Western telecom giants which already have a big overseas presence, Chinese telecom players had focused on the domestic market.
"But as the technology gap is narrowing, telecom giants are aggressively venturing out into overseas markets," Xiang said.
In February, China Mobile said it would invest $200 million to expand its presence in Pakistan this year, where it has obtained 3G and 4G licenses.