Grain collages put food on the table
China Daily | Updated: 2017-05-12 07:29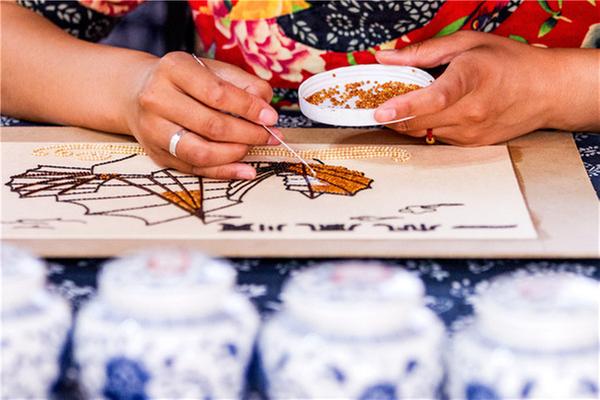 Making grain collages requires skill and patience. [Photo by WANG ZIRUI/FOR CHINA DAILY]
As his business gradually developed, Zhang sought help from the county government, asking for land to establish a production base for his artwork.
Instead of a workshop in Guantao that he had dreamed of, the government offered him three houses in the rural backwater of Shoudong, free of charge.
"It was a perfect opportunity for rural poverty alleviation," said Xie Jijiong, Party chief of Guantao.
"Not only was the land cheaper in the village, having the factory there made recruiting workers easier."
Zhang's site, which covers 8,000 square meters, makes about 5 million yuan each year, and competitors from other provinces have been attracted to the village, forming an industrial cluster.
Tourists are also drawn to Shoudong, which is now full of cafes, inns and souvenir stalls. Visitors, especially children, are helped to make their own pictures as DIY gifts for their friends and family.
With all this activity, the average per capita income of villagers in Shoudong last year reached 15,000 yuan, helping to alleviate poverty, according to Zhang Furen, Party chief of the village.
Seeing the profit potential in collages, Shi Xianqiao has set up her own studio and is planning to expand her business.
"I plan to invest about 500,000 yuan in a brand-new workspace and office, so the current premises can be used as a family inn," she said.
Xinhua