Tencent ups stake in Pocket Gems
By HE WEI | China Daily | Updated: 2017-05-13 10:23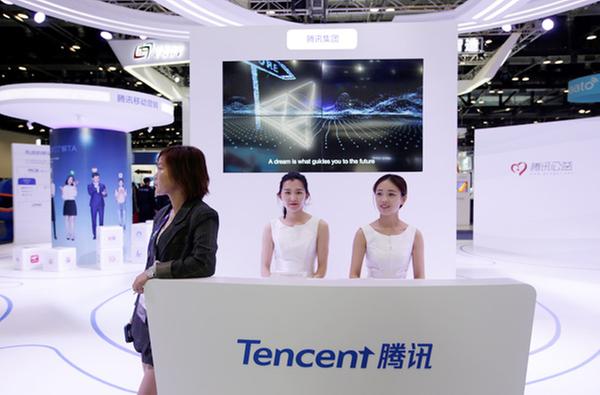 Tencent's booth is pictured at the Global Mobile Internet Conference (GMIC) 2017 in Beijing, China April 28, 2017. [Photo/Agencies]
Hong Kong-listed Tencent Holdings Ltd has doubled down on game studio Pocket Gems Inc with a fresh $90 million investment, increasing its stake from roughly 20 percent since 2015 to 38 percent.
The latest investment values San Francisco-based Pocket Gems at about $500 million.
"Tencent is happy to reaffirm our long-term support for our strategic partner," said Tencent in an emailed reply to China Daily on Friday.
"We admire Pocket Gems' history of focusing on top talent and creating innovative new products that can delight users, and look forward to a brighter future together."
Tencent has been keen on deepening its tie-ups with overseas game developers.
Among its various investments are a $8.6 billion deal for Finnish gamer Supercell Oy, the largest such overseas deal for a Chinese company last year, and the acquisition of Riot Games in 2015 for an undisclosed amount.
Founded in 2009, Pocket Gems is backed by US financier Sequoia Capital. The monetization of its games appears to be picking up steam.
Sensor Tower, a mobile game sales measurement firm, projected that Pocket Gems will likely generate $210 million in revenue this year.
Analysts said Tencent's stake increase is very impressive, considering Pocket Gems' simple portfolio: a digital storytelling title Episode and a hardcore multiplayer game War Dragons.
"Overseas partners like Pocket Gems and Glu Mobile Inc are expected to play key roles in Tencent's efforts to build a dominant platform for smartphone games in China," said Xue Yongfeng, a gaming analyst with research firm Analysys.
Tencent, which derives the bulk of its revenue from games, distributes mobile games through app stores and its popular messaging platforms WeChat and Mobile QQ.