Berlin-based program makes classical music more accessible
By Chen Nan | China Daily | Updated: 2017-06-02 08:17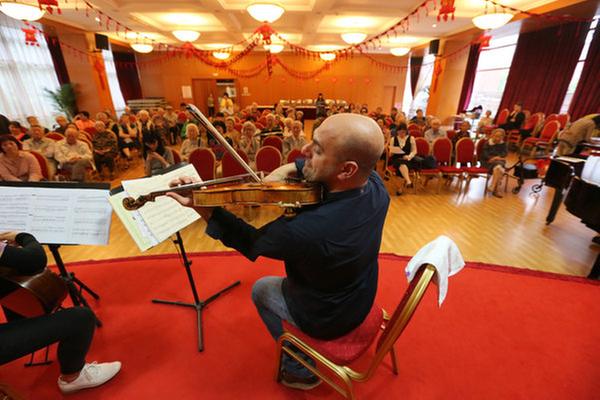 Avri Levitan stages his Musethica program in Beijing to bring classical music closer to the public. [Photo by Jiang Dong/China Daily]
Israeli violist Avri Levitan gave 10 recitals within three days during his recent stay in Beijing. From children and senior citizens to audiences at a health center and a live-music venue, Levitan showed that classical music, which is regarded as high-art by some, can be accessible to people of various backgrounds.
There is no difference between playing for a nation's top official, a homeless person, someone in prison or a court judge, he says.
"We choose the program list like any other musician preparing for recitals at concert halls. The only thing we pay attention to is the high quality of the performance."
Levitan concluded his trip in Beijing with a recital at the Forbidden City Concert Hall on May 25.
Along with Chinese classical guitarist Wang Chuting, he played pieces, including Johann Sebastian Bach's Suite in D Minor BMV 108, Franz Schubert's Arpeggione Sonata in A Minor D821, and Manuel De Falla's seven Spanish popular songs, G40.
"It's an inspiring experience for me to work with Levitan. He has his own understanding of music. As a young music student, I learned that it's not only important to be a good musician in terms of the technique but also a good musician for society at large," says Wang.
The 20­year­old, who studies at the Central Conservatory of Music in Beijing, played with Levitan during some of his recitals.
This is the idea behind Berlin-based Musethica program, a nonprofit Levitan co-founded with economics teacher Carmen Marcuello in Spain in 2012. The name, Musethica, is a combination of music and aesthetics. The program chooses young musicians to play at public concerts as part of their education.
The majority of such concerts are held in places where people have little access to music, such as hospitals, prisons and shelter homes.
Now, Musethica is active in eight countries, including Germany, Poland, Spain and Israel. Three years ago, it came to China for the first time.
Levitan takes his 7-year-old son, Yona, to Musethica concerts.
"Once my son told me, 'Papa, there is no time. Time only exists in computers.' I found it interesting because indeed, there is no time in music. Music is the pure present," says Levitan, 43. "For children, music is pure sound."
His job as a teacher inspired Levitan to take his nonprofit forward.
"When we learn to be instrumentalists, we practice all the time in our rooms, but we don't play for the people. We give recitals in schools to impress the teacher, to win awards or to become famous. It's not the real interest of being a musician," says Levitan, who is a viola and chamber music professor at Zaragoza Music Conservatory in Spain.
He encourages his students to teach themselves instead of always telling them what to do.
For musicians joining the Musethica program, Levitan says they neither get money nor become famous. "They only have to play beautifully."
Levitan was born in Tel Aviv and was introduced to music by his parents, who were big fans of classical music and jazz. He started learning the viola at age 5. As a young boy, he didn't like to practice.
"I liked football. My friends are not musicians. But when I stopped playing music, after one or two days, I realized that I cannot live without music," he recalls.
Levitan performs regularly as a soloist in some of the world's most prestigious concert halls, such as the Vienna Konzerthaus, and in collaboration with chamber and symphony orchestras.
He was the BBC Music Magazine Awards nominee in 2009 and the Royal Philharmonic Society Awards nominee in 2012.
Now, he is working with organizations, such as the Forbidden City Concert Hall and music schools in Beijing, to make Musethica a long-term project in China.
"We hope to introduce more concerts at all types of venues and for all kinds of audiences," he says.